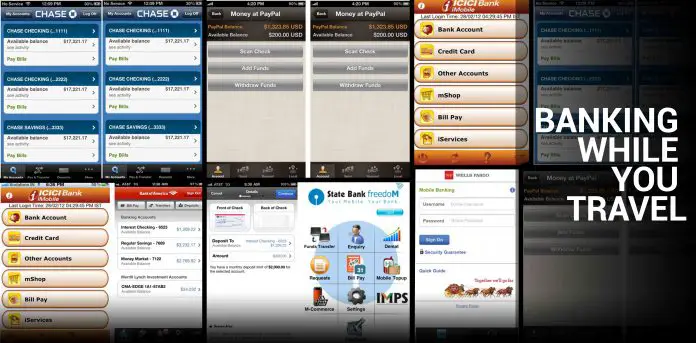 Banking while you travel with iPhone apps
Today mobile banking is popular among millions of customers who find difficult to allocate time on visiting banks.  Mobile communication technology grows at a rate where people find any information available on their phones. Mobile banking   includes different options such as SMS banking. Apple iPhone features thousands of apps in app store which can be downloaded and install using iTunes.
Popular banking giants like HSBC, CITI bank ICICi bank enable these apps to provide value added services.
Top 13 banking apps in iStore
1. PayPal for iPhones
One of the most popular app used by millions of customers on their iPhones. This app can be used to send/receive money via requesting through iPhone.
Small capacity app available in English, Chinese, Danish, Dutch, French, German, Hebrew, Italian, Japanese, Norwegian, Polish,Portuguese, Russian, Spanish, Swedish.
Many functions available via the iPhone app and almost all banking transactions possible. Transfer money, withdrawals, deposits, adding cheque's balance confirmation, online purchasing are possible.
Every payment is protected by a PIN and a password.
2. Chase Mobile (SM) By JPMorgan Chase & Co
Popular mobile banking company introduced this app to enable iPhone users banking facilities while roaming. Coming in English the app is free to download and install.

The user-friendly interface is secure with password and PIN protected by strong encryption and digital signing.
3. Bank of America – Mobile Banking
The Bank of America powered their value added service by introducing the iPhone app for customers. Very light app available in the store free to download.
Secure transactions with encryption.
4. Mint (Intuit)
Mint is a popular finance service provider. Mint iPhone app has increased their customer base by introducing the app.
Password protected app is moderately secure.  This app is more beneficial for financial reviews and analysis.
5. Wells Fargo Mobile by Wells Fargo
WF is a well-known Consumer Remittance Services Provider. Services are persified by introducing mobile apps. Security guaranteed with 128 bit encryptions of password/usernames. Available in English. More than a transactional app WF iPhone app provides information search facility and service offers.
6. Credit Karma Mobile – Free Credit Score & Credit Monitoring by Credit Karma, Inc
App is used to make credit score and free on-the-go credit monitoring. Using credit simulators, free credit scores, credit advice, and credit score comparisons, empower consumers to more actively manage their credit and their financial health. Free to download and install with 11.2 Mb small capacities on iPhone memory.
Overview
Credit monitoring
Credit score cards
Available in English language .
7. State Bank Freedom by State Bank of India
SBI mobile banking services are powered by this iPhone app.  SBI goal is to provide  convenient, simple, secure, anytime and anywhere banking using State Bank Freedom.

Interface is moderate user friendly and moderate security.
The app interface is not user-friendly and need more navigation and search to find.
8. ICICI Bank Mobile Banking – iMobile by ICICI bank
Security guaranteed with login passwords/username and transaction security using PIN and grid card authentication. Immobile offers customers facilities such as fund transfer, bill payments, mobile top-ups and DTH connection; locate an ATM. Free to download and very small capacity of 1.1Mb. English only app provide other services such as movie ticket booking, bus ticket booking.
Attractive and user friendly interface as shown below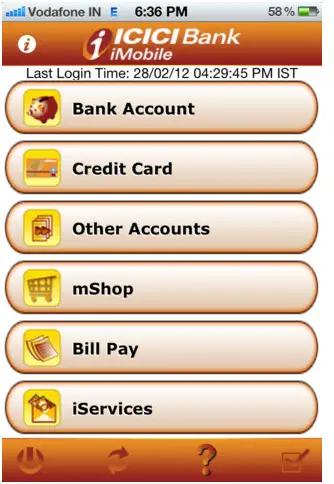 9. Citi Mobile (sm) by Citi Bank
App can be used primarily to check bank account balances including savings, mortgage, and loans ,etc.
Secured with username/password and available free to download and install.

View /deposit cheques.
View account transactions .
9. PNC Mobile Banking by PNC Bank, N.A
PNC mobile banking app is freely available to install and use while roaming with an iPhone. App provide customers facilities to check transactions and balances, deposit cheques, money transfer and many other banking services.
10. Capital One Mobile Banking by capital One group
This application provides almost all the banking functions available to customers making a virtual banking environment. View transactions/balances, Find ATM, transfer money ,receive funds,pay bills,check card balances . Highly secure with encryption mechanisms.
View transactions
Find information and location services.
10. Page once – Money & Bills By Page once, Inc
Page once is a leading financial services provider having thousands of customer base. With the use of page once iPhone app paying bills, tracking maturities, pay card bills, track savings, view accounts and payment history and managing multiple accounts. Digitally signed by Trust-e, VeriSign and McAfee for extra protection. Available free of charge.
Attractive user interface
11. American Express by American Express
AMEX is a worldwide popular card payment service. Amex iPhone app strengthens the service offered by providing mobile payments and services.

This app provides virtually all card services.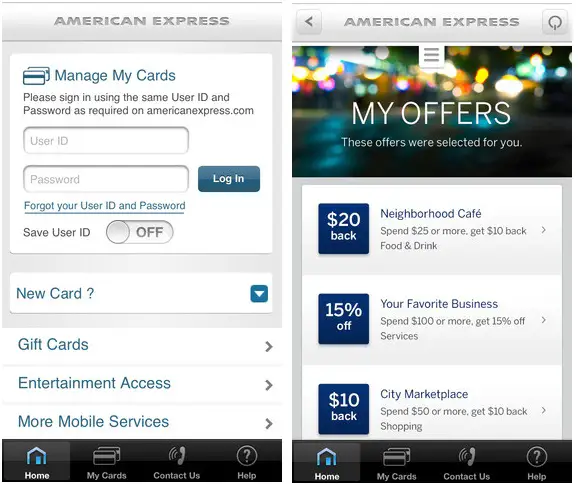 Services
12. NatWest By Monitise Group Limited
Popular bank natwest luanched iphone app to enable mobile customer banking facility 24*7. Feature rich application can be used to do transactions,pay bills,locate ATMs nearby, mobile topup, view account balances. Latest version is 2.10 and available in english.
Secured with login credentials.
13. CommBank By Commonwealth Bank of Australia
One of the feature rich iPhone app in apple istore. Compare to many other similar apps there are many additional services such as location based services to find ATMs. Include other tools to calculate loans,currency converters etc. Traditional services like money transfer ,receive money and connection through social media sites. Secured with 4 digit PIN
Location based services (GPS)