From smart home to Smartphones, we now have smartwatches. Wearing a watch has always been in trend for years. It is a standout that you have a smartwatch, and by touching it, you get your needs. So, we are about to look at the following top 10 best smartwatches that are trending.
1. APPLE WATCH SERIES 4:

The next-generation technology watch from Apple, the Apple Watch Series 4 has a large screen with OLED display, big buttons, and sensors with standard performance. The advance cellular signal allows you to attend calls smartly. It looks stylish with a ceramic crystal back-case and a black sport band.
2. HUAWEI WATCH:


The stylish Huawei watch comes smart with a classic Swiss design. The model is sleek with 1.4 inches full-round display. You can customize the design by pre-installed options. It gives notifications for texts, calls, and apps. The device additionally has a heart rate monitoring feature and a fitness tracking option.
3. SAMSUNG GALAXY WATCH:

When Apple watches are for style and status, the Samsung Galaxy watches comes from ecosystem technology. The watch has a circular design with scratch-resistant Gorilla glass DX and is water-resistant up to 50 m. Samsung Galaxy Watch features with a stainless case and a tiny screen.
4. FITBIT BLAZE SMARTWATCH:

Fitbit Blaze the best one among all the fitness smartwatches. The watch follows the innovative technology of tracking wirelessly and also has a stylish and sleek design. You can set calendar alerts and silent alarms using Fitbit. It even has functions such as multi-sports modes, heart rate monitoring, and GPS tracker.
5. MONTBLANC SUMMIT 2:

The impressive Montblanc Summit smartwatch comes with the new Qualcomm Snapdragon 3100 chip for longer battery life. As the luxurious watch has a Wear OS, it can work with even iPhones. The men's Montblanc Summit sports watch is also available with different color straps.
6. SAMSUNG GEAR S3 CLASSIC: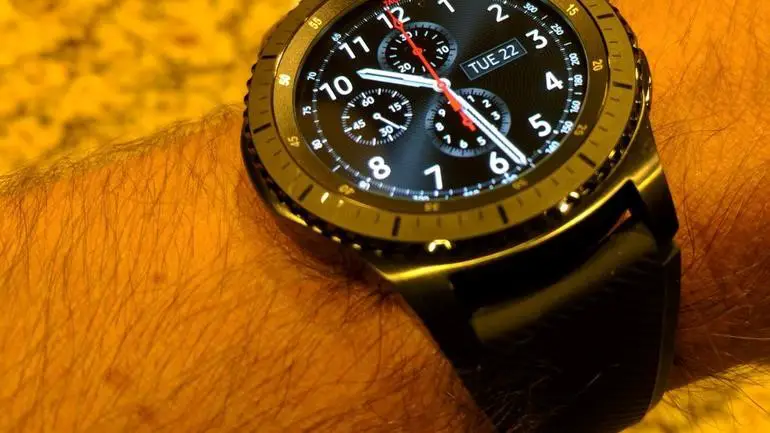 The stylish and high-end Samsung Gear S3 has Bluetooth technology for getting notifications such as texts, calls, and messages from your phone. The speaker is built-in and its microphone allows you to give answers for calls hands-free. You can even pay using S3 by 'Samsung Pay' anywhere.
7. TAG HEUER CONNECTED MODULAR 45:

Tag Heuer Modular 45 is a luxurious smartwatch with an affordable price. The 'Swiss Made' certified watch has a modular design, 4000 case varieties with lug material and bezel color. The strap-type Tag Heuer has a water-resistance rating of IP67 under IEC standard 60529. The model has compatibility for both Android and iPhone.
8. POLAR M600 SMARTWATCH:

M600 is the first sports smartwatch from Polar and has advanced 24 hours option of fitness tracking and smart coaching. The heart rate monitor helps you in reaching health and fitness goals promptly.
9. FREDERIQUE CONSTANT HOROLOGICAL SMARTWATCH: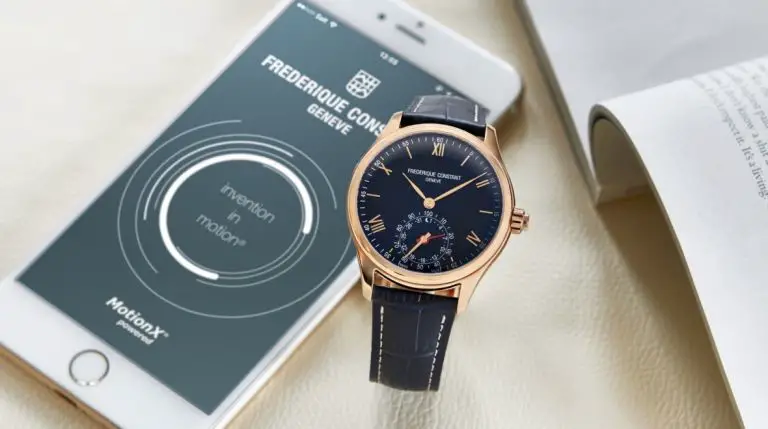 Frederique Constant is the first high-end smartwatch from Alpina and Silicon Valley Tech Company with two-way communication for a smartphone. You get many alerts such as sleep monitoring, activity tracking by the traditional method itself. The glass of the dial transmits radio waves for connecting with the device.
10. FOSSIL Q CREW MASTER:

The stylish looking Fossil Q Crew smartwatch has a hybrid design with long-lasting battery life. You can use Q Cream watch 24 hours and works well when connected for answering for calls.