Huawei, a Chinese telecommunications company, is known for producing mobile phones, tablets, and even Smartwatches; but now, they have added laptops on their list.
The company has announced their newest line of MateBook series, the MateBook X, MateBook D, and MateBook E. Sounds confusing as MateBook has a similar sound on Apple's MacBook. But the 13-inch MateBook X is indeed a classy little laptop that has similar look to the 12-inch MacBook Air, though the MateBook X has better speakers. Despite its size, it boasts specifications that are quite similar to those of top-of-the-line MacBook Pro.
It might be Huawei's first laptop ever, but from its looks, the Chinese firm seems to know things about premium laptop design. MateBook X was the first fanless laptop that is powered by Windows 10 and Intel U-Series processor. It has a smooth aluminum chassis that is available in two colors: space gray, and prestige gold. Compare to MacBook Pro that weighs 3.02 pounds and measures 15mm thick, the MateBook X is slimmer (12.5mm thick) and lighter (2.31 pounds). Another excellent feature of the MateBook X is its power button that also works as a fingerprint sensor, a feature that can also be seen in some Huawei Smartphones.
It is also the first laptop to boast Dolby Atmos Sound System and includes integration of both software and hardware solutions for better sound quality.  Dolby has also joined Huawei in designing the speakers, which can be found on top of the keyboard, and the pre-loaded software for sound optimization. This result to a powerful sound that emulates the way it traversed through speakers and headphones in real life. This process is different from devices that have Dolby Atmos software technology since they can only optimize sound through headphones.
Normally, when using compact systems, we tend to choose between a better bass or louder volume, but being able to control the software and hardware in MateBook X, Dolby is able to deliver both sound qualities. Dolby has included a built-in speaker, which can be found on top of the keyboard, while headphones can be plug into the audio jack.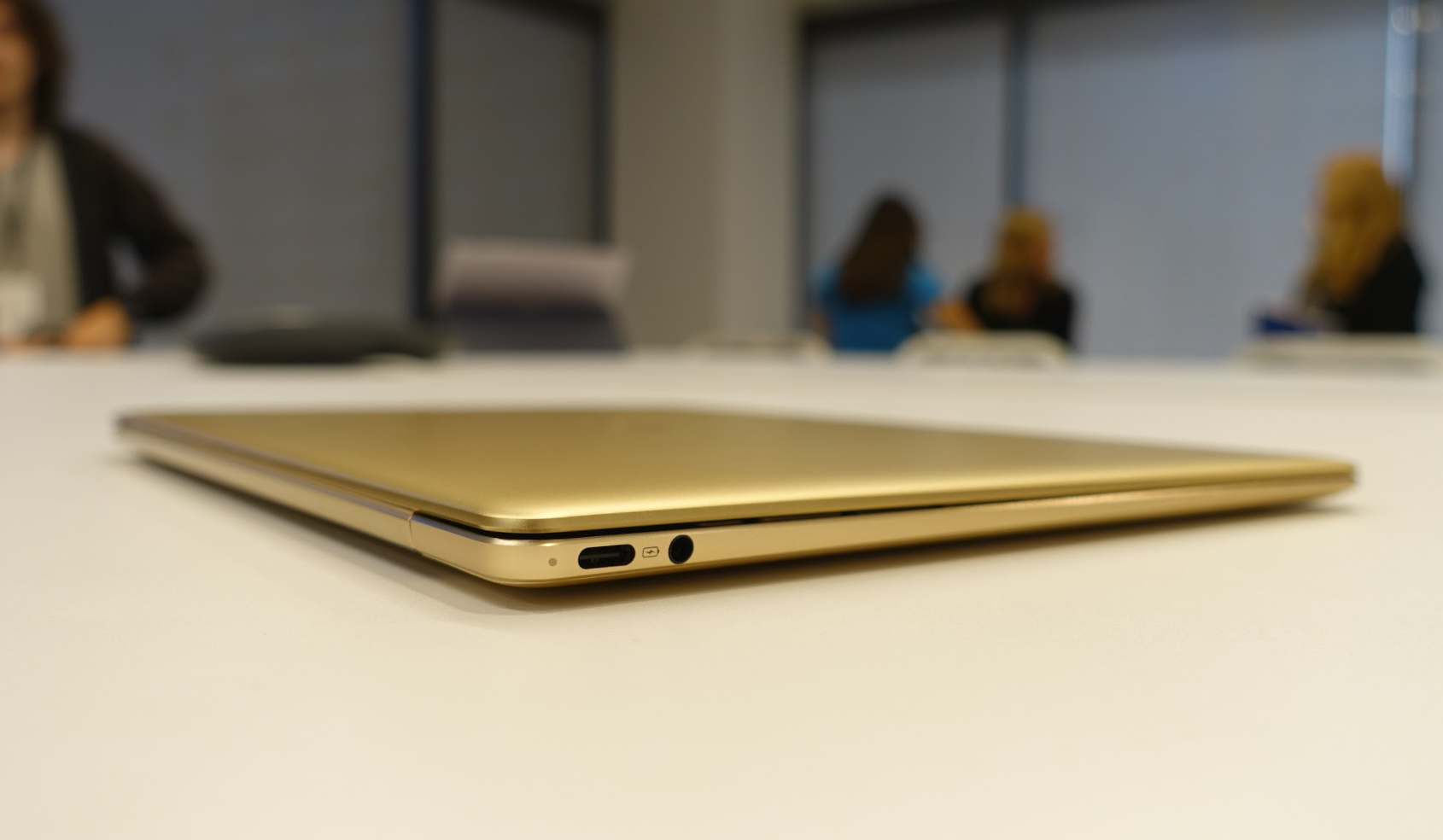 The MateBook X' 2K resolution screen is stunningly sharp and vibrant, with extremely narrow 4.4mm bezels. This feature gives an almost edgeless display, resulting in an 88% screen-to-body display ratio. Unfortunately, the MateBook X lacks in touchscreen option, making it feel like a real competitor to MacBook Pro than of Microsoft's non-convertible laptop.
As mentioned above, another unique feature of the MateBook X is, it is powered by Intel's 7th generation Kaby Lake processor, but it doesn't have a fan. And since it has no fan vents, Huawei was able to create an exceptionally sleek and slim profile for their latest flagship device. The company has also achieved a fanless Intel Core i7 processor, which is first of its kind, and this was made possible through PCM's (Phase Change Material) patent-pending technology. PCM absorbs heat when the machine is fully loaded and when it is not being taxed, the heat will gradually disperse, making the laptop cool again.
The MateBook X will also come with 4GB or 8GB of RAM and with 256GB or 512GB SSD for inbuilt storage. Aside from its good looks, Huawei has also brought other technology that will thrill the SMB (Small and Midsize Business) and enterprise users, such as the chiclet keyboard that is waterproof and has a key travel of 1.22 millimeter.
Similar to MacBook Pro, MateBook X' power button comes with a fingerprint sensor that also works with Windows Hello. The single-touch process will let the user turn on their laptop, as well as log into Windows. MateBook X supports TPM (Trusted Platform Module) authentication, specifically for Enterprise users.
There are two USB Type-C ports, for data and power usages. Huawei is also set to release MateDock 2.0, which will give users an access to Ethernet, HDMI, and USB Type-A ports. For video chatting needs, MateBook X includes a 1-MP camera that may not be the sharpest but will get the job well done.
There is no official price yet, but according to reports, it will cost less in the U.S.
Watch MateBook X in action: