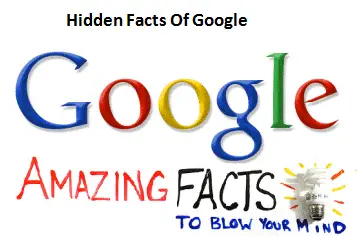 We are totally dependent on the Internet for every little thing such as searching for information to maintaining the business. We can't imagine our lives, not even one day without the Internet. To make us get connected with the Internet and solve our issues we need an interface which is the browser. It helps us to connect, interact with the Internet for all the different uses. We use search engines to search for the information. There are many search engines leading in the market such as Yahoo, Google, Bing, etc. But Google is known to be the mostly used and the popular search engine among many. There are thousands of files stored and managed by the Google. It provides each and every possible information we search for. But not only the visible ones, it also performs many other tasks. It is always a unique and iconic company in its ideas and implementations. Let us look at some of the hidden facts of the Google.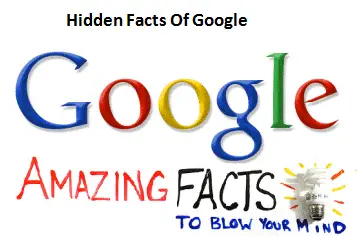 1. The main interesting fact of Google is that, in its earlier versions, 30-50 pages can be processed by it in a second. But now millions of pages are being processed by it in a second.
2. Now Stanford University showcases it, but earlier, Google was stored in Lego casing on ten hard drives which are of 4GB. 3. Now data of 100 million GB is managed my Google. Storage capacity of Google is expanded by the founders with the help of Lego design.
4. As the finding and ranking of the pages were based on back links, it was first named as Backrub, which later got changed to Google.
5. Due to certain losses and as the founders were not ready to handle their own business, they though to sell it off to Yahoo, where yahoo rejected the deal in earlier, but later it put an offer of $3 billion to buy Google. But then Google rejected the offer and now it values nearly $400 billion.
6. Google has got its name accidentally. It was named according to a mathematical word called "googol" which was misspelled later as Google and it got stuck. Well, it is good that it got misspelled.
7. The algorithm use by Google is PageRank which is still owned by the Stanford University.
8. Many of us are not aware that the "Don't be evil" is the unofficial motto of the Google.
9. Though it has been changed now, the exclamation point which is similar to the punctuation mark of Yahoo is present on the home page of Google during 1998.
10. As at that time founders were not completely aware of beautifying the web page with HTML, it is designed with a simple user interface. Still, we like the way it is designed.
11. In earlier days of designing of Google, they didn't know how to design the submit button, so we had to use keyboard's return key in order to submit the page.