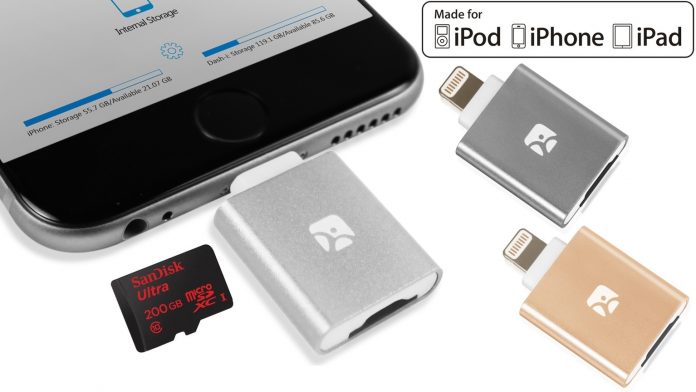 This is the world of emerging and accepting new gadgets, technologies. New requirements lead to new devices with more new functionalities and amazing features. Are you one among many who wants to have the access to removable file storage with an iPad or iPhone equipped with the Lightning-connection? You may be worried because Android users can plug in the USB-OTG devices as you don't have that option. Now you will be excited to know about the latest device of the team who had created USB-OTG MicroSD Readers and other accessories for the Android users previously, have now launched the Dash-i Lightning MicroSD Reader.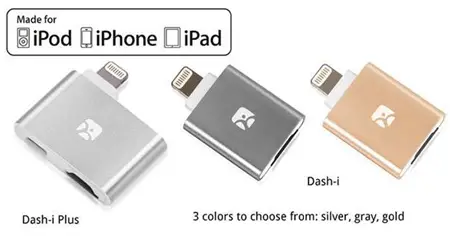 As many of us know the success rate of the Dash-I, which was the first USB-OTG card Reader for Android users, now by following the similar version and functionalities, Meenova has introduced them on the Apple side also to make Apple user's life much better. To charge your iPad or iPhone at the same time, Dash-i-plus is introduced where microUSB is inserted into the block.
The basic version of the Dash-i will be available in $25, and if you order it quick, you may even get it in $18. Some of the users may also get free-upgrade to Dash-i Plus from the regular piece.
Now Apple store is offering an official Apple Lightning SD card Reader for $29. The main functionality of it is easy to use as it doesn't provide a cable for a messy environment. To make your device easy to use and efficient functionality, Dash-I is a little brushed-aluminum block which is in the right slot into your phone. No need to read the user guidelines also to install it and start. It comes up with the companion app which will automatically be launched once you insert the Reader. As it is a problem in Apple's Reader that it just allows you to take photos and videos on your cameras, but here this app will allow you to move the files.
Though Dash Mini MicroSD Reader is now being used by most of the Android users, the original piece was started in 2013 which is stated that the first Reader in USB-OTG. Now a USB Type-C version, full-sized SD card Reader, are available as microUSB model in Meenova has been updated. The Meenova team has tested all of these Readers and been successful in its journey. Now it has gained much importance and attention in the market for different users.
It is needed to store more no of files and sharing them between the devices. This leads to large storage in the device. Now this gives a solution for viewing and sharing different types of media. Because of all of its newest features, it is mostly sold in the market. It is reliable, and good in performance. If you faced any of the issues with the storage and transferring, it is the better solution for your issues. This is available in the reasonable price too.