Even though the first version of a touch screen technology developed in around 1982, the technology was known to general people due to science fiction movies like Matrix Reloaded or Minority Report till the 2000s.
These films described the technology in the form of operators sitting around a circular screen moving files and objects across the screen. From fiction to reality in your hands in the form of smartphones, touchscreen technologies have had a long way of development.
Touchscreen Technologies are not just the drag, drop and press technology which we usually use on our Android smartphones these days. It is also the study of human physiology and ergonomics applied with other technical studies.
It is information processing software with an input device consisting of an electronic display which receives input through gestures by touching the screen with a pen or fingers.
Features and Characteristics: –
Touchscreen Technology uses different kind of scientific technologies like resistive touch, screen acoustic wave, capacitive panel, optical imaging and acoustic pulse recognition.
The resistive panel contains a thin space in between two electrically resistive layers. It is highly resistive to liquids and contaminants.
Resistive touchscreens are inexpensive but susceptible to drift. When one layer is pressed or pushed, it comes in contact with another layer and an electrical connection is completed.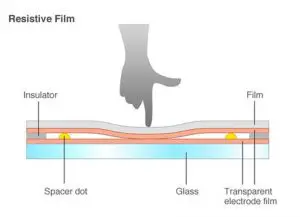 Surface Acoustic or Ultrasonic waves pass over the touchscreen. The absorption of these waves registers a touch. The accuracy of touchscreen technology lies in the job of selecting targets and avoiding random selection while the majority of inaccuracy lies in the parallax created by human vision.
Touchscreen in Phones became popular after Apple iPhone came into market in 2007.  PalmPilot and Blackberry micro-organisms keyboard were among some of the first few commercial usages of these technologies.
Touch panel technologies:
Touch Panel technologies have become a necessity nowadays. It recognizes the touch of the finger by various technologies. It is a key theme in current digital devices, including iPad, smartphones, digital cameras and Windows 7 devices.
Touchscreen devices using infrared technologies are highly reliable. Therefore, they are alsoused in factories and ATMs. These devises uses light for sensing and detecting movements across the screen.
Mobiles, however, use Projected Capacitance also known as Pro-Cap these days. It is a solid state technology and has captured the market of these devices.
An OLED display requires fewer layers than an LCD. With an increasing market of "thin" phones, OLED provides a better technology than LCDs.
Apple iPhone 5 brought entirely new technology in the market known as the in-cell touch technology. This technology has made the display component thinner, lighter and more reliable.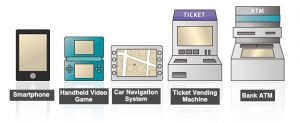 PROS AND CONS: 
The pros of the Touchscreen devices are that they have limited buttons. They usually have simpler user interfaces Ex. Ipod Apps.  Most devices are easy to clean. They are very user-friendly.
The cons are that the screen has to be big enough andthe battery life is very poor. It is very difficult to read the screen in direct sunlight. If the phone crashes, recovery becomes difficult sometimes. The screens may get damaged easily. They are usually costly.