It is a direct manipulation technology, having the ability to manipulate digital world without command line inside the screen. It is an electronic visual display, which capable of detecting and locating. Users can move things on the screen and scroll them. Touch screen technology in smartphones, desktops, tablets, gaming, etc. It can support multi-touch and is suitable for large panel size. There is no limitation of input materials and maintenance. Four main touchscreen technologies are:
1. Resistive
2. Capacitive(like modern phones)
3. Infrared
4. Surface Acoustic wave
1. Resistive:
The first ever touchscreen technology has been Capacitive(like modern phones) introduced in 1966, it is a kind of MonoTouch capacitive screen is simple. When an object touches the screen, the between the charger plate is a capacitor.This kind of touchscreen is very accurate, and only one event at a time.
2. Capacitive:
The next event in touchscreen technology is Resistive introduced in 1977; it works by using two sheets of flexible, transparent material and conductive lines. Resistive screens have high accuracy and do not impact on dust.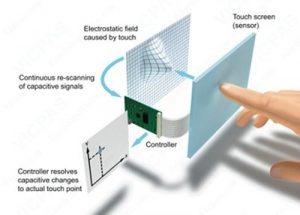 3. Infrared :
It operates by calculating the light beam to determine the location of touch events. It is a perimeter-based technology, which differs from the surface acoustic wave. When an object touches the screen, the light beam will interrupt causing the light to block. Infrared is active due to high ambient light, lower resolutions and inaccurate touch events.
4. Surface Acoustic Wave:
It operates by tracking sound wave which is beyond human hearing called as ultrasonic waves, for detecting the location where touch events occur. The touchscreen is having three components like transmitting transducers, receiving transducers and reflectors. When a soft material touches the screen waves get absorbed. It has highly multi-touch events. Do not function with a pen, when droplets or dirt is present on the screen.