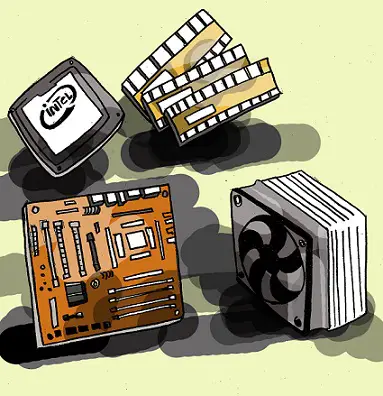 Duo Core Vs Core 2 Duo
Technological advancement has made technology smaller, smarter and faster but there is a limit to everything. The modern central processing units or CPU has been designed to perform faster but they have to cope with a strong rival, 'the heat'. Processors produce more heat as their clock speed increases and thus puts it on high risk to burn the circuitry.
The human lust for speed never ends and that desperate desire has led to the embedding of multiple cores on the same processor. The research revealed that it is better to join two cores on the same chip rather increasing the clock speed. This is the main reason for calling this technology as dual core or two cores.
Originally, the processors were developed with one core only. The core is the actual part of the processor where the reading and execution of instructions take place. Single core processors are capable of executing one instruction at a time. Pipelining has been used to improve the performance where several instructions are sent to processor for execution simultaneously but still, the processor performs one at a time and executing the programs by assigning time slots to each one of them. This makes possible the execution of more than one programs at the same time on the processor.
With the passage of time, the speed needs increased and the applications become heavier with the improvement in graphics; there arose a need to bring some innovation to the computing as single core processors had already reached to their limit. Increasing the clock speed is not the reliable solution as increase in clock speed also causes the processor to evolve more heat and thus making it more prone to burn. This promoted the idea of introducing multiple cores on the same processor.
Dual core technology originated as a result. In simple words, dual core (mostly known as Duo Core and Core 2 Duo) is an integrated circuit having two individual processors on it. To make use of two cores, the operating system also need to be modified. It should be intelligent enough to divide the jobs between the cores or distribute the segments of an application in such a way that they do not interfere with each other creating a deadlock situation and halting the system.
Intel Pentium D was the first attempt to design multiple processors for the desktop computers. This processor had two dies, each having a single core and both residing side by side to each other on the same multi-chip module.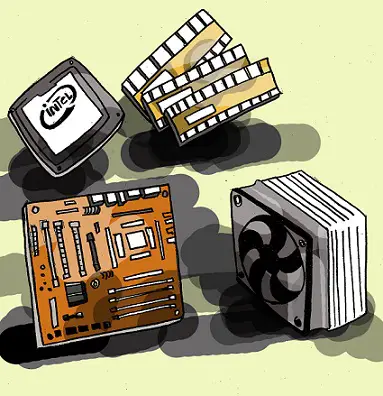 Although the Pentium D processor was designed to bring performance but its performance was not as was expected and it had high power consumption with more heat generation. In Over Clocking terms, it did not prove as a good processor.
Intel Core Duo are in fact Pentium M branded processors more technically know as Intel's 32-bit mobile dual core X86 processors. There are two branches for core brand: Solo (Duo having one core disabled that replaced single core processors of Pentium M brand) and Duo (Dual core). Duo core was the first dual core processor by Intel for laptops. It's a brand new architecture with two cores on the same die providing you a couple of chips in one package.
The Core 2 Duo is Intel's 64-bit X86 family of processors with single, dual and quad core processors using Intel Core micro architecture. Core 2 Duo CPU's are very popular these days because they have more powerful and better Dual Core chip with enhanced performance and consuming less power as compared to Core Duo processors. They do not have over heating and burn failure issues and run cool with perfect Over Clocker.
Dual-Core:
Almost all dual core processors like Intel Itanium provided two 64-bit processing cores on the same processor with high bandwidth 24MB low-latency L3 cache. This huge cache along with Hyper-Threading (HT) makes the winning combination to give you twice the performance that the dual core processors were used to provide in their earlier stage.
EPIC:
Explicit Parallel Instruction Computing or EPIC helps implementing prediction parallelism and speculation for instruction level parallelism (ILP). This features help dealing with workloads and high-end enterprise.
Hyper-Threading:
The use of hyper threading doubles the number of threads in each core and thus providing four times the threads provided to the operating system. The performance multiples to several times as compared to the ordinary single-thread implications. Intel Itanium was the first processor to use Hyper Threading technique.
Parallel, wide Hardware for Improved Performance:
Duo core processors can be equipped with up to 128 floating-point and 128 general registers supporting rotation. Prediction and speculation were also introduced as new features for improving performance.
Energy Efficiency:
In the beginning, duo core processors made use of large amount of energy but now the modern duo core processors make less use of power.
High-Bandwidth System Bus:
Duo core processors can support up to 8.53 GB/s bandwidth. Massive size data bus (128-bit) ensures mass transfer of data among different components. 64-bit virtual addressing and 50-bit physical memory addressing and 400-533 MHz frequency expandable buses make them realize the user their performance.
Features for supporting flexible platform environments:
The modern duo core processors can support IA-32 applications because of the presence of IA-32 execution layer. To remove the processor dependencies, the processors also contain abstraction layer.
Pinout Specifications:
Duo core processors are really built to deliver performance. They can have up to 611 pins for input, output and both input and output operations.
Instruction Execution
Modern duo core processors use 128-bit words containing 3 instructions each. The instruction fetch can feed two instruction words into pipeline from L1 cache per clock cycle. In this way the process can execute six instructions per clock cycle. The execution unit has eleven groups each executing one instruction per clock cycle.
Performance reviews
Let us compare Intel Core Duo T2400 with Intel Core 2 Duo T5600 on the basis of different factors.
PCMark 2004
Core Duo T2400 = 4514 points
Core 2 Duo T5600 = 5153 points
PC Mark 2005
None of them can be evaluated on this basis of these criteria
3D Mark 2001
Duo Core T2001 = 4998 points
Core 2 Duo T5600 = 5226 points
3D Mark 2003
Both of these processors can not be compared under this configuration.
3D Mark 2005
Duo Core T2400 = 463 points
Core 2 Duo T5600 = 461 points
3D Mark 2006
Core Duo T2400 = 159 points
CPU score = 73 points
Core 2 Duo T5600 = 173 points
CPU score = 79 points
Cinebench
Core Duo T2400
Single CPU = 114.6 seconds
Multi-CPU = 52.9 seconds
Core 2 Duo T5600
Single CPU = 64.3 seconds
Multiple CPU = 46.4 seconds
SiSoft Sandra
Core Duo T2400
Dhrystone = 16549 MIPS
Whetstone = 5040/iSSE2 MFLOPS/6591 FPU
Core 2 Duo T5600
Dhrystone = 22305 MIPS
Whetstone = 5547/iSSE2 MFLOPS/8171 FPU
Quake 3 Arena
Core Duo T2400 = 115.1 fps
Core 2 Duo T5600 = 118.3 fps
Benchmarktest for Core Duo and Core 2 Duo
Unfortunately, no major change could be brought in performance at benchmark test where the processors need to perform plenty of 3D calculations but there was a considerable increase in performance at CPU intensive tasks. The negative outcomes of 3Dmark 2003 test may be due to the possible tolerance at the tests performed.
The Super Pi results of both processors are something very interesting: Up to sixteen million decimal places, but Core 2 Duo performs 23.1% faster than Core Duo at a 32 decimal places configuration.
Core 2 Duo T5600 processors have been found 13.2% better than Core Duo on the average.
Hardware examples of Core Duo and Core 2 Duo Processors
AMD
Athlon 64 X2, Athlon 64, Athlon 64 FX and family, core duo desktop processors.
Athlon II, dual-core, triple-core, and quad-core processors for desktop PC's
Opteron, dual, quad, hex, 8, and 12-core workstation/server processors
Phenom, dual-core, triple-core, quad-core, and hex-core processors for desktop PC's
Sempron X2, core duo entry level processors
Turion 64 X2, core duo laptop processors
FireStream and Radeon multi-core GPU/GPGPU
Blackfin BF561, core duo processor
ClearSpeed
HP PA-8900 and PA-8800, dual core PA-RISC processors
IBM
POWER4, core duo processor
POWER5, core duo processor
POWER6, core duo processor
PowerPC 970MP, core duo processor, for Apple Power Mac G5.
Intel
Celeron Dual-Core, core 2 duo
Core Duo, core duo processor
Core 2 Duo, core duo processor
Core 2 Quad, 2 dual-core
Itanium 2, core 2 duo processor.
Pentium D, 2 single-core in the same multi-chip module.
Pentium Extreme Edition, 2 single-core on the same multi-chip module.
Pentium Dual-Core, core 2 duo processor.