Complete Solution to iTunes Match Issues
Apple has come with something extremely worth the brand in which they call, the iTunes Match. Now, Apple users can match, upload and play their existing music, in which you cannot obtain from iTunes store with high-performing versions of iClouds. However, many users of iTunes Match are facing problems, which defame the service. Let's have some solution to the probable issues of iTunes Match.
Many users of iTunes Match is currently facing problems with matching their music because iTunes does not match more than one particular song. The problem shows not because of error coding, this occur only because of error in matching music. If you are facing this type of problem, then you have to extend your patience and keep on trying.
You may also face difficulties with the meticulous nature of iTunes' track length. If you keep iTunes off for sometimes, and turn it on again, it may sometimes be unable to match a track. To solve this problem, you have to observe the expected length of iTunes and then trim the music with additional silent gap at the end of the music. For trimming, you can use "MP3 Frame Editor" software and also, re-encoding isn't necessary to solve the issue.
One of the major issues on using iTunes Match is when you are running it into an iOS device because it possesses less space than Mac. Users sometimes get confused if they will delete some old songs to get extra memory space or if they can just instantly download songs from iCloud. Consequently, if you want to download any tracks for your iPhone, you have to do it manually. Your iPhone device will notice the existing track of iTunes, and when you listen to one of them, you can always download it to your iPhone. You need to give command to download the entire playlist. Hence, you have no other way to make spaces for new songs; you have to delete them one by one.
A general query about iTunes Match is, "does the newly made playlist will work with iTunes match as iCloud?" The most viable answer for this question is, just synchronize iCloud with you new library in iTunes and then your playlist will go into Cloud and turn iPhone match on, by then, you will find your playlist. Now download as much as you wish.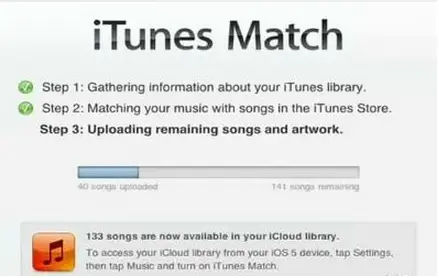 One of the frequently asked question is, if you can transfer music from one PC to another with iTunes Match. The answer for this is, yes, you can certainly do it. Adding another PC is just like adding your existing playlist with the existing one of another PC. iTunes Match can help in combining two PC's because it is the combination of two playlist. If you are a first-time MacBook user, then just turn the iTunes Match on and let it scan the library, and you can see that it will end successfully. You can also use iTunes Match in your iMac in the same way for getting vast collection of music.
Many iTunes Match users are being faded up with their long list of music, which are not from iTunes store. To get rid of this problem you have to go through some steps. First, get out from iTunes. Then start iTunes by holding the key of option. Then you have to choose or create the latest library. Go to the "Store" menu as well as activate iTunes Match. Then type in your Apple ID and password. Click on the "advance preference" option in iTunes then uncheck the "Media folder" and end the process by clicking "OK". This will help you avoid copying duplicate files.
iTunes Match is the complete solution of keeping back up and synchronizing the music files without uploading the full collection. It added a new dimension in the Apple world and for the i-users.