Topmost Features of Dropbox iOS App
Dropbox is an application that allows you to bring all your docs, videos and photos anywhere and be able to easily share them. You access all files you save in your Dropbox from your computer, iPad, iPhone or Dropbox website. Below are some of the topmost features of Dropbox.
1. Version 2.0 does not look thrown together like the previous version. Color schemes as well as contextual menus are clearly seen in the app. Labeling of tabs is done using icons instead of text. Clean lines and color gradients are uniformly distributed in all pages of the app.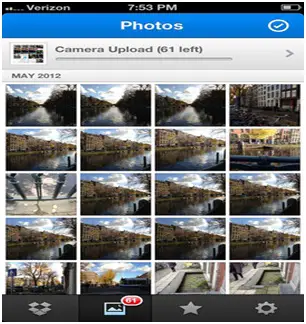 2. Dropbox has bulked up the tool for uploading photos. It is now accessible directly from statically dedicated menu tab that has an option of scrolling through timeline of uploaded photos.
3. The new version of dropbox has a simple button at the top thumbnail layout for editing. This allows you to select and delete a batch of photos. This makes it simple to highlight and delete multiple photos from Apple's app.
4. Dropbox iOS App has a banner which enables users to upload photos directly from the camera. You do not need to transfer the photos to your PC then to Dropbox; you only transfer them from camera to Dropbox app.
5. It has a full screen viewer of photos that allows users to save images to their devices and copy them to clipboard or even print them. There are also options for sharing files with support for text, Twitter, email, Facebook post or Message. You can also create direct links to your photos and access them in the full screen view.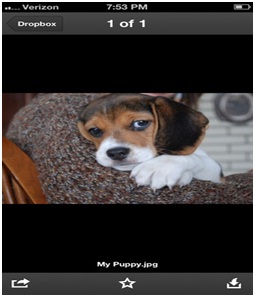 6. Dropbox has also streamlined uploading of files to certain locations through addition of plus icon to every folder. For instance, users are able to navigate to public folder and press plus icon hence choosing upload to such a location. Alternatively, users can opt to make new folders.
7. Dropbox 2.0 is a universal app of 13 MB and is freely downloaded from App Store. 13 MBs is such a small app that does not consume a lot of your internet bundles when downloading. So it is worth to be used.
8. You can have your files or docs anywhere you want. You start with 2 GB for free and go up to 18 GB and get referrals. Accounts for pros add up to 500 GB while those for businesses begin at 1 TB for five people.  Your files are usually available and secure on Dropbox website.
9. You can perform all tasks you want even when you are not online. Your files are always there whether you are connected to the internet or not.
10. Sharing of files and docs in Dropbox iOS app is very simple. Shared folders enable people to perform group work on same documents and projects. This allows you to see what others are doing, create galleries for photos viewable by everybody you choose.
11. Mobile devices such as iPhone, Android, Blackberry and iPad always make you keep your dropbox app at hand even when traveling. You can edit files, upload photos and videos, and share them freely with friends with dropbox in your phone.
12. Dropbox app keeps your documents always safe. It protects them keeping history of your work for one month.  Any changes that you did within the month can be undone and files can also be undeleted. It uses (SSL) Secure Socket Layer and AES-256 encryption to ensure security of documents and files.
13. The new version of dropbox has a PDF viewer that allows users to send and open their PDF files without necessarily converting them to other file types. When somebody shares a file or folder with you, you can receive push notification. You can also sort files by date they were modified.