The past four decades have extremely changed our technology. From the early 1990s, when first time World Wide Web became accessible to the year 2000s, when Smartphones were widely accepted, the Digital Revolution has never stopped. Over the years, our Computer scientists and engineers have always amazed us with better technology and devices. Their work has made the complex task easy and simple tasks much simpler. And now, we are in a place where we can't go even a day without checking our Smartphone or going on a vacation without a camera or living without TV.
Although we are already living in a technologically advanced era and couldn't ask for anything more, the innovators at The CES 2016, a global consumer electronics and consumer technology tradeshow, have still managed to surprise us. A collaboration of 3800 companies showcased the best of their gadgets which made us realize that what we have is just a mere glimpse of what is about to come. The devices they showcased would improve the quality of our work and entertainment with little or no manpower.
Here is a list of few of those noteworthy and truly astonishing gadgets which would bring us one more step closer to the future:
LG Rollable OLED:
Now people don't have to carry their laptops everywhere or wish to watch videos with the picture quality of TV. LG introduced The Rollable OLED which can roles up like a newspaper. This 18-inch screen will have all the features of all Smartphones, laptops, TVs and tablets. It also has organic light emitting diodes (OLED) on a plastic substrate, which helps viewers to have the same picture quality as of a TV. It is easy to carry and feels like you are carrying a plastic sheet in your bag. While it is still not available in the market, people are hoping to see it soon.
Garmin's Varia Vision Device:
This gadget is definitely a dream come true for cyclists and travelers. The gadgets before had computing devices on the handle bar of the cycle which provide them with directions and notifications from their phone, but that was a bit inconvenient while travelling. The Varia Vision is an augmented reality display, which can be mounted to your sunglasses. It alerts you about traffic and directions using GPS. Moreover, it also has a tiny touch pad on the side so that we can scroll through menus. Adding to the list of fascinating features, it has an integrated ambient light sensor, is waterproof, vibrates to alert and has a battery that lasts up to 8-hours.
The Immersit:
Immersit has added a whole new experience to Virtual Reality (VR).  The VR tricks the brain in assuming you are somewhere else; whereas Immersit provides the physical experience of the same. Imagine being in the rollercoaster feeling the drop approaching and the sensations you feel as your couch tilt. Yes, now you can have this at home. Immersit lifts, vibrates and rocks your couch or chair in synchronisation with the games and movies it supports.
The software translates the motions into perfect movements and vibration. It can also be easily customized as the user can change the particular movement for a specific action. This one will surely attract gamers and movie lovers.
Smart Ski Airbag Vest:
This gadget is a highly-advanced skiing vest for the safety of skiers. This Smart Ski Airbag Vest seems like a flak jacket and can be worn under regular skiing gear.  Gyroscopic sensors, GPS and an accelerometer, are attached to the back of this vest in the Smartphone-sized pocket. If there is any loss of balance of the wearer, the sensors will detect it, and the vest will become a giant Airbag within 100 milliseconds to save the skier from any physical damage.
EHang 184:
While the world is obsessing over drones for the last few years, this Hi-Tech drone is added to the list. Build by Chinese UAV Company EHang, this drone can fit a human. This autonomous drone is 4½ feet tall and surprisingly weighs only 200kg. Moreover, it can carry a passenger for 23-minutes at the speed of 69.5 kph.  Surely, this is the future of drone technology.
The Nima: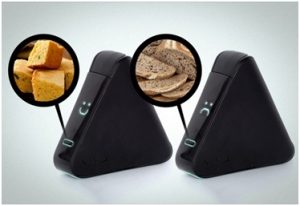 As technology has provided us with better entertainment, safety and security, this device proves health is not far away either.  The Nima from 6SensorsLab has provided a safeguard for the people who have a gluten allergy. This gadget checks whether the food served to the person who has gluten allergy is safe or not. To check it, all you have to do is fill in the food sample in the loading pod, insert the pod back until you hear a click and get results within 2 minutes. If the food is gluten free, it will show a smiling face, otherwise a sad face is displayed as shown in the above picture. It can connect to your Smartphone to keep track of your health. This gadget is under development to ensure food for people suffering from other allergies.
Daqri's Smart Helmet: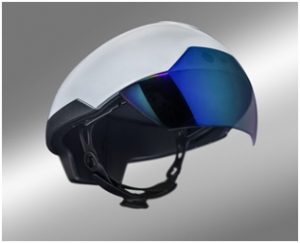 This device is advancement to the simple helmets of the industrial or construction workers. It is double as a hard hat that comes with safety goggles for workers operating heavy machinery. It also projects any command or any urgent message in front of the eyes of the wearer. The Central unit is powered by Intel Core m7-6Y75, which allows for highly performant multimedia and AR applications. It also has other amazing features like high-speed wide-angle tracking camera, large field of view optical see-through displays, depth sensors and thermal camera. It is a necessity for the industrial workers.
3D Replay Technology:
Though it is not a gadget, this technology is worth mentioning. Being able to pause or record live TV was a miracle in itself; but watching live TV at different angles is next to marvellous. The Israeli company Replay Technologies (now owned by Intel) made it possible. The company provides 3D video rendering to which they call "Free Dimensional" or freeD. This technology is used by people to allow them to get a 360-degree view of each key. The company made this possible by using 28 ultrahigh-definition cameras which are positioned around the area and are connected to a lot of Intel-based servers. Though the technology hasn't been used except sports broadcasting, still we are hoping it might be used to fulfil a much more crucial purpose.
The GoSun Stove:
The world is facing the shortage of non-renewable resources for many years, and continuous efforts have been made to overcome this problem. As all the attempts have failed to replace the frequently used energy sources, yet this device grabbed a lot of attention at CES 2016. The GoSun Stove created by GoSun has a wonderful way to use the sunlight for cooking meals. This stove has an incredible design, which directs the sunlight towards the cylinder which manages to heat up to 550 degrees in 10-20 minutes. The food cooks inside the solar evacuated tube, which absorbs 80% of the sun rays falling onto it. This design also captures the light from broad angles. The devices which uses solar energy always faces the problem as they wouldn't work in the absence of sunlight but not GoSun stove. It is efficient enough to work in winter and even if the clouds cover up the sun completely, the stove stays warm enough to continue cooking.
TipTalk: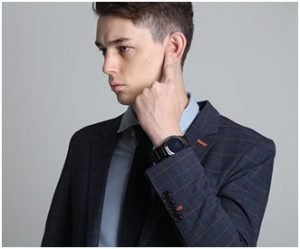 We have seen various kinds of smart watches in last few years, but TipTalk is a bit different from the others. This watch strap from Innomble Lab, a startup from Samsung's secretive Lab, is unique in its own way. It allows you to listen to voice messages and calls by generating vibrations on the strap, which are passed on to your wrist then hands till they reach your fingertips. The wearer just has to press his fingertips against his ear, and then he can listen to all calls and voice messages. TipTalk can work with both iPhone and Android phones. The company wants to ensure that TipTalk is compatible with any watch body before launching it in the market.
Phonotonic: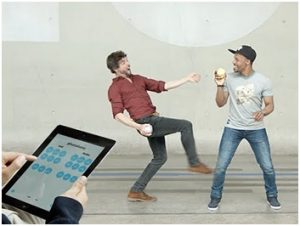 Love to play or make music, but don't know how to play any musical instruments, then here is the solution. The Phonotonic introduced by Kickstarters can change motion into music. To use this gadget, one doesn't need to have any knowledge of music; all you have to do is move. It connects through wifi to Smartphones or tablets. The sensors are placed inside the silicon spheres, but you can keep the sensors inside any object or even in your pocket. Just launch the companion app and select the rhythm and the main line, then just dance around and create your own music. You can hear the music change as you move faster or slower. There are a lot of options for music for one to play like jazz, rock and roll etc. This gadget is great, but the company still has to build a decent ecosystem around sensors.
12. The Emicro One:
Micro is the most respected brand in the area of scooters. Though we have seen many electric scooters but this time Micro has surprised us by launching first ever motion controlled electric scooter. The Emicro One looks like a normal scooter but it has four battery indicator LEDs on the deck, and it is powerful enough to reach up to 12mph and can travel 10 miles on a single charge. To ride it, you can push it like a regular scooter until the motor is engaged then you might place both feet on the deck and can control the speed by moving your body accordingly, or you might choose kicking while the motor assists you. It has other features like a light battery, which helps to cover more distance and it can be folded, so it is easily portable. To switch off the scooter, you can tap three times with your foot on the back brake.