The invention of the computers and progress in its ability to perform various tasks has brought many changes in the way we live. The earlier machines were only capable of performing fundamental calculations. But productivity of these systems is increasing with increase in time. Science-fiction movies make the audience fanatical by depicting speculative technology, say the Jarvis technology in the movie 'Iron Man.' The technological characters may be just fictional, but they are portrayed because they are something out of creation by somebody. So if the creator can imagine such personages, then one can also imagine how these things are made possible in the real world. In the technologically growing world do you still have doubt if a computer can think? And the answer is yes it can!
Artificial intelligence which means giving intelligence or cognitive power to the machines or computers that can think and act like humans.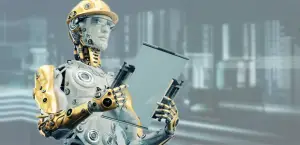 Firstly, what is intelligence? It is to identify and differentiate the objects, find the best solutions, interact with the world, to learn and plan, etc.
HISTORY:
It all started with the invention of computers and its evolution. Also, myths, creative thinking, and such factors have influence in the genesis of AI. The term was coined in a conference held at Dartmouth in 1956 gave birth to this field.
John McCarthy is known as the father of AI technology who has given the name AI. Of course, there are other researchers like Alan Turing who worked in this field before but what they were working on was uncertain and undefined before 1955.
The period 1956-1974 is said the golden years of the Artificial Intelligence.
The rise of Machine Learning (a branch of computer science that lets the computer to learn by itself) is seen in 1986 that resonated the scrutiny of AI.
Later in 1995, the AI is recognized as a part of science and began using in various fields like data mining, a language, etc. Various sub-technologies were used with AI like face recognition, pattern recognition, etc.
We say that humans are intelligent but how? It is because of the brain and it works according to the patterns. The human brain, perceives what we see, what we hear, what we touch in the form of sequence. Neural networks (NN) are the models inspired by the human brain to carry out various functions. For particular action we perform the neural networks help in producing the appropriate reaction. These NN in human brains are known as Biological neural networks and in-case of AI known as Artificial Neural Networks (ANN).
BRANCHES OF AI:
When AI was given its name at the conference, the scientists planned a lot to do and create advanced intellectual machines. But they were not successful then, as it was not easy in the initial stages. Later with the increase in the depth of study, AI is categorized into branches.
Logical AI: Representing the world in mathematical, logical form.
Pattern Recognition: Used to detect any object.
Representation
Common sense, reasoning
Planning
Machine Learning: A branch of AI that gives the computers potential to learn on themselves and update its algorithms. It is one of the promising areas of AI.
Example: A programmer doesn't know how to write code to recognize a dog. But he can create a program with the form of intelligence that can learn to do so. Give an image data as an input that is divided into patterns and can recognize it.
Genetic engineering and many more categories as well as sub-branches.
Applications:
The study of AI started in B.Cs, but still, this field hasn't lost its significance. Almost all the areas make use of this AI.
In Finance to maintain records, book-keeping, etc. In Computer science, many tools were developed using AI to solve complex problems. In the medical field: drug creation, an aide to the patients, etc. In industries as intelligent robots to perform heavy tasks. In Transportation: Fuzzy logic controllers and much more.
One may feel that these intelligent machines are productive and efficient and what if they replace humans and reduce the employment level. But recollecting adaption of people to the types of professions since B.C. to be not the same all the time. There is a change in the kind of work we do or the type of employment with increasing technology and progressing time. Thus it is not a problem if AI is the future. No worries about us being replaced by machines as we will have no work to do. Because we humans are innovative and quite good at creating jobs.