Database configuration assistant warning: Error starting Database control 11g
Asked By
10 points
N/A
Posted on -

08/22/2012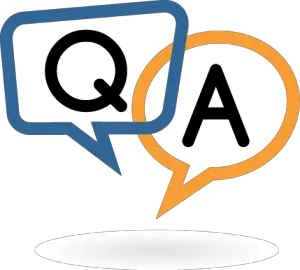 Hi, I am running the Ubuntu 10.04 LTS-the Lucid on my computer; the virtual box, window XP32-bit on the virtual box are all installed on it successfully, however, when installing the oracle database 11g r1, I had an error message "database configuration assistant warning: Error starting Database control 11g"
What could possibly be happening and how do I fix the problem?
Please help where possible.
Here are some of the last three screen shots of the installation process.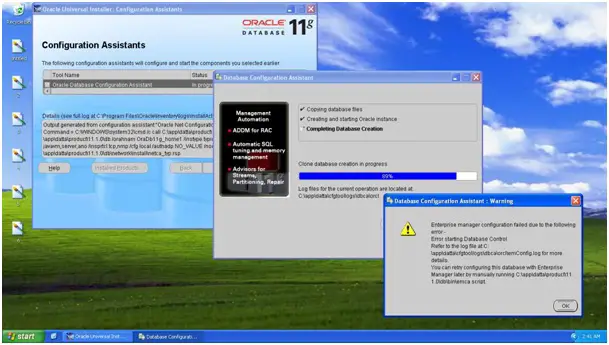 Database Configuration Assistant : Warning
Enterprise manager configuration failed due to the following
error –
Error Starting Database Control
Refer to the log file at C
/ext/oracle/app/oracle/cfgtoollogs/dbca/orcl/emConfig.log
for more details
You can registry configuring this database with Enterprise
Manager later by manually running
/ext/oracle/app/oracle/product/11.1.0/db_1/binemca
script
OK
Database creation complete. For details checkthe logfiles at:
/u01/app/oracle/cfgtoollogs,idbca/DB11G.
Database information:
Global Database Name: DB11G.WORLD
System ldentifier(SlD): DB11G
Server Parameter Filename: /uO1/app/oracle/product/11.1.0/db_1/dbs/spfileDB11G.ora
The Database Control URL is https://ole45.localdomain:1158/em
Management Repository has been placed in secure mode wherein Enterprise Manager data
will be encrypted. The encryption key has been placed in the file:
/uOl/app/oracle/product/11.1.0/db_1/ole45.localdomain_DB11G/sysman/config/emkey.
ora. Please ensure this file is backed up as the encrypted data will become unusable if this
file is lost.
Note: All database accounts except SYS, SY':TEM, DBSNMP, and SYSMAN are locked. Select
the Password Management button to view a complete list of locked accounts or to manage
the database accounts(e><cept DBSNMP and SYSMAN). From the Password Management
window, unlock onlythe accounts you will use. Oracle Corporation strongly recommends
changing the default passwords immediately after unlocking the account.
Password Management…