Top Best Mini DV HD Camcorders of the Year 2012
Are you looking for that camera that will take clear photos and videos in your forthcoming event? You do not have to bother yourself anymore; here is a list of top 15 best Mini DV HD Camcorders to choose from:
1. Sony Dcr-hc38 DCRHC38 – A mini DV Handycam camcorder that offers all the best features ever. It takes perfect quality photos and videos. It has a picture stabilization system which is designed for elimination of the shake.
2. Panasonic HDC-TM80K – The best value HD camcorder of the year 2012. It is made for simplicity with full HD recording, high digital and optical zoom and clear image capture. It takes high quality videos at 720p. You will wonder when you try this type of a camcorder.
3. Panasonic pvgs300 – A full HD recording camcorder which takes clear images and videos. Images and videos taken using this type of camcorder are of excellent quality.
4. Handy Cam HDR-PJ200 – In this camcorder Sony has almost included everything that you may look for in a camcorder. It has Full HD recording with Carl Zeiss Vario-Tessar lens, which an impressive job. The back illuminates the CMOS sensor ensures that you take the best picture in low light. It also features touchscreen 2.7-inch LCD display, inbuilt projector and digital zoom among others.
5. JVC GZ-HM30US – A low end JVC camcorder featuring an HD recording of videos at 720p, both optical and digital zoom and 2.7-inch LCD display. It also has an advanced image stabilizer that ensures quality images are captured.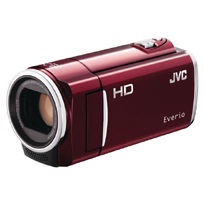 6. JVC GZ-EX210 – A WIFI enabled camcorder that records under full HD. You can share photos and videos from your PC and Smartphone without hassle. Additionally, JVC has loaded it with useful features like time lapse, high speed capture for videos, face recognition and auto recording.
7. JVC GZ-E10BU – A simple and light-weighted camcorder that offers great features to keep the Videographer always happy. It features full HD recording of 1080p, 200x digital zoom and 40x optical zoom as well as a 2.7-inch LCD display.
8. Panasonic HC-V10 – An HD camcorder featuring ultra-high zoom of 100x for digital and 64x for optical zoom. Additionally, it features HD video recording, intelligent auto and image stabilization as well as a 2.7-inch LCD display.
9. Samsung F80BN – A flash memory camcorder featuring HD video recording of 720p, 2.7-inch LCD display, 130x digital zoom and 52x optical zoom. Playback can be scaled up to 1080i if viewed via the HDMI port as well as HDTV. It does a wonderful job in taking clear pictures and videos.
10. Sony Bloggie Live MHS-TS55 – A pocket camcorder with full HD and MP4 capability. It is a camcorder that has highly embraced HD technology combining it with its simplicity and portability. It is WI-FI enabled allowing you to upload and share items with social networks, Smartphones, tablets, YouTube and others. It has a 3-inch touchscreen very sensitive to touch.
11. Samsung HMX-Q10 – An all-round full HD compact image and video camcorder from Samsung. It records videos at 1080p with an optical duo image stabilizer that ensures that images captured are of excellent quality. It also features a 2.7-inch LCD display touchscreen.
12. Flip Mino HD – A simple camcorder that fits in all sizes of pockets. It has an image stabilizer that aids this small camera in taking crystal clear excellent quality images and videos at 720p. It comes in both 4GB and 8GB models and is capable of working for over 3 hours while in continuous use without showing the battery low alert.
13. Sony DCR-VX2000 – A full HD video camcorder that takes excellent quality images and videos. Its features and models will make you go with it everywhere you go and you will never regret for your action. It does a great job when it comes to taking of images and video recording.
14. Samsung SC-D353 – A full HD camcorder featuring both optical and digital zoom with LCD display. It captures super quality images and videos. Additionally, it can work continuously for long hours since it has a long-lasting battery.
15. Samsung SC SC-D23 – A 2.5-inchstandard definition camcorder from Samsung. It has media format of a mini DV with 10x optical zoom and image stabilizer for quality video capturing.