Unable to create a copy of a Screener DVD
Asked By
0 points
N/A
Posted on -

01/27/2012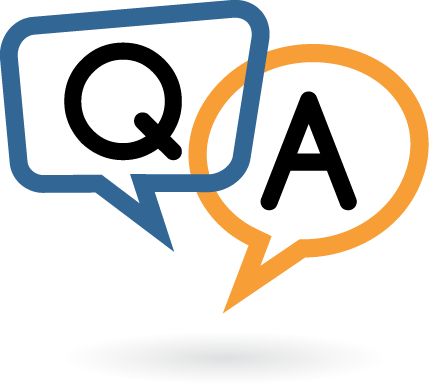 For the first time in my life, I failed to create a copy of a DVD. Going through the 14199 thread I tried to find out the following details for your convenience:
The Steps I followed for troubleshooting:
First I downloaded AnyDVD 6.6.1.3 Beta Version and installed the program. I tried it for my job. I tried CloneDVD 2.9.2.7 beforehand as I used to work with it in the past. After that I went through my drive information. RPC-2 drive region was set to unassigned. Going to device manager, I changed the configuration to Region 1 (Los Angeles, CA, USA). But this change didn't work.
AnyDVD took a little time to read the disc when it was inserted for the first time. And then the message appeared: "Failed to read DVD. This could have several reasons. After the error AnyDVD appeared as though it has read the DVD contents. I created a log file and as I tried to the zipped version of the log file to the post, another error message popped up. "You can download the file using the link – 'http://dl.dropbox.com/u/2198747/AnyD…razy Heart.zip."
When I failed using AnyDVD, I tried CloneDVD. In the 'Audio Settings' column of the 'Title Configuration' page, all the titles showed 'No Audio'. I proceeded with checking all the menus and when I clicked 'Go', yet another error appeared: 'Unexpected Error" with 'CloneMap 2 TCE' in the Details bounding box.
To check the log file, you can check the attachment – 'CloneDVD Log (With AnyDVD Running).txt'
To get rid of the error, I disabled AnyDVD and ran CloneDVD afresh. And the results are as follows:
Audio Settings for each title appeared okay in the 'Title Configuration' page. But as I advanced to burn the following message appeared:
"Trying to repair defective DVD structure, please wait…"
After that an 'Unexpected Error' along with 'IFOProperties 6 TCE' could be seen in the 'Details' option.
Check out the log file: 'CloneDVD Log (Without AnyDVD Running).txt'
And for more information please check another attachment named 'Drive Info.PNG'
Al last, I have to add that, the DVD is a 'Screener DVD' and can't be bought from Amazon or any other outlet.
Please help me out of this mess. I am waiting for your assistance eagerly.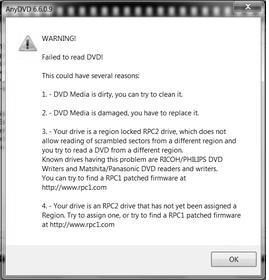 AnyDVD 6.6.0.9
WARNING!
Failed to read DVD
this could have several reasons
I. DVD Media is dirty. you can try to clean it.
2. DVD Media is damaged, you have to replace it.
3. Your drive is a region locked RPC2 drive, which does not allow reading of scrambled sectors from a different region and you try to read a DVD from a different region.
Known drivers having this problem are RECOH / PHILIPS DVD
4. Your drive is an RPC2 drive that has not yet been assigned a Region. Try to assign one or try to find a RPC1 patched firmware at https://archive.rpc1.org/
OK