The world is developing and progressing in every aspect of life at a greater pace. Many new technologies are evolving day by day, which have made human life more comfortable and relaxed. Due to these software tools, the accuracy of the work has also increased at a greater level. One such modern technology is the Genealogy Software tool. This software tool is used to record all the information about a person like birth date, marriage, death, relationship with family, spouses, and children. Additionally, some genealogy software tools also record extra information about a particular person. This tool represents information in the form of graphs, charts, reports like pedigree charts, register reports, etc.
Let us have a detailed glance at the top 10 genealogy software tools and their features.
Legacy Family Tree
Legacy Family Tree is one of the most-used genealogy software tools. It offers a user-friendly platform for users. It incorporates a wide range of features in it. This software tool received an A grade because of its features and accuracy. It stores information in the pop-up list. It contains a spouse list, children list, picture gallery, general information, LDS ordinance list, and source citation list. Additionally, it includes six family view windows at one time, two family files opening simultaneously, drag and drop options, nine levels of individual tags, nin levels of marriage tags, 200 bookmarks, history list tracks, bubble help, and pedigree view. Legacy Family Tree requires an amount of $34.95 to access its services.
Family Historian
Family Historian is also the best application to record family information. This software tool interprets the data from GEDCOM files accurately and offers a user-friendly environment to users. The best part of this software is scrapbooking tools, which makes users find data easily. Additionally, this software is integrated with online databases. Its features include automatic internet data matching, new map window, new web search window, new automatic source citation pane, timeline facts, faster data entry, attach pictures, drag and drop options, copy & paste images, web clipping capability, Unicode & accent characters, etc. The price for this software is $49.95.
Heredis
Heredis is yet another one of the top genealogy software tools. The great portion of this software is it has multiple charts than any other application. It incorporates 45 charts and 33 report styles, which enable users to use any one of them. This software enables users to store information like birth, marriage, witnesses, places, source, private notes, facts, alternative names, and many more. Additionally, users can import & export GEDCOM files. This tool has three models for data entry, four types of calendars, create persons, manage events, add media, manage sources, share events, FamilySearchID, geolocating place subdivisions, etc. Users have to pay an amount of $29.99.
Family Tree Maker
Family Tree maker is one of the best and high rated genealogy software tools. This tool stands at the top place because of its data entry efficiency, scrapbooking tools, and a user-friendly interface. Additionally, this tool is well-designed and easy for navigation. Its features include syncing trees to ancestry trees, searching ancestry's database and merging it to your database, viewing ancestry hints, uploading and downloading trees, web dashboard information, an interactive map, and viewing sources on ancestry. This software is available at $79.95. In the scrapbooking features, users can add photos or videos and any other information.
Reunion 12
Reunion 12 is also an outstanding genealogy software tool. This software tool has an extraordinary feature of charting. The chart displays crisply, which makes it easier for users to print out. Additionally, users can add photos, videos, and any other information through the main toolbar. It is very fast to use. Only seven minutes are required to fill the data of ten families. Its features include easy to use, adding pictures & videos, easy to navigate a tree, share the stuff, easy to find people, search records on the web, create large charts, identify relationships, reports & lists, graphic forms, birthday & anniversary reminders, and many more. Reunion 12 is available to users at $99.
Roots Magic


Roots Magic software tool is specially designed to install on Android and iOS devices. This tool is very easy to use and offers a user-friendly interface. It incorporates a wide range of features like a quick exploration of pedigree, family, descendants, includes lists like source list, to-do list, research logs, media list, address book, repository list, correspondence list & place list, includes tools like perpetual calendar, date calculator, relationship calculator & Soundex calculator. But, it requires RootsMagic desktop family tree software to create, edit, insert information in genealogy files.
Family Tree Builder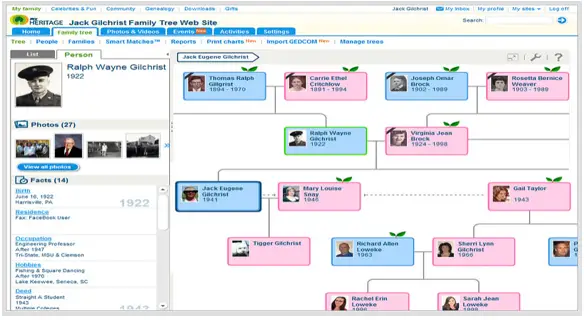 Family Tree Builder is easy to use and a user-friendly software tool. This software eagles users to add, create, edit information about the family in genealogy files. Each family member of the family will have a detailed profile, including name, date of birth, relationship with the rest of the family members, etc. Additionally, it enables users to store extra information like photos, maps, physical descriptions of members, facts, and important dates. This software is available free that makes it easier for users to store their data in an organized file.
Legacy 9

Legacy 9 is one of the most used and the latest genealogy software tools. However, there are many versions of the Legacy genealogy software tools available. Its features include reports & charts, online backup, stories, hashtags, comparing with people, color coding, media sorting, view nine tags, etc. Additionally, it also incorporates problems list, wall charts, source writer, interview reports, new relationship calculator, powerful searching, attaching any document, privacy, DNA, book reports, geolocation database, etc. Also, this software tool offers a free trial period for some days. Later, users need to subscribe to their plan.
Ancestry

As its name indicates, the Ancestry software tool is specially designed to store all information about ancestors and current members of the family. This software tool is compatible with iOS and can be installed on iPhones, iPods, etc. Its features include discovering stories, photos, records of ancestors using Ancestry Hints, exploring billions of historical photos, sharing & collaborating with friends, receive hint notifications, save and ignore photo hints, keep watch on comments, etc. This tool comes with two packages. The first package is the U.S. Discovery Membership at $19.99 per month. The second is World Explorer Membership at $34.99 per month.
Brother's Keeper
Unlike the Ancestry genealogy software tool, Brother's Keeper genealogy tool is specially designed for Microsoft Windows. It has multiple features incorporated in it. This software can export & import GEDCOM files for exchanging genealogical data. Additionally, this tool is available in multiple languages. Features of this software are planner & task organization, data analyzing, chart producing, report writing, etc. Additionally, it manages ancestral data, sources, media files, represent information in charts, scrapbooking tools, etc.