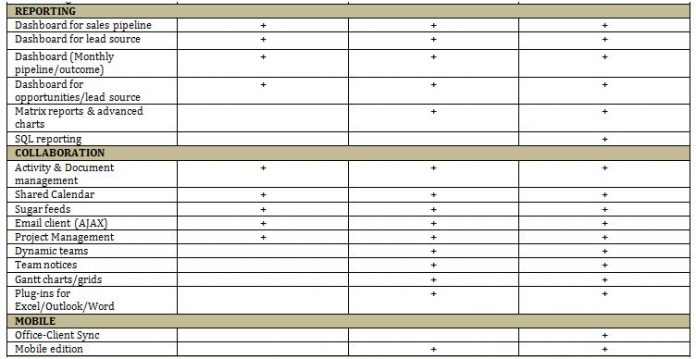 SugarCRM – A Brief Overview
SugarCRM, one of the most preferred vendors for open-source software solutions, is best known for its web application Sugar, which is a Customer Relationship Management (CRM) system, also known as SugarCRM. If the open-source categories of CRM software are considered, Sugar is no less than an eight hundred pound gorilla!
Founded by Clint Oram, Jacob Taylor, and John Roberts on 2004, the open-source code for the Sugar system has already been downloaded around seven million times till date
SugarCRM managed to gain over $46 million from venture financing. Presently, the company has nearly a hundred-fifty employees and serves over twelve thousand companies, including Starbucks Corp, Honeywell International, BDO Seidman LLP, and First Federal Bank. Sugar is designed in PHP in a way that its compatibility with MySQL database is ensured.
Like any other product available in the category of open-source CRM solutions, Sugar also has its own pros and cons.
Pros:

It features the functions of an

in-built

mailing list, which is capable of tracking all the 'clicked-thru', opened, and 'bounced' messages.
The form

for

website integration functions very quickly.
Publishing the form for contact subscription is an easy task.
Once the information is submitted by the user, a lead is automatically generated in Sugar database.

Cons:

Although it offers provision for online queries, reports are not made available.
The work of sending out the e-mail campaigns is entirely dependent on outside supports for entry scheduling, as the work requires a very strong technical knowledge.
History of SugarCRM
Introduced in the first half of 2004 , Sugar was developed by J. Roberts Jacob Taylor and Clint Oram with help of many other developers across the globe.
The product was based entirely on the fast evolution of the Linux open-source projects to free databases like MySQL and great scripting languages like PHP. In fact, it was the first company involved in commercialized open-source project to have raised a large amount of venture capital. Josh Stein of DFJ was the first to invest $2 million into the project. It was owing to Josh's investment that SugarCRM managed to attract twenty-five thousand users by September 2004. It was renamed as "The Project of the Month" in Sourceforge on October 2004. As the product and the company grew in popularity, another $46 million were invested in the project by NEA, Walden International, and Draper Fisher Jurvetson.
Downloaded more than seven million times from the day it was introduced, SugarCRM open-source solution still remains to be one among the most active one in its category in Sourceforge. Currently, the company has multiple websites, such as SugarCRM.com, SugarExchange.com (for 3rd party extensions), SugarForge.org (website for research & development), and user forums.
SugarCRM – Product Types & Feature Comparison
Sugar has been made available to its users in three different editions, namely –Sugar Community Edition (Sugar Open Source), Sugar Professional, and Sugar Enterprise. While the Community edition is free of cost and can be downloaded from their website, the other two are commercial editions and have an annual fee. Each of these three products is derived from a similar code tree. The free community edition features nearly 85% of the total functionality exhibited by the commercial editions, Sugar Enterprise and Sugar Professional. Originally, these three products have been designed to function on the LAMP (Linux, Apache, MySQL, and PHP) stacks. They can also run quite well on other platforms, which are capable of delivering PHP (MacOS X, Solaris, and Windows).
Sugar is also capable of using MS IIS as its web server, while using Oracle or MSSQL as its alternative databases. The product functions comprises of reporting, collaboration, customer support, marketing campaigns, and automation of sales force.
Table 1 provides a detailed comparison of all the features of the free and commercial editions of SugarCRM under different functionalities. Based on the kind of deployment, SugarCRM solution can be further classified into three types – on-premise offering, appliance solution, and SaaS (Software as a Service).
SugarCRM License
On 25th of July 2007, the GNU Version 3.0 (General Public License) was adopted by SugarCRM for its free Community Edition, formerly also called the 'Sugar Open-Source'. This license was brought into effect with summer 2007 release of the SugarCRM's Community Edition version 5.0. Prior to this, the older versions of the community edition of SugarCRM were licensed under the Attribution Assurance License and the Mozilla Public License.
Under the new license, users were able to redistribute the community edition. The source code modification, inspection and creation of a wide range of different derived works also became possible. However, there was some resentment in the media against the 'wrong' use of the term 'commercial open-source' for its products' description. On 11th of April 2010, the Sugar Community Edition version 6.0 was licensed under GNU Affero GPL (AGPLv3.0) version 3.0. This latest version differs as it does not feature the chart tables and the default templates of downloadable themes.