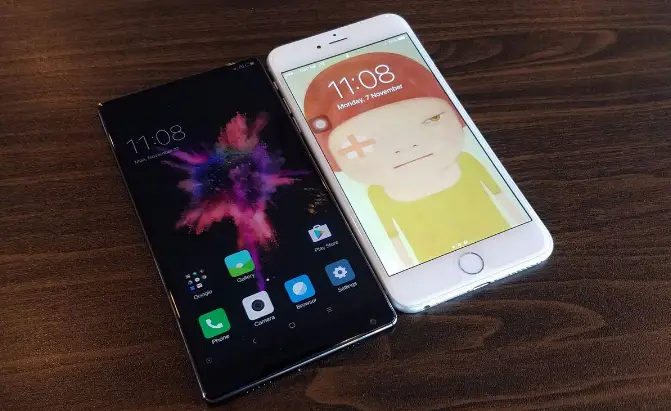 Think of innovation, think of something different, think of superiority, think of aspiration, think of something big; only one name fills all the gaps- APPLE, the best tech company in the world. Starting off a humble beginning, it has risen to almost invincible, something unconquerable. It has defeated it rivals in such ways that it is nearly impossible to imagine, is its twilight approaching? For the past one year the sales of its revolutionary, iPhone, has taken a backseat and the company is incurring heavy losses.
Devoid of any new striking features, Apple could sell 45.51 million iPhones in Q3 of 2016 which is 5.3 percent less than the same quarter last year. Also, the overall percentage of iPhone users has taken a dip; with people preferring Google's Android to Apple's IOS.
For the last couple of years, Chinese smartphone market has risen quite drastically; credit goes to Oppo, OnePlus, Coolpad, Xiaomi and Lenovo. They produce phones that are priced low but are high in quality. They produce their gadgets keeping in mind the Asian market and their target is mainly the first time buyers and the middle class.
Their smartphones are such that they have started giving a challenge even to the titans of the phone world. Xiaomi in the last few years has blown away all the records, shaken the market with its high specs phones, has seen more than 100% growth and is making new records every new dawn. The Mi 4 was sold out in India within 15 seconds. This time it has produced a phone which not only makes it a superstar in the market but also which makes it stand above Apple regarding innovation.
The all-new bezel free Mi Mix
The new iPhone to have reduced bezel adorned the interwebs recently. But it is Xiaomi that has brought it first. The all new Xiaomi Mi Mix is the superstar that has a negligible bezel on its 6.4-inch display. Bezels are vital at the top for calling or for a front camera; Xiaomi has shown quite an innovation here.
A piezoelectric material is used. It creates an electric current when mechanical pressure is produced to transmit sound waves to the user's ear. Instead of ordinary proximity, ultrasound proximity waves are hidden under the screen for calls. The front camera is placed at the bottom of the screen which can be used upside down to click cool selfies.
A few striking features include- a fingerprint sensor at the back that is surrounded by 18-carat gold band giving a sense of luxury, a 4,400mAh battery bundled with Quick Charge 3.0 allows to consume a lot of media, latest Qualcomm Snapdragon 821 processor, storage of 4 GB RAM/128 GB or 6 GB RAM/256 GB, a 16-megapixel rear camera with a PDAF sensor to capture DSLR-like images.
It is made up of ceramic to provide both better eternalness as well as a premium feeling. Its software is also considerate and well thought of. The edge-to-edge display just brings a new experience to watching videos and looking at photos. Top designer, Philippe Starck took around two years to design this phone. The result is- it wins over all its competitors comprehensively including looks as well.
Apple needs some really excellent innovative ideas this time to win back its innovation championship title next year because this time around it is simply trailing behind in comparison with its competitors. Apple's decision to kill the audio jack seems more like a necessity rather than a fresh idea. Mi Mix's high screen-to-body ratio which is 91.3% makes its huge screen identical to the iPhone 7 plus's screen.
Comparison of screen sizes; both are exactly the same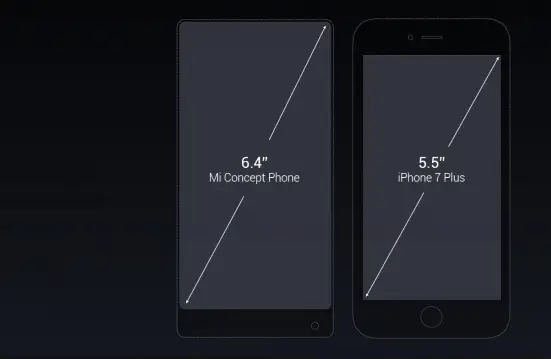 Assuming Apple sticks with its 4.7-inch and 5.5-inch devices; our 2018 dream phone will not be exactly so dreamlike. Xiaomi has crafted a piece of hardware that embarrasses the likes of the Apples and the Googles. No one can deny that Xiaomi is head and shoulders above all in terms of smartphone innovation. Xiaomi's new phablet, the Mi Note 2 provides better specifications than Samsung's flagship phablet, Note 7.
To check notifications, one has to drag their thumb from the top of the screen, but with Mi Mix, one could trigger it by swiping down anywhere on the screen. It also offers an on-screen floating digital button named as "smart ball" that renders better functionality than the same feature on the iPhone. Xiaomi also allows to pull off shortcuts by long-pressing any of the navigation buttons which is absent in Samsung phones. The loud speaker at the bottom of the Mi Mix is better than that on the Samsung's S7 Edge.
Though Xiaomi, through this phone, predicts the future of smartphones, it is still a small Chinese company. One cannot deny an Apple or a Samsung is still what people call 'the' phone. Xiaomi is currently ranked fourth in the Chinese market. Also, its sales have taken a hit in recent months, so without conquering its home market, selling phones in the US would be an uphill battle. It also keeps wafer thin profits to keep the price low. Xiaomi's success outside developing nations is therefore not very definite. Xiaomi is surely working for it, and Mi Mix is an example.
It is toiling hard to shake away its "copycat" image as well. Brand loyalty is important for the company. Xiaomi calls Mi Mix as a new concept decorated by an edgeless design until any formal plans come from Cupertino, Haidian District wins it all and by a large margin.