Blackberry or iPhone?
There has been a long, ongoing debate among individuals on which phone is the best, would it be a Blackberry or iPhone? Which one is better for businessmen? Which one is better for general use? We will be looking into some of the differences between these phones, so as to determine which one is better for whom.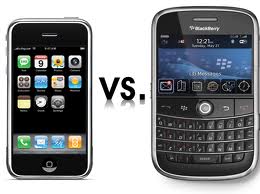 iPhone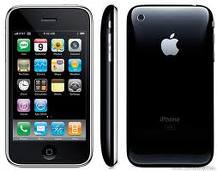 We will start by taking a look onto the iPhone. The iPhone was introduced by Apple Inc. last January 2007.
Functions:
The basic features of the iPhone include:
Multi-touch screen
Virtual keyboard
Web browsing
Text messaging
Media player
WiFi connectivity
Safari
Bluetooth
Camera
Additional applications which can be downloaded from the Apple store. There are over 300,000 applications available now, including social networking applications, GPS, games and many other useful applications.
Models:
iPhone has four generations or models.
The first model "iPhone 2G" has basic iPhone functions.
Second model "iPhone 3G" has 3G network support and A-GPS locator.
Third model "iPhone 3GS" boasts a higher resolution camera and faster processor.
Final version "iPhone 4" comes with two cameras (front and back) and a higher display resolution.
OS:
iPhone runs on the iOS operating system developed by Apple Inc.
Blackberry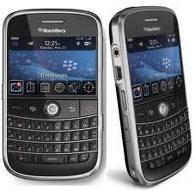 Blackberry is a Smartphone developed by Research in Motion (RIM) in 1996.
Functions:
Blackberry is equipped with many features that enable it to act as a personal assistant such as (features in Blackberry):
To-do list
Address book
Calendar
Media player
Camera
Flash
Email
Internet connectivity via mobile service or WiFi
Bluetooth
QWERTY keyboard
The latest models of the Smart phone now have added features to make typing much more convenient. Some of these include:
Auto-correct
Auto-text
Text prediction
Keyboard shortcuts
Push email
Text emotions
Support for various languages
Push notifications for Facebook, Twitter, My Space and eBay
Push instant messaging is available through the Blackberry messenger, Yahoo Messenger, Windows Live messenger, Google messenger, and ICQ.
OS:
Blackberry runs on Blackberry OS from RIM.
Differences:
iPhone
Blackberry
Simple touch user interface.
 

QWERTY keyboard user input.

 

Great for business users since it has internet access via Safari and has both WiFi and 3G connectivity. It allows you to access multiple mail accounts and offers Microsoft Outlook.
Effective in sending emails since it offers the capability to edit Microsoft Word and Excel documents. The Blackberry's QWERTY keyboard makes typing emails easier than the iPhone's touch screen

 
3 mega pixel camera without flash.
3 mega pixel camera with flash.
Bluetooth can only be used to connect to a hands-free device.
Bluetooth can be used to transfer files to other devices.
Apple application store offers full of thousands of applications.
Blackberry Application World does not offer as many

applications compared with Apple Application store.
Performance
Now taking into consideration the above facts, we can now say that:
Blackberry has better Bluetooth capabilities since it can be used for various reasons while the iPhone's Bluetooth can only be used to connect to a hands-free device.
The battery life of Blackberry is much better than that of the iPhone's, making Blackberry better for continuously running social networking applications such as Twitter and Facebook.
While using the hands-free function on both phones, you will notice that Blackberry has a clearer call quality than the iPhone.
Sending SMS and e-mails, which are increasingly becoming popular nowadays, are easier to accomplish on a Blackberry than that on the iPhone because of the QWERTY keyboard on the Blackberry device. While using the iPhone's touch keyboard, you may sometimes input wrong letters or numbers by mistake.
The new Blackberry comes with an Intel PXA930 624 MHz processor, 256 MB flash memory and 265 MB SDRAM. The Blackberry's proprietary multitasking OS, designed by RIM, controls all aspects of Blackberry including its trackball or track pad.
Each iPhone version has its own specifications which are:
| | | | |
| --- | --- | --- | --- |
| Model | RAM | Processor | OS |
| iPhone | 128 MB DRAM | 620 MHz 32-bit Samsung processor | iOS 1.0 |
| iPhone 3G | 128 MB DRAM | 620 MHz 32-bit Samsung processor | iOS 2.0 |
| iPhone 3GS | 256 MB DRAM | 833 MHz Samsung processor | iOS 3.0 |
| iPhone 4 | 512 MB DRAM | ARM cortex Apple A4 processor | iOS 4.0 |
The best part of having an iPhone is an access to the Application store. There are literally thousands of applications and games that you can download from the Application store for free or at a cost. Nowadays, Apple is developing new applications that enable you to execute any task with your iPhone. Now, you can access online shopping stores such as Amazon and eBay from your iPhone. There is an application for PayPal as well, through which you can manage your business transactions. You can check the weather; check out movies and many other cool things if you have an iPhone, not to mention the social networking applications such as Facebook and Twitter.
Which phone should be chosen?
After taking into consideration all the pros and cons of each phone, we can see that both phones will prove useful one may be of more use in different circumstances. If you want a phone for business, emailing, texting, typing and doing office works while on the go then, you should buy a Blackberry because of its document tools and QWERTY keyboard. If you want a phone that provides lots of fun stuff like games, songs, applications as well as general phone features then, iPhone is the better choice.