1. Data Rescue pc3
This software is a Prosoft Engineering product. It is the solution for recovering files from a virus-corrupted or crashed hard drive. Data Rescue PC3 comes with a self- booting CD, put the CD in the CD drive, boot, and start recovering your data.
2. OnTrack EasyRecovery
This application used for recovering lost files from optical, hard drives or removable storage devices. This program is also able to regain files from formatted and damaged drives. This software gives you the options to select the media that matches your data loss issue, namely memory device, hard drive, mobile/multimedia device, optical media.

3. Stellar Phoenix Windows Data Recovery
This software is a disk recovery software which can recover deleted, lost or unattainable data from Windows. This software supports diverse useful file types including music files, video files, image files and MS Office files which are lost due to corruption /formatting of Windows based volumes or accidental deletion.
4. Seagate File Recovery
This software can recover files deleted from your Recycle Bin even after the hard drive was formatted accidentally. If your files have been missing due to a malicious hack attack, virus or an operating system crash, it can also help recover them.
5. R-Studio Data Recovery
R-Studio is complete data recovery software known for its capacity to recover data lost due to malicious attacks, viruses, and operating system crashes or hardware failures. It supports NTFS /FAT, HFS/HFS+, exFAT, Ext2FS/3FS/4FS and UFS1/UFS2 file systems and functions on the network and local disks, even if partitions are deleted, formatted or damaged. This software supports all 64-bit Windows versions. It has an extra file recovery method which increases the quality of recovery.
6. Data Recovery Wizard Professional
Easeus Data Recovery Wizard recovers and saves deleted files. It can be used even after you have emptied the Recycling Bin or deleted them directly. It can recover data from user's memory cards, USB drives, hard drive and other storage devices. It's compatible with all Windows file systems and dynamic disks, and it can skip bad sectors automatically for faster scanning.
7. Recover My File
Recover My Files is a software which can recover deleted files removed from the Windows Recycle Bin, files that have been removed by a Trojan infection, virus, unexpected system shutdown, or missed due to formatting or a software failure.
8. GetDataBack
This is data recovery software for Windows, which allows you to recover easily your deleted data and virus attacks, a power failure that caused a system crash. With this software for NTFS, you are guaranteed to be able to recover all your files, file names, all of your folders and subfolders as they were before their deletion.
9. Power Data Recovery
Power Data Recovery can recover data from the SD card, hard disk drive, mobile hard disk, USB flash disk, optical disc and memory card.
This software for Windows supports media recovery, such as audio, music, image, text and email. The free version of this data recovery software is free to recover 1GB data.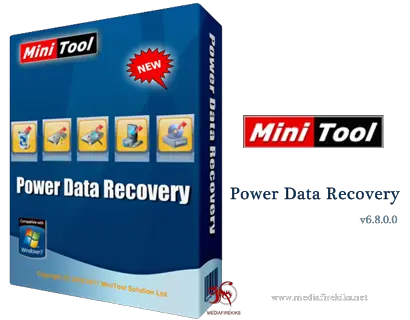 10. Salvage Data Recovery
SalvageData Recovery for Windows is a data retrieval and backup software. It takes out data from formatted, deleted, or corrupted new technology file system or FAT 12/16/32 volumes. It works even if the operating system does not recognize them. This application supports both internal drives (IDE, SATA, SCSI) or external USB ones.