Nowadays, Laptops are your companion in most of your works. They are a blessing for all us. Laptops play a crucial role in our daily digital activities, such as in storing your important personal data, in attending online conferences, in your professional works, in being connected with the digital world, and much more. They work for hours for you, which requires an excellent battery life. Sometimes, the longest-lasting batteries of branded laptops also get damaged or start emptying very fast; it is due to improper use of laptops. So, it is your responsibility to take care of your system and its battery to work better. Here, we are with the top 10 tips you can use to extend the battery life of your laptop.
1. Strictly Avoid Full Draining of the Battery
Sometimes what people do is use their laptops until the battery completely dies. A complete discharge can decrease the lifespan of your battery, and as a result, harms your laptop's battery. So, it is necessary that you must put your laptop on the charge before it gets fully drain. It is necessary to enhance the battery life of your system.

2. Close Wi-Fi and Bluetooth when not required
Wireless networking systems, like Wi-Fi and Bluetooth, consumes more battery. So, it is necessary for you must switch off these when not required. You can use an Airplane mode to close these power-consuming systems simultaneously. You can also use the wired Ethernet and other wired inputs if possible. They help you to conserve the battery of your system.

3. Disable the activity of Background apps
Background activity of apps is one of the main issues of fast battery drainage. Dozens of applications run in the background and consume the battery, and people think that the apps are close, so they are not using the battery but, it's not true. So, what you have to do, go into the settings of your laptop and turn off the background activity of the apps when not in use.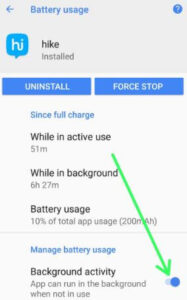 4. Reduce Brightness
Brightness reduction is the easiest way to improve the battery life of your laptop.
High brightness not only affects the battery life but your eyes as well. So, for the protection of your eyes and improving the battery life, set your system's brightness at a medium level. For the extra safety of your eyes, you can also enable the night light while working at night or in a low light area. Latest laptops offer a quick and easy way to control the brightness level, it can be simply done by pressing keys on your keyboard.

5. Use Battery Saver
Use of Battery saver is again the easiest way to improve the battery life. You can enable the battery saver when your system's battery is running low. It restricts the activity of applications running in the background. You can do it easily by selecting the "turn on battery saver" option in battery settings. Another best way you can choose is to set your laptop at an automatic activation of the battery saver when the battery is running low. Almost every laptop has this feature.


6. Check Battery Usage
By tracking the battery usage, you can control its consumption. You can check the usage of the battery by different applications in battery usage by apps option in battery settings. Check and manage those applications which consume more power and, if possible, replace those apps with another better.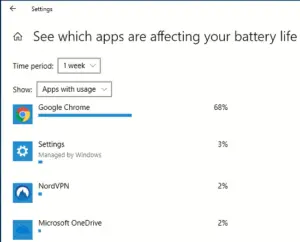 7. Close Unnecessary tabs
When we open a browser and search for something, a tab opens and remains open until we close them up. What people do is open a tab, search for something, then open a new tab for another search without closing the previous one, which is not needed; this also consumes a lot of battery. So, avoid this mistake and open tabs as per your requirement and close them after the use; this also helps you to extend the battery life of your laptop.

8. Use Sleep mode
Sometimes, your laptop remains on while to stop working in between due to some reason, this act of yours results in consumption of your laptop's battery. So, you can enable the sleep mode while doing some other work rather than working on your laptop; it helps to retain the battery. You can also set the timing from display settings for the automatic sleep mode to turn on after a particular time of inactivity.

9. Don't let your laptop overheat.
Overheating is probably the most concerning issue of devices. It can slow down your device, affect your laptop's battery and the laptop as well. Overheating can cause the reduction of the lifespan of your battery with the faster draining problem. So, it needs to be avoided. You can use a cooling pad to overcome the overheating effect. These cooling pads are very readily available in the markets.

10. Check your battery's health
For extending the battery life of your system you need to take care of its health. As you need time to time health check-ups, your laptop's batteries also require their health check-ups for to properly work. For these heath check-ups you can download a secure and trusted application, which can help you in regular monitoring of your battery's health.