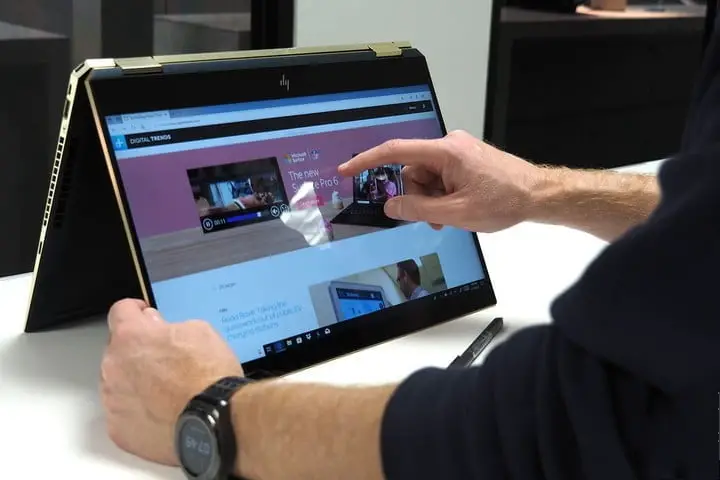 Touchscreen laptops are in trend these times and integrated much within are lives. These days people, particularly graphic designers & artists, generally prefer touchscreen laptops as they are much suitable for them and makes their work more manageable. Touchscreen laptops come with remarkable brightness, superior colour vibrancy, and accuracy compared to non-touchscreen displays. So, due to high demand of touchscreen laptops, numerous touchscreen laptops present in the market, but you need to select the best laptop for yourself and for this selection, you can refer here as we will provide you with the list of the top 10 touchscreen laptops.
1. Dell XPS 13
This fantastic laptop comes with an OLED touchscreen with the latest Corning Gorilla Glass 6, which is strong and scratch-resistant. It has an incredibly long battery life, up to 14 hours 11 minutes and provides the best security with its industry-leading endpoint security solutions, including BIOS protection, data encryption, advanced authentication, and next-generation malware protection. And not only these, but it also offers many other fabulous features.
2. HP Spectre X360
This Professional laptop comes with a 13.50-inch touchscreen display that has a resolution of 1920×1280 pixels. It likewise makes it more comfortable to use as a tablet, particularly with the included active pen. Furthermore, it has an enhanced thermal design to double up the performance and all the ports anyone would need.
3. Microsoft Surface Pro 8
It is one of the great touchscreen laptops that comes with an ultra-portable design and virtually edge-to-edge PixelSense flow touch display with up to 120Hz refresh rate. Microsoft Surface Pro 8 has a great battery life of up to 16 hours on typical surface device usage, as well as support fast charging.
4. Lenovo Yoga 9i
Lenovo Yoga 9i is best for those who hate the weight as it is a very lightweight laptop. It has numerous unique features you want in your laptop, including a powerful processor, good speakers & audio system, 1080p touch display, excellent battery life, 720p Webcam, ultrasonic fingerprint scanner, and many more other features.
5. Google Pixelbook Go M3 Chromebook
Google Pixelbook Go M3 Chromebook is a stylish and powerful laptop that offers fast performance. It comes with a Titan C security chip and in-built antivirus software, which help you to stay safe & protected. It also has a built-in Intel HD graphics chip that offers smooth visuals, which renders 60 frames per sec.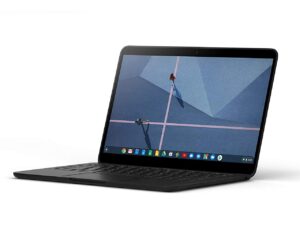 6. Asus ZenBook Duo 14
This solid laptop comes with two screens, a full-fledged 14-inch full HD resolution LED-backlit touchscreen and a 12.65-inch IPS-level touchscreen with 1080 x 515-pixel resolution. This laptop had engineered with a new Active Aerodynamic System Plus, which maintains optimum internal temperature and offers excellent performance.
7. Samsung Galaxy Book Flex
This fantastic laptop features a distinctive QLED gorgeous touchscreen display & combined with a super-thin convertible design. It has Quantum Dot technology that keeps your display brilliant even in direct sunlight and offers a fast-charging battery that lasts up to 19 hrs. Samsung Galaxy Book Flex also has an in-built Bluetooth-enabled S Pen by which your screen becomes a canvas.
8. HP Elite Dragonfly Max
HP Elite Dragonfly is a thin, light, beautiful, and powerful 2-in-1 laptop. It packs with 2 TB of SSD storage and a 13.30-inch touchscreen display. This Dragonfly Max laptop also has multi-layered security protection to keep your data safe and furthermore, comes with a powerful Intel Core processor, a Wi-Fi 6 connection, strong, and many privacy features.
9. Acer Spin 5
It is a fantastic 2-in-1 laptop with extraordinary performance and great battery life. Acer Spin 5 offers an ultra-fast charging system as well. It has top-firing speakers which provide free-flowing and room-filling audio when you turn up the volume to the max. Acer Spin 5 laptop features a 360° hinge, which allows you to adjust it into various viewing modes to best suit your necessities.
10. Razer Book 13
Razer's laptops often built for gaming. And if you are searching for a high-performance Windows laptop with a MacBook-like design, then this would be the best option for you. It comes with a 4K touch display that offers 178-degree viewing angles and a 60Hz refresh rate. Its keyboard supports per-key RGB lighting and anti-ghosting as well.