Do you want to have a theater-like experience in the comfort of your own home? Want to present your presentation on a high-quality screen with a portable device? The answer to both these questions is a mini portable projector. These projectors are small in size (you can even carry them in your pocket) and easily portable, which means they provide the big screen with high picture quality and advanced technology. You can quickly and easily connect your portable projector with your smartphone, laptop, tablet, iPhone, computer, etc. And due to their unique features, mini projectors are in high demand, so numerous different projectors are available on the market. So, choose carefully among all of them according to your requirements, and before buying, you can refer to our list of the top 10 mini portable projectors.
1. Epson Epiq Vision Mini EF-12 Streaming Laser Projector
Enjoy a great viewing experience with this stunning mini projector. It comes with an elegant compact design & built-in Android TV. This mini projector makes it simple & quick to stream bright images from virtually at any place in your home, even outside. Epson has incorporated or partnered with Yamaha to create an exceptional audio experience unlike anything in its class.
2. Asus F1
It is a portable, short-throw LED Full HD projector that empowers outstanding multimedia anywhere with its 1200-lumen brightness. Its mercury-free RGB LED light source offers perfect and fade-free projections. And with its two 3W speakers, an 8W subwoofer, and installed Harman Kardon audio technology, it delivers powerful 2.1-channel audio.
3. Anker Nebula Capsule
Its pocket-sized design makes it one of the best portable projectors. Anker Nebula Capsule offers stunning picture quality, and its powerful speakers with 360° audio capture each& every beat of the action. It provides 4-hour video playtime so that you can enjoy your favorite movie in its entirety.
4. ViewSonic M1
It is a lightweight, pocket-sized (4×4 inches) ultra-portable LED projector that offers big-screen entertainment in almost any location. It comes with a built-in battery that provides up to 2.5 hrs. of power with power bank compatibility so that you can enjoy extended battery life anytime. M1 mini also comes with swappable panels in 3 different colors (gray, teal, and yellow) so that you can change the appearance of your projector to suit your style.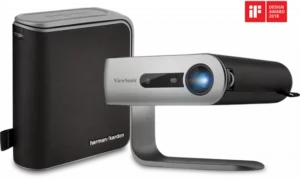 5. LG CineBeam HU80KSW
It is one of the best portable projectors by which you can experience a tremendous cinematic viewing environment with its projection of up to 150 inches. This excellent projector offers multiple fabulous features anyone wants in their projector, including 4K UHD resolution (3840 x 2160), 20,000 hrs. laser life, long-lasting brightness, 2,500-lumen brightness, and many more smart functions.
6. Kodak Luma 350
The Kodak Luma 350 is like an all-in-one portable cinema with a lightweight design. It is powered by Android; this means you can also download your favorite applications and stream your favorite shows without ever touching your mobile. This portable projector also has Bluetooth & Wi-Fi connectivity as well as supports USB and HDMI inputs.
7. Miroir SYNQ M189
This amazing projector was designed with extraordinary streaming experiences in mind, bringing HD film-quality viewing to your beloved content wherever you go. This Miroir SYNQ M189 is easily compatible with almost every device, like Laptop, Tablet, Android, iPhone, Apple TV, etc. And its powerful 5-watt speaker provides the best sound ever.
8. Magnasonic LED Pocket Pico Video Projector 
This high-performance projector brings your favorite movies, video games, pictures, and presentations to the large screen with crystal clear picture quality. Its portable design allows you to watch anywhere you want. This LED Pocket Pico Video Projector comes with great built-in sound-producing stereo speakers and a rechargeable battery (2100 mAh) that lasts up to 2 hours.
9. AAXA P7 Mini HD Projector
The AAXA P7 Mini HD Projector is a next-gen fantastic mini projector that provides true native 1080P (1920×1080) performance and is capable to operate on both battery and DC power. Its 600 LED Lumens offers brilliant and vivid pictures up to 120 inches in dark areas. With AAXA P7 Mini HD Projector, you can enjoy immersive sound as it has a built-in 2-watt premium speaker.
10. ViewSonic X10-4KE
It is another tremendous portable projector engineered with a 4K Ultra HD chip with XPR technology. ViewSonic X10-4KE is also capable to works with Amazon Alexa & Google Assistant that provide convenient voice control for your projector. It has in-built Harman Kardon speakers that deliver deep, loud, and 360-degree room-filling sound best for music and movies.