10 Best Computer Speakers and 10 Best Wired Headphones of 2011
A good computer speaker can go a long way in enhancing the audio content of a game, music or whatever you are doing on your PC. Below is a list of the best ones in this year 2011:
Computer Speakers:
The B&W MM-1(Multimedia Speakers)
A five hundred dollar price tag is quite high, but the price is worth the money since these multimedia PC speakers has a sleek-looking and well-improved designs with 36-watts of energy consumption.
Logitech Speaker System
The Logitech Speakers have a much lower price tag around $140, but the price doesn't give you much in terms of features. The sound quality is not amazing but suffices and has been a popular model for this year.
The Audioengine 2 (White)
The Audioengine 2 (white) is also a great choice because of the combination of beautiful designs, compressed features and performing well considering its dense proportions.
The Audioengine 2 (Black)
It is most likely the same as white edition. These audio engine speakers are great for home use, especially when throwing  parties. You can see the difference in the excellent sound quality that this speaker provides.
Audioengine A5B black edition
With the price and features combined together, this one is a great package of speaker offering flexibility and phenomenal sound. You will find it quite hard to find something similar with such great features and price as well.
Audioengine A5B white edition
This is a small speaker in white color. Beyond the size, it has a big bass. Its classy look defies its performance. One should feel lucky with its current price tag.
JBL Duet III
These wired speakers look very attractive with its modern design and ability to deliver excellent performance.
JBL Duet II
The JBL Duet II is a great set of speakers and perfect for a small room or office use. It gives great sound in a compact package.
Altec Lansing Expressionist Classic
This set of speakers has a distinct design on a very reasonable price. With its look and characteristic, It is truly a good choice for a low end speaker set.
Altec Lansing Expressionist Bass
The name says it all. The heavy bass makes it a sure shot winner and hence a fun choice for PC speakers.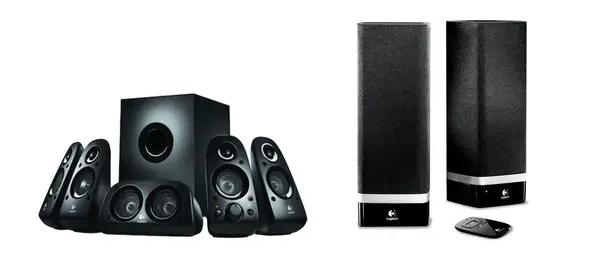 Headphones:
Klipsch Image S5iRugged
For heavy sports like skiing and skating, helmets that have in-built headphones can be somewhat expensive and not everyone can afford this. In such circumstances the Klipsch works perfectly fine and fit just right.
Monster mobile Jamz High Performance Headphones
These work perfectly and block out the noise completely from the atmosphere. The black chrome design looks great and this work best for people listening to music using their mobile phones.
Bose MIE2i
Bose MIE2i is very comfortable to use, and not only that, the price that is being offered is very reasonable. It perfectly fits in the groove of your ear and block out other noise.
Bose MIE2
With a well-improved sound quality, Bose MIE2 also offers a lifetime warranty. This great quality headphones are comfortable to use and stylish in design.
V-Moda Vibrato Remote Earphones
Combine bass, style, durability, flexibility, with an integrated microphone and remote button for answering calls using your Android devices.
Urbanears Plattan Headphones
This great pair suits best the casual music listeners. It is far more expensive as compared to the Apple earphones everyone is buying. They are highly durable, compact and works perfectly fine with music phones.
Aiaiai Tracks Headphones with Mic (Black)
When looking for a new set of headphones head over to something nice, comfortable and secure fit.
[flashnode|nid=26883]
Aiaiai Tracks Headphones and Mic (Grey)
Like the black edition, this over the ear gray headphones has a built-in mic for calling purposes. Its sound is wonderful as they look, and a smart pick if you're looking for a new pair.
Aiaiai Tracks Headphones with Mic (Sand)
This sand headphone with red plugs is funky, stylish and has a great design with a built-in mic for calling purposes.
Coosh Headset for iPhone and BlackBerry
The Coosh headset is designed for iPhones and BlackBerry phones, and a great alternative to the expensive Apple gadget.