A dashboard software helps to manage information by visually tracking it. Analyze this data and display key performance indicators(KPI). These indicators help to monitor your business and specific processes. Customize your dashboards using this software to meet the needs of your company. This software helps to track multiple data sources. It also acts as a central location for businesses to analyze their performance.
1. Google Data Studio
Google Data Studio provides you with an interactive dashboard to make your data organized. This dashboard software provides you with beautiful reports and inspires you to make smarter business decisions. Access a wide variety of data virtually. Built-in connectors are available in this software to connect to any kind of data. Build interactive reports using web-based reporting tools in this software. Explore the visualizations that you can use. Share these reports with individuals or your team members. Embed your report on any webpage.
2. Cyfe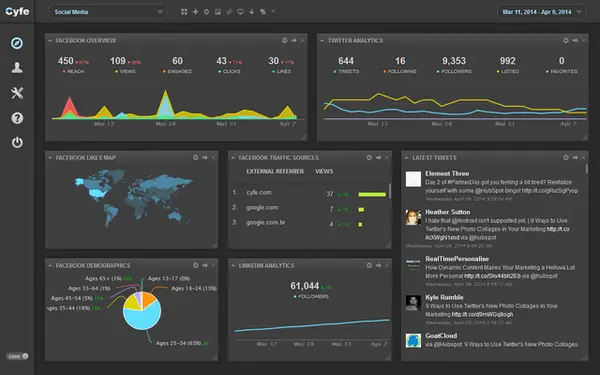 Cyfe is a free dashboard software to monitor and visualize your business. This easy-to-use software is suitable for all businesses. Get started with this software for free. Pre-built dashboard templates are available to get you started with your dashboards. Find online dashboards and connect your data with it. Modify the template for your business needs. You can create social media dashboards such as Facebook Ads dashboards quickly. Analyze the performance of your website and see where website traffic is coming. Get insights on your target audience.
3. Databox
View all the performance of your data in a single dashboard software called Databox. Spend less time on checking your data and more time to act on insights. Create reports easily. Build dashboards without any coding or design skills. Set specific goals and track then on one screen. Visualize your progress and get alerts on your performance. Receive recommendations to improve your performance. Make data calculations by combining data from any source. Perform calculations without coding in this software. Get mobile and email notifications to get updates.
4. Cluvio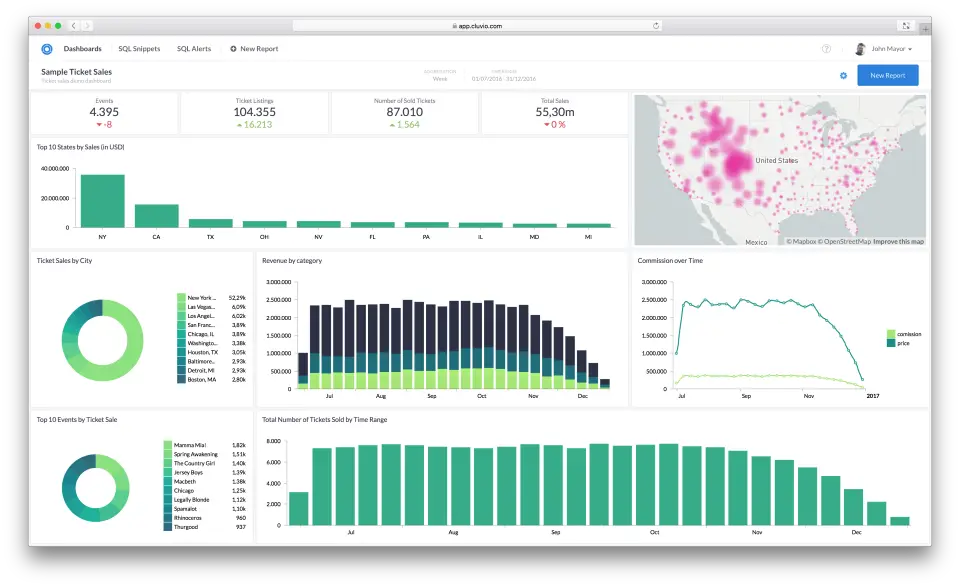 Cluvio is a dashboard software that is also a cloud analytics platform. This software uses SQL and R programming language to analyze your data. It helps you create interactive dashboards for your company. Receive notifications to alert you when there is a drop in orders or when error rates get increased. Expose reality using actual data and let everyone know about the success of your company. Get charts using SQL-based analytics and share your dashboards. Cluvio dashboards are easy to use, and they have time-based filters in them. Get suggestions on SQL queries using this software.
5. Kyubit Business Intelligence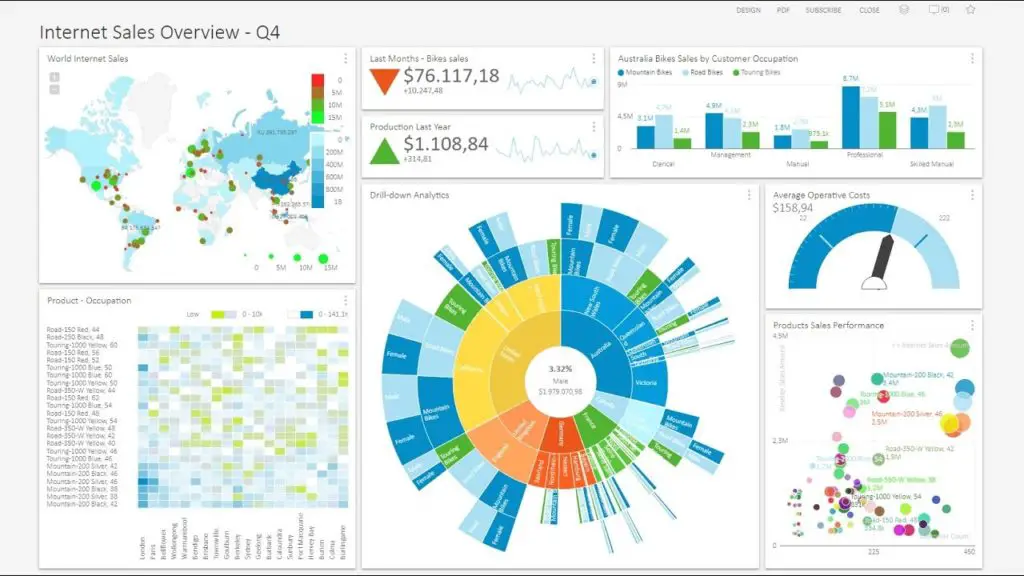 Get a free analytic dashboard using Kyubit Business Intelligence software. Create reports in minutes and collaborate with others. This software is user-friendly and quick to setup. Create custom analytics dashboards according to your requirements using SQL and CSV data sources. Share and collaborate with others easily using this software. Get help from customer support if you need assistance in using this software. Detailed product manuals are available for the installation and administration process. Get product updates and a list of new features of this software. Convert the analysis this software makes into a PDF file.
6. Bilbeo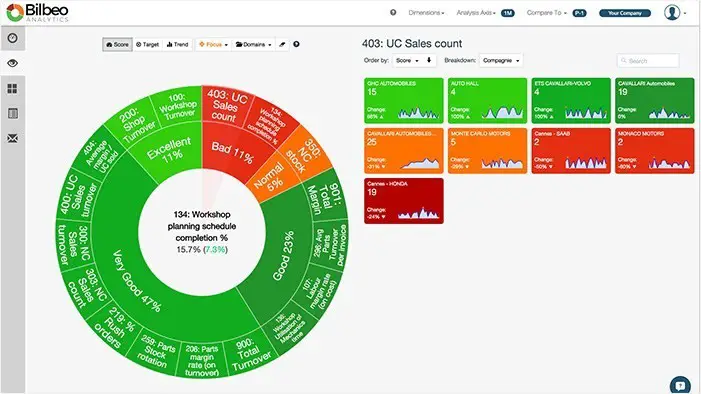 Bilbeo is a dashboard software that is easy to use and allows you to control the performance of your business. This intelligent dashboard reveals the weak spots in your company. Identify leading indicators using a data mining algorithm map to increase the performance of your business. Identify bottlenecks in your processes easily with the help of this software. Monitor your performance and see the big picture of your business using this dashboard. You do not require any coding or setup to use this software. Auto-populate your dashboard using this software.
7. Arcadia Data Instant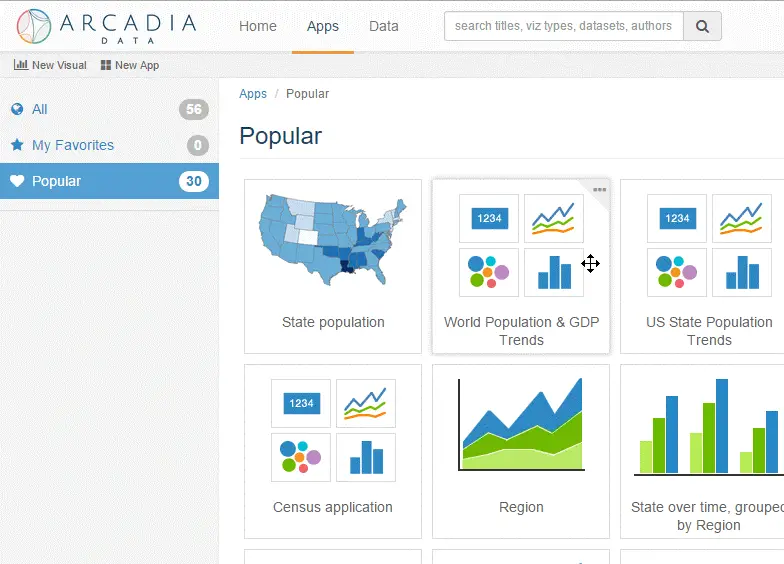 Arcadia data instant is a dashboard that allows you to visualize data. This software runs on a modern data platform. Keep your data secured and get full visualization of your data. You do not require driver installation for this software, and you can access data inside the cloud using your web browser. Discover data sources with transparency. Set a hierarchy in the data you collect. The drag and drop feature allows you to create graphs easily. Assemble intelligent dashboards to zoom data with precision to any value. Simplify monitoring and deployment process. Share and publish your dashboards. Advanced analytics options are available too in this software.
8. iDashboards
iDashboards is a free dashboard software that helps to transform your business. Use it as an enterprise data visualization software. You can request a demo for this software or try it for free. Deliver data easily using this software. It acts as a business intelligence solution for your data. A built-in data hub is available in this software to combine data from various sources. Eliminate outdated reports in your dashboards for faster analysis of data. This software helps you to make better decisions. Deliver fully secured data using mobile or desktop.
9. Microsoft Power BI Pro
Microsoft Power BI Pro is a free dashboard software that helps to organize your data. Collaborate with others and share data with them easily using this interactive data visualization software. Let everyone make decisions based on facts that they derive from this visualization software and access visualizations using Power BI Mobile application from anywhere. Adjust permissions to distribute findings among team members in your organization. Get update alerts all the time and stay collaborated with your team through comments.
10. SAP Lumira
SAP Lumira provides you with a dashboard to visualize data and analyze software easily. Access the risk in your business and improve the efficiency of this software. This software has a simple design and allows you to perform work quickly. A self-service analytics option is available too. Get the optimized solution from the insights you gain through this software. This software uses advanced deployment tools to maintain a good dashboard. This software drives decision-making capabilities. Develop interactive mobile-ready dashboards easily with this software.