Field Management software helps companies to maintain onsite service. It helps to track requests and manage personnel. Work management and inventory management is much easier with the help of such software. Time tracking and route optimization are easy. Get updates on job status, and portals are available for customers. Integrate this software with any other software. Field service management software enhances professionalism and helps to coordinate with team members. Hence, customer satisfaction is improved. Get real-time visibility of job status.
1. Jobber

Grow your business by using Jobber, which is a field service management software. Schedule jobs and manage crews with the help of this software. Organize all the operations smoothly. Watch a demo on how to use this software or try it for free. Organize your team and communicate with your customers from anywhere to grow your business. Automated follow-ups remind clients of invoices that are due. Jobbers have a mobile application to get work done faster. Multiple calendar view option is available to make dispatching of work to team members easy.
2. Freshdesk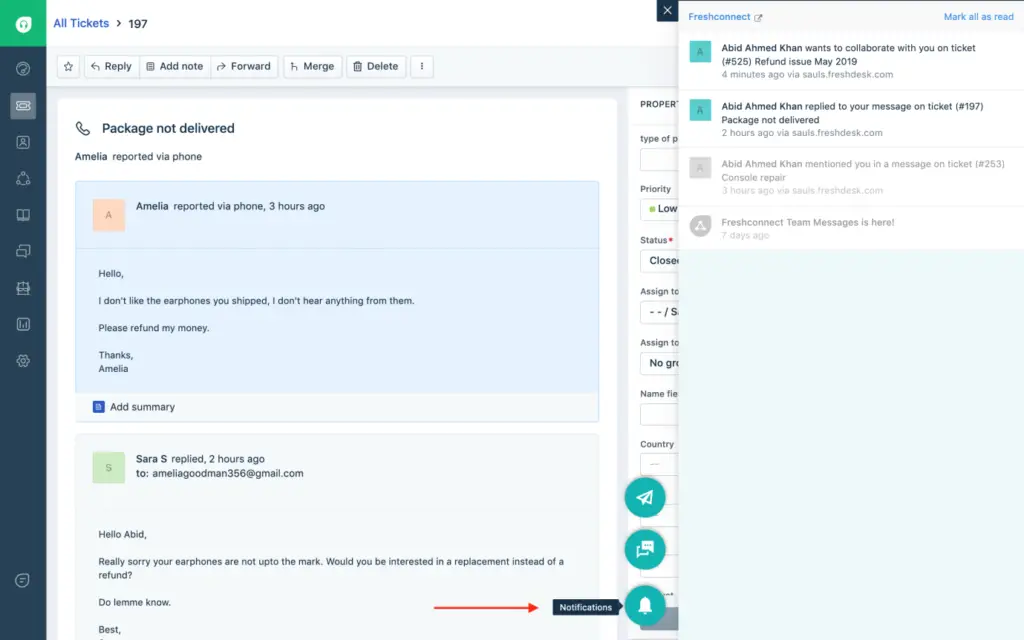 Freshdesk is a field service management software that helps to build and grow the profit of their organization. This software delivers consistent field service experiences to build loyalty among customers. Omnichannel customer engagement engages customers via preferred channels. Set up appointments with customers to serve them and build better customer relationships. Improve field team response time. Provide tools to your team to resolve queries. Save time using no-code bots to simplify workflows. Optimize service delivery using this software. Balance workload and respond to emergencies using the powerful scheduling dashboard.
3. Pega Platform

Pega Platform allows companies to serve customers better as a field service management software. Combine customer service dashboard with a mobile application. Get the right technicians to get your job done at the right time using this software. Get your needs in one call, as customer satisfaction is the priority of such software. Business users can modify the platform to fit their needs. Watch a video of how to use the features of this software on the website. This cloud software ensures excellence in operation.
4. Skedulo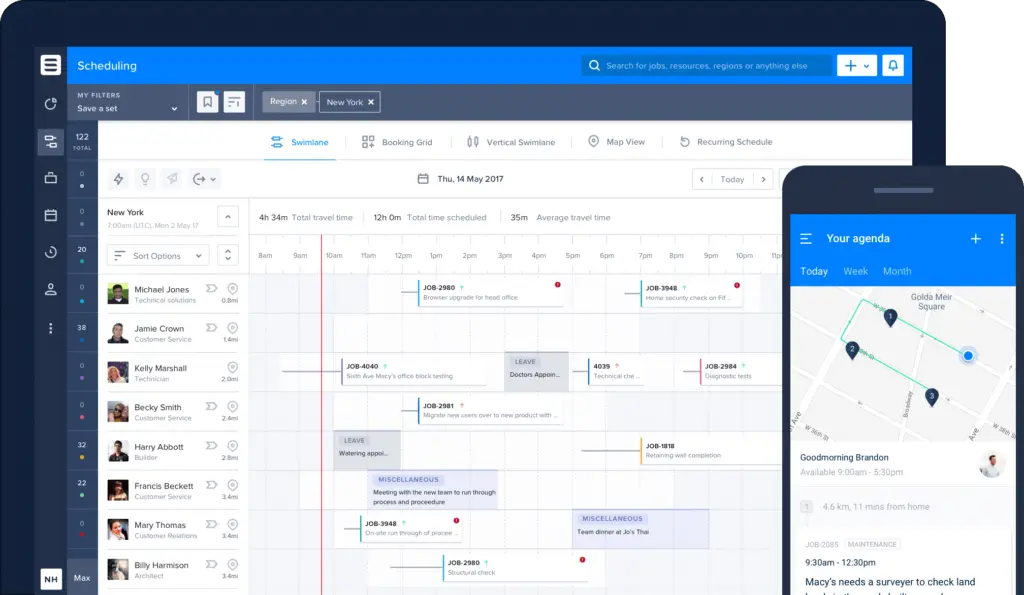 Skedulo is an intelligent field service management software. It helps to schedule and dispatch work easily. Schedule new jobs and appointments with the help of this smart scheduling software. Communicate with your employees easily and check out on the availability and qualification of employees. Automated scheduling of field services reduces operating costs. See the capacity of your workforce and generate reports of services. The robust reports will allow you to identify trends that may impact customer service so that you can improve service. Book a demo for this software to learn more about it.
5. Kickserv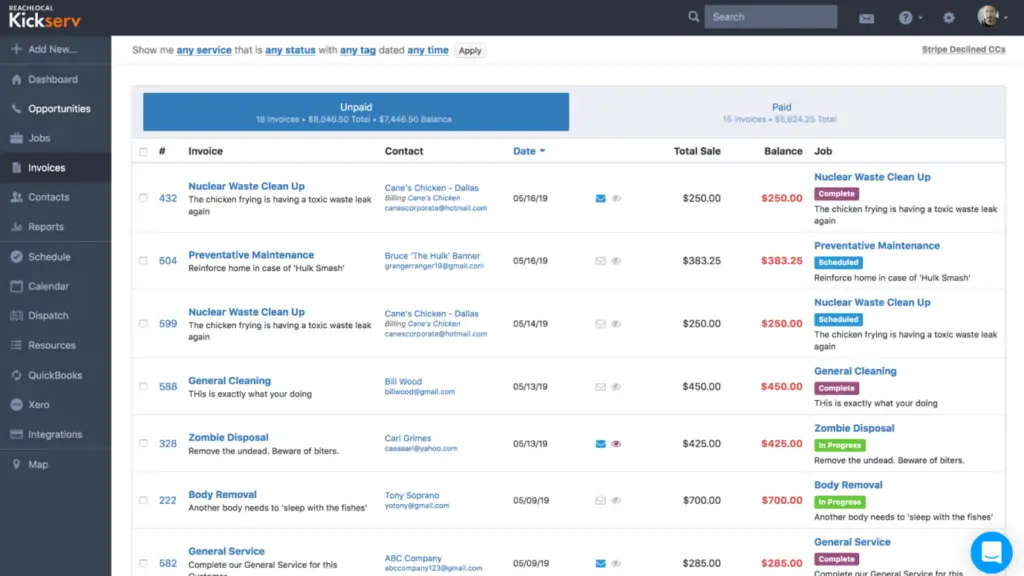 Want to manage business easily using field service management software? Kickserv is the software that you need. Manage conflicting schedules and jobs with the help of this software. Schedule jobs and track their progress. This software partners with local companies to provide field service management. Save time and money while your business grows. This software compiles all customer information. Track all your prospects easily and make estimations—plan for complex schedules using calendars and scheduling features. Manage customer details and view messages using this software.
6. Service Titan

ServiceTitan is the software platform used for managing a service business. Explicitly built to help home companies streamline their operations, boost revenue, and substantially elevate their business trajectory. Service companies use this software. It incorporates industry best practices to help streamline processes, improve sales, provide better customer experience, lower costs, and manage your business more efficiently. It is a cloud-based platform that offers job booking, dispatching, advanced reporting, easy communication with your technicians, call recording, call tracking with revenue, giving a visual sales presentation on the field, etc.
7. FieldEdge

FieldEdge helps HVAC and plumbing professionals easily track customer history, dispatch, take payments, create service agreements, etc. FieldEdge is the excellent field service software to connect your team in the office and field. Accessible from anywhere and updated in real-time gives an extra edge from the office to the field. Connect and organize scheduling-scheduling and dispatching, use map-based scheduling to route your techs intelligently, and decrease windshield time. Every transaction flows right into Quickbooks in the field or the office, no more errors, and double entry.
8. Housecall Pro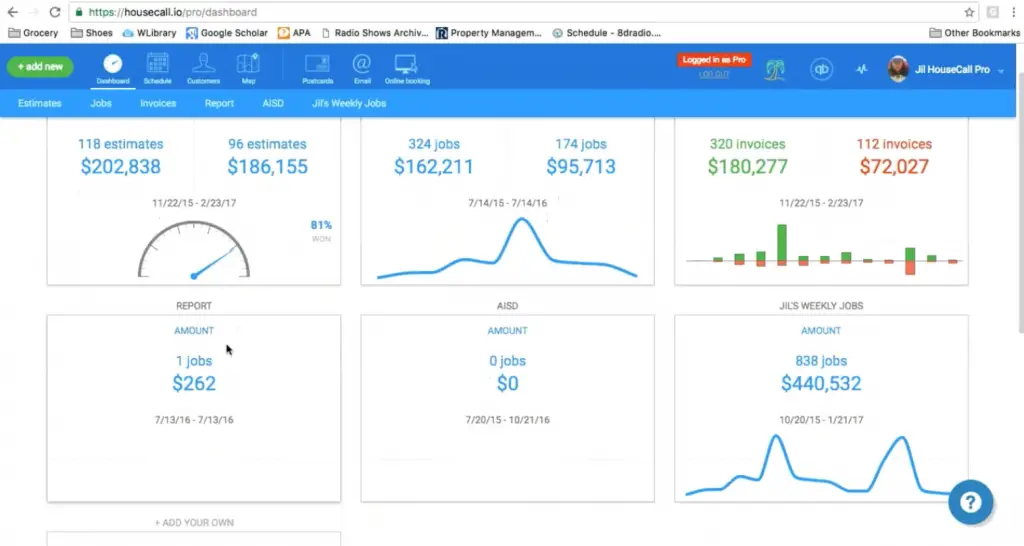 Housecall Pro is cloud-based field service management for a service business to automate its workflows. It allows companies to forego paperwork in favor of digital automation, and it offers features lie job scheduling, dispatching, payment processing, estimates, automated receipts and invoices, customer notifications. It is a field service software that stands for value, innovation, and community. It is known for its ease of use. It is consistently one of the highest-rated web or app by pros in HVAC, Plumbing, Electrical, Carpet Cleaning, etc. Despite being a market leader, Housecall Pro also innovates at an incredibly fast pace. Users can book service via Housecall's online booking functionality, communicate through a centralized messaging system, and make online payments.
9. GoSpotCheck

GoSpotCheck is an application that enables teams to share intelligence from the field easily. Set up operations to be completed at particular locations and get structured data back from the field in real-time. Usage of offline forms, clipboards, and email updates is not further required, and start getting easy to understand, and structured data. It has a drag-and-drop interface with conditional and smart distribution logic. Drive frontline excellence by making alert and guide teams on mobile. Visualize and share data to drive action in real-time. Intuitive dashboards to spot issues, automate reporting, and speed resolution. This platform is used across the functions to drive outcomes and reduce the total cost of ownership.
10. ClickSoftware

ClickSoftware is a field service management software that optimizes the potential of every service. This technology supports various languages. Use smart technology to resolve service calls faster. Automate scheduling of an appointment, and boost the productivity of employees. Optimize the allocation of the mobile workforce. This software allows mobile workers to get the job done at the right time. Customers will stay updated at every step of the job completed. Personalize this application. Get solutions for every field service business in the industry, which may be of any size.