1. Apple Watch 5
• Apple watch series 5 and 4 are almost the same; series five naturally has some mini upgrades.
• Series 5 is the most advanced apple watch available now. It is available in 44mm and 40mm case sizes. The look of this watch can be customized any way you like!
• This series has a unique feature of Always-On Retina display, allowing you to see the time and other information that's important to you!
• Emergency SOS lets you quickly call for help and alert your emergency contacts. This watch can also detect if you have taken a hard fall, it automatically calls emergency services for you along with a provision for international calls.
• The fitness monitor is the most encouraging feature this watch has. It tracks your progress and boosts you to work more!!
• The most useful feature happens to be an extremely efficient heart rate monitor, which alerts you if it detects any unusually high or low heart rate or irregular rhythm. With the help of the built-in electrical heart sensor, ECG app generates an ECG similar to a single-lead ECG reading.
• It has an incredible feature of the Cycle tracing app to log information about your menstrual cycle.
• With the Apple music library, you can listen to the music you love! The noise app alerts if the decibels rise level that can impact your hearing.
• This watch not only has inbuilt GPS but a compass and ground elevation.
• Who doesn't like the assistance of Siri!
Isn't it amusing to have a watch which lets you go without your phone?
2. Fitbit Versa
Alert style lovers!! Now you can have a stylish yet extremely effectual Fitbit versa
• It is a sleek and lightweight designed watch with a lot of style options.
• This watch has the most accurate fitness tracker.
• You can use 15 plus exercise modes like run or swim (Fitbit versa is water-resistant to 50 meters).
• Connecting to smartphone GPS will help to record the workouts witha more precise real-time pace & distance.
• Guided workout with the Fitbit coach enables the users to improve their workout sessions.
• Supports female health tracking: For the first time, Fitbit helps you understand your period and track your cycle.
• It tracks your activity 24/7, including heart rate,& sleep stages all with a four-plus day battery life.
• Sleep tracking is one of the prominent features of this watch. It uses your heart rate, measures the time you spent in light, deep, and REM sleep. Awareness about your sleep cycle will help you make the most out of your day.
• In addition to all features of Versa Lite Edition, this watch store and play more than 300 songs, utilize on-screen workouts that play on your wrist.
• Enables call, text, calendar, and smartphone app notifications when your phone is nearby.
• It's a coach, a companion, and a cheerleader. It shows you the way so you can make the most of every day.
3. Apple Watch 3
• Built-in cellular connectivity is a peculiar feature of Apple watch series 3
• This watch has a strong yet incredibly light case made of aerospace-grade aluminum that is 100% recycled and is available in 42mm and 38mm case sizes.
• Retina display has an intriguing feature where you just need to raise your wrist, and it instantly comes to life!!
• The watch has animproved heart rate monitoring feature which, measures the current heart rate. It alerts if it detects any unusually high or low heart rate or irregularity in rhythm.
• This watch enables you to quickly call for help and alert your emergency contacts if you need to
• A faster processor makes this watch work efficiently throughout the day.
• Though this watch has anapparent cell quality, LTE drains the battery quickly.
• Apple watch series 3 requires an iPhone 6s or later with iOS 13.
• The extraordinary features of the apple watch make it pretty expensive.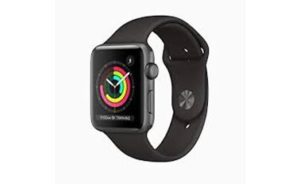 4. Fitbit Ionic
• Fitbit ionic is a smartwatch with a vibrant screen and changeable straps.
• It has a built-in GPS with real-time pace and distance, which enables more accurate monitoring of movement-related workouts like running, swimming, etc.
• Inbuilt NFC Pandora integration and on-board music, storing and playing more than 300 songs add to the features.
• An open SDK for app developers is one of the salient features of this smartwatch.
• This waterproof watch has a thick bottom bezeland is safe for swimming.
• This watch, filled with Popular appsprovides easy access to important updates.
• Smart notifications which help to stay connected through the day with an excellent battery life of more than four days
• Pure pulse feature tracks the continuous heart rate, which helps to monitor the health more efficiently.
• Monitors the sleep stages and helps in better understanding of the sleep quality
• Forgot to carry the wallet? Don't worry! Fitbit Ionic has a Fitbit Pay feature, which enables you to pay without your wallet!!
5. Fitbit versa Lite
• Fitbit versa Lite is an affordable entry-level smartwatch that provides everything that is needed.
• It is an elegant and lightweight designed watch with long battery life.
• Bold colors of the watch make it more attractive for the eyes!
• It has many features for the price and easy to use.
• This watch is anoutstanding monitor of fitness as it tracks steps, distance, hourly activity, active minutes and calories burned,etc,to show how every part of your day gets you closer to your goals.
• It tracks the heart rate all day and sees your trends over time in the Fitbit app.
• A particular feature enables you to see a snapshot of your cardio fitness level in the Fitbit app.
• This watch lets you learn more about your body by using Versa and the Fitbit app to log your period, compare your cycle against other health stats like your sleep, activity, and weight.
• This watch also tracks your time in light, deep, and REM sleep stages.
• When your phone is nearby, get notifications for calls, texts, calendar events, and apps like Gmail and Facebook – plus send quick replies right from your wrist.
• Acquire a map of your journey in the Fitbit app along with learning more about your runs and hikes by enabling Connected GPS
• One of the considerable short come of this watch is that there is no on-device music storage.
6. Fossil Sport
• Fossil Sport is a must-have watch from the Q Sport collection of Fossil which, is a perfect amalgamation of modern and sports styles.
• It is a lightweight and stylish smartwatch any youth would go for
• This watch of Fossil combines the latest hardware and software from google.
• The operating system of this sports watch runs on QUALCOMM 3100.
• Key features being precise fitness tracking feature, heart rate monitor, sleep monitoring, and more.
• One can customize the face dials of choice!
• It lets you control music from your wrist.
• This touchscreen smartwatch has sensors such as Accelerometer, Altimeter, Ambient Light, Gyroscope, Heart Rate, Microphone, NFC, Untethered GPS, which alerts you of notifications.
• You can receive smartphone notifications and app Alerts, manage your calendar, download third-party apps with this smartwatch.
• This wearable is compatible with Android and iOS smartphones.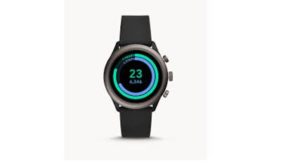 7. Samsung Galaxy Watch Active 2
• It has a super AMOLED display with customizable watch faces.
• Active 2 is a watch with a light and elegant design and has many features for the price.
• It has 39 built-in trackers, which makes it a more efficient monitor.
• Wear it while working out so that it can track your movements.
• Including swimming, there are seven exercises withautomatic tracking. Real-time actionable advice is available with running coach functions.
• Galaxy Watch Active tracks activity such as4 stage Sleep, Activity with continuous HRM & Stress monitoring.
• It has connectivity to Bluetooth 5.0
• 4G for the watch can be activated only with Samsung Galaxy Smartphones for usein standalone 4G mode.
• This smartwatch permits you to download 3rd party apps.
• The battery lasts the day. You can charge this watch without any charging jacks or wires. It's done just by placing it on the compact magnetic wireless charger.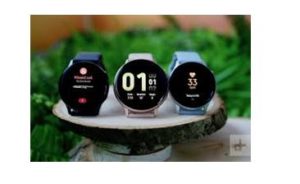 8. Samsung Gear sport
• Samsung Gear sportis slim and works with standard watch bands.
• Prime feature being, it has a swim-friendly design with water resistance up to 50 meters,so don't worry and just enjoy swimming, rain, shower, without taking it off!!
• It has appreciable battery life. The wireless charging dock lets you charge the watch without slowing down.
• Third-party app selection and can play offline Spotify playlist.
• But it requires multiple phone applications, and it has mixed fitness monitoring performance.
• Get an accurate track of your fitness and calories. It tracks your activity with heart rate and GPS mapping, check your calorie balance, and measure your daily progress. Also, you can get personal coaching from your wrist during runs and workouts.
• Samsung Pay NFC compatibility facilitates payment from your wrist with just a tap.
• Not in a situation to pull out your phone? You can receive and reply to calls and texts with a turn of the bezel!
• Compatible with Android and iOS smartphones.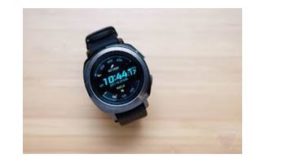 9. Amazfit Bip S
• It is a 31g ultra-lightweight & thin designed watch by Huami.
• Want a personalized look? 4 Built-in Dials and more than 40 dials to download from the watch face store will serve the purpose!
• The Amazfit Bip S has outstanding battery life with brilliant power optimization technology. With up to 40 days' endurance onintrinsic usage and 15 days on a typical usage scenario, it will keep up with your active lifestyle.
• The watch monitors your heart rate and sleep states. It has rich reminder functionality like an alarm clock, weather forecast, incoming call, etc. It also lets you control phone music playback from your watch.
• Supports ten sports forms such as Treadmill, YogaWalking, Cycling,etc. It also provides data such as speed, heart rate, distance, and excessive heart rate reminders.
• Transflective Always-On color display. The screen appears more clear in brighter light, which makes it ideal for outdoor sports.
• It is waterproof to 50 meters, making it wearable during swimming. You can also record swimming data such as stroke rate, stroke times, etc.
• Integrates the innovative Huami-PAI Health Assessment System, which allows you to understand your physical state at a glance, and control your health precisely.
10. Huawei Watch 2
• It is a highly versatile and stylish watch that you can accessorize for any occasion.
• Does continuous heart rate monitoring and tracking your workout routes without your phone.
• Precise recording of steps and distances happens with the help of integrated GPS
• Even though it has pronounced fitness tracking features, it's hard to keep long time fitness progress.
• Get real-time guidance and workout data for improved workout sessions.
• Android pay feature with NFC and Google assistant, with which you can make payments and have a personal voice assistant from your wrist!!
• Download and enjoy the music by Google play music on your watch.
• Feature tooptimize the power consumption enhances battery life.
• Study your sleep!! Yes, this watch has a Scientific sleep tracking feature with HUAWEI TruSleep, which keeps track of all sleep stages.
• You can enjoy the apps and benefits of Wear OS by Google/Android Wear by pairing with an Android smartphone or with iOS.
• Wi-Fi connectivity of the watch needs to be improved.