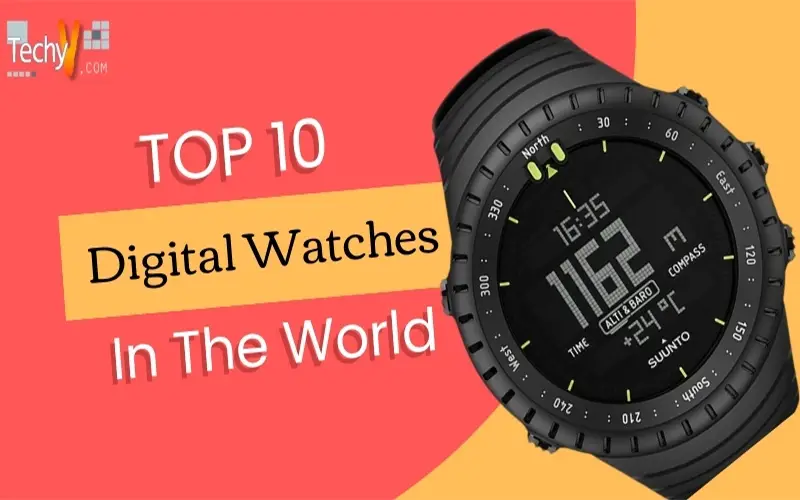 Usually, digital watches have a lot of benefits as compared to analog clocks. They're usually less expensive and have many features like a compass, stopwatches, barometer, calendar, and lights.  Yet sometimes, they lack subtlety in designs. As the new models are being launched, the brands are upgrading their timepieces in every aspect. Some stylish and professional watches will accessorize you for office hours while some sporty looks will suit outdoor adventures. Here are some of the best collections of digital watches you can find.
1. CASIO G-SHOCK G-100BB-1AJF Digital Watch
It's a part of the Casio military series  modelled with a rugged design. Its features include shock-resistance, a resin-covered body and  an anti-magnetic structure. It is also water-resistant with up to 200m, which makes it heavy-duty outdoor gear. It has an alarm, stopwatch, full auto-calendar, and a built-in auto LED light with afterglow.
2. Tissot T-Touch Expert Solar
It is the first model of Tissot to have a solar-powered wristwatch with touch screen sensors. This product offers twenty plus different features like weather forecast, dual time zones, altimeter, compass, and lots more. . It has a well-coated titanium body with a scratch-resistant screen made of sapphire glass.  contains various straps made from  silicone, leather, and titanium so that you can choose according to your preference and style.
3. Suunto Core
The Suunto Core is a sports watch that was explicitly designed for outdoor adventurers. It has a sleek, black body with a digital screen to keep you updated  about air pressure, temperature, altitude, and, of course, the time. The weather indicator has a unique feature called a storm alarm sensor which will notify you  in case the air pressure drops.
4. Casio Pro Trek PRW-7000X-1JR Digital Watch
The Casio PRW-2000R-1CR Pro Trek was also specifically designed for adventure lovers. Its rugged design includes large diamond-shaped buttons which promote slip resistance. You can even handle the rotary bezel while wearing gloves. Gifted by Casio's Tough Solar technology, the in-built direction function as well as  altitude and barometer buttons give quick access to the data collected on the road.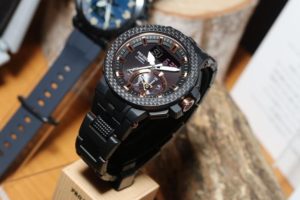 5. Timex Expedition Shock CAT
Here's another digital watch for the  intrepid explorers. Timex Expedition Shock CAT is sporty designed with a durable resin strap. Its characteristic of shock resistance  fulfils ISO Standards and it has a water resistance level till 100m  which is due to its superior shell material. It's simple, affordable, long-lasting, and everything you want.
6. G-Shock MTGM900DA-8CR
Recently, Casio has been focusing on solar power and atomic timekeeping to  end the setback of replacing batteries or resetting time manually. And the G-Shock MTGM900DA-8CR came out as an upshot . This timepiece can last up to 23 months without any exposure to light. The resin bezel framed body keeps it shock and water-resistant up to 200m.
7. SEIKO Prospex Fieldmaster Lowercase SBEP001
If you're on a lookout  to upgrade your watch section, the SEIKO Prospex Fieldmaster is definitely the one for you. Its appealing black silicone band and black dial with incredible craftsmanship will take your heart away. It has a dual time function, alarm, and timer, although the best thing above all is the diver duration. Its battery capacity is five months if charged, or 20 months if you're using power saving feature.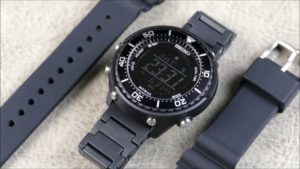 8. Casio A168WG-9
 As popular as vintage wristwatches go, the Casio A168WG-9 will assuredly remain a real piece of gold. Its distinctive 80s design with the bright digital display, alarm functions, clock, and accuracy of time, will always give it a uniqueness. The Casio A168WG-9 is a classic piece that will accessorize your outfit in an instant.
9. Casio CA53W-1
 Casio's vintage watch designs have been popular and much sought after since long back. This classic piece is a member of Casio's Databank family and has an 8-digit calculator. However, this timepiece is the mother ship of all known calculator watches. A quirky designed timepiece, it also has other settings like dual time zone, auto-calendar, and a daily alarm.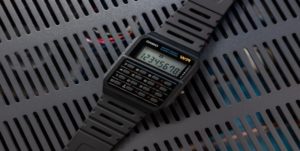 10. Luminox Pilot Pro Titanium Swiss-Quartz Aviator Watch
Luminox Men's SXC/XCOR Pilot Pro Titanium Watch is an excellent choice for everyday use. Its stylish look, equipped with  a leather calfskin strap and titanium case, is strikingly attractive yet masculine. The model contains the Swiss-quartz Movement; the Swiss ETA Ani-Digi Multi-function movement that helps you have a standard time. Its water resistance level is up to 10 meters, thereby making it unsuitable to wear while swimming but in case you get caught in the rain, you  won't have to worry about it.