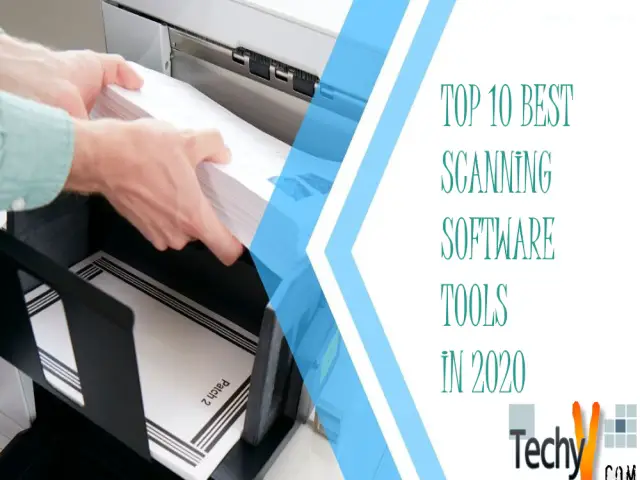 The scanning software tool today has become one of the most popular and commonly used technologies. It encourages human beings to go paperless and curry out all office or any other paperwork through this software. The scanning software tool takes copies of the paper and saves them into it. Also, users are provided with a provision of saving these copies on the cloud storage. There are many filters available to apply once the paper or document is scanned. The following are the top ten best scanning software tools in 2020, along with their features.
1. Abbyy FineReader:

Abbyy FineReader is one of the highly recommended scanning software tools. This software tool assists business and electronic work to carry out efficiently. It provides a wide range of features to its users. The features include editing PDFs, organizing PDFs, approving PDFs, protecting and signing PDFs, scanning papers and converting them into PDF, creating fillable PDF forms, automating digitization, and comparing documents in different formats. Abbyy FineReader is an all-in-one software tool and very easy to use. Though it is simple, the result produced is of very high-quality.
2. PaperScan:

PaperScan is yet another best and powerful scanning software tool. The best part of this software tool is it has an OCR engine incorporated in it. It is a multilingual software tool that supports more than 30 languages. Additionally, this application is capable of supporting more than 100 document formats. The other features of this software tool include scanning documents in batches, image printing, duplex scanning, selecting image quality, cropping or resizing a particular page in a document, etc. It has a Fast Web View Mode that allows users to generate PDFs fastly.
3. Adobe Acrobat DC:
One of the highly featured and commonly used scanning software tools across the globe is Adobe Acrobat DC. It is a mobile-friendly application that is very easy to use and has an intuitive interface. It has a large number of features incorporated in it. Hundreds and millions of people trust this application due to its security and advanced features. Users can change text and images present in a document, quickly add any text or image in a document, filling and signing PDF forms, sharing and tracking PDFs with mobile devices, storing the scanned documents on the CLoud storage, etc.
4. OmniPage Standard:

OmniPage Standard is another scanning software tool that has made office work paperless and faster. This application is best suited for small businesses and personal use. It is very easy to operate and has an intuitive user interface. Using this software tool, users can convert any type of document with accurate OCR technology. Additionally, users can also add tables, columns, and graphics to their documents. The best part of this software is it supports all major types of image and document formats. It provides the easiest way to manage paperwork electronically.
5. Readiris:

One of the highly characterized and most popular scanning software tools is Readiris. It is very well-known as PDF and OCR solution software. This software tool is specially developed to install on Microsoft Windows operating systems. It embeds multiple scanning features in it. Through this software tool, users can convert all documents into PDF with very simple and few steps. If used for office work, it provides effective collaboration through comments, hypertexts, and annotations. Users get benefitted through its high performance. It is one of the best solutions for document management.
6. Scan Speeder: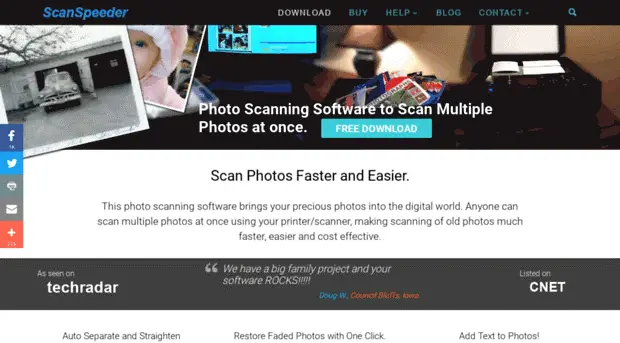 Scan Speeder is one of the most used scanning applications that have multiple advanced and revolutionary features incorporated in it. This software tool is specially developed for scanning photos faster and easier. Using this software tool, users can scan multiple photos at a time through a printer or scanner. It is not very expensive and works well with old photos as well. The other features include adding text to photos, restoring faded photos, scan slides, etc. This software tool is capable of scanning photos in more than 65,000 shades. It is compatible with Microsoft Windows operating systems.
7. VueScan:

VueScan is a mobile application for scanning documents. This application allows users to use a mobile camera scanner and scan any document. Users can use their mobile camera to capture photos. These photos can then be stored in PDF or JPEG format. It is compatible to work with only Android devices. VueScan has two versions, free and paid. The free version can only capture photos and store them in JPEG or PDF format. The paid version includes document feeders, duplex features, and document management. It is available at $4.99.
8. CamScanner:
CamScanner is another scanning software tool that is highly featured and robust. This tool has a wide variety of features in it. It can scan any type of document, like multi-page documents, batch scan documents, etc. It supports the auto-crop feature for the scanned photos. Additionally, it also incorporates adding notes to documents, adding a tag to document, multiple viewing modes, copy and moving documents to other locations, sharing documents via email, storing files on the cloud storage, and many others.
9. NAPS2: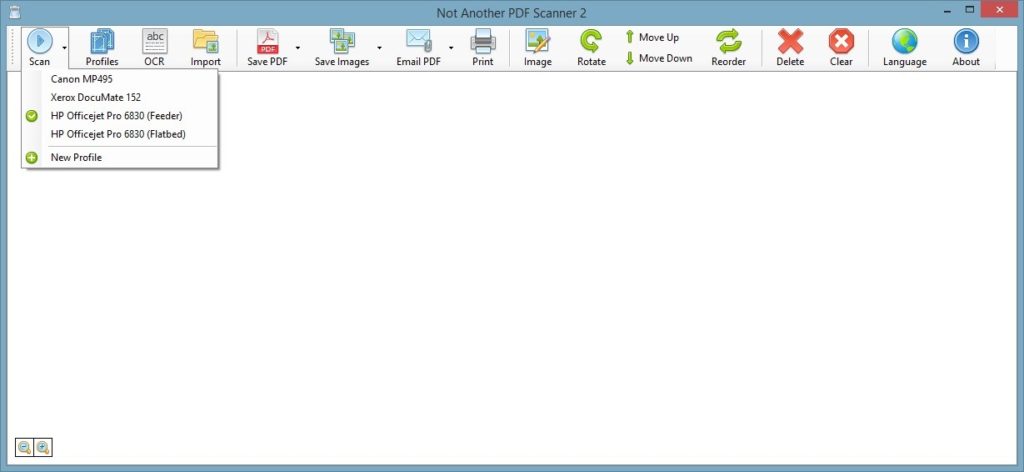 Another popularly used software tool is NAPS2. It supports WIA and TWAIN scanners. Users can organize the pages in a document, save them as PDF, TIFF, JPEG, PNG, and many other formats. The features of this application include duplex support, rotating, cropping, rearranging scanned photos, sharing PDFs via emails, using OCR to search PDFs, import, merge and edit PDFs, etc. Additionally, it has a command-line interface for automation and scripting. It supports a large set of languages. Users can try a free trial of this software tool.
10. PaperScan Scanner Software:

One of the top and best scanner software tools is PaperScan Scanner Software. It is an open-source tool and is available freely. It also supports TWAIN and WIA scanning. The scanned papers can be saved in PDF, TIFF, JPEG, PNG, and WEBP formats. Users can adjust the color of the document using the color conversion tool, effects, filters, etc. The output format supported by this document is PFD/A. Additionally, it also supports duplex scanning, flatbed and document feeder, and PDF encryption.