The vocabulary of any language is so vast that you cannot learn every word, and sometimes remembering the meaning is harder. This is where a dictionary plays its role. A dictionary is a book that contains all the terms of that language and there meaning. For English, the most popular dictionary is the Oxford dictionary. These books are thick and heavy and difficult to carry. You cannot take these books around with you, it takes up a lot of space, and the increase in weight can cause you back pain. To solve the issue, these dictionaries are converted into computer applications. This software can be installed on your desktop and laptop and can be used wherever and whenever you want.
Here is the list of 10 best dictionary software that you can install.
1. Word Web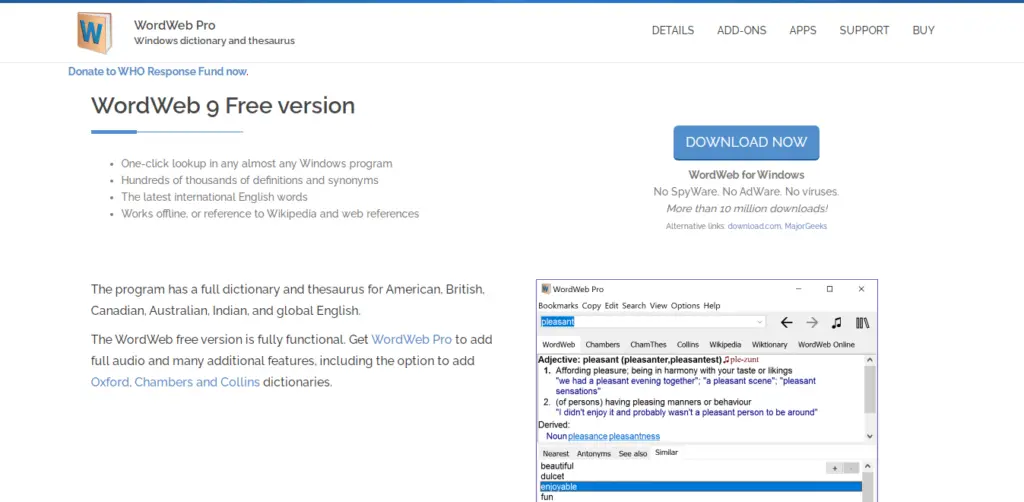 Word Web is one of the most popular dictionary software for PC with various exciting features. There are definitions and synonyms available for thousands of words. You just have to type the words, and with one click, you can get the meaning of that word. The Word Web dictionary is free to use with features like the latest international words, offline work, web-references to Wikipedia, and websites. The software dictionary for American, British, Canadian, Australian, Indian, and Global English. The Pro version costs Rs.1479 and provides features like 70,000 audio pronunciations, bookmark words, add definition to the database, 1,30,000+ synonyms and 1,65,000 root words, and many more.
2. Perfect dictionary

'Perfect dictionary' is a free and wide-ranging dictionary software developed by Microsoft Corporation. 'Perfect dictionary' contains words from over 50 languages. It provides features like automatic word suggestion, history of searched words, marks favorite words, and audio pronunciations. It comprises words from languages like English, Arabic, Chinese, Danish, Polish, Ukrainian, Hindi, Russian, Portuguese, etc. 'Perfect dictionary' is available for windows-8 mobile or higher. It will not work on windows 7.
3. TheSage's Dictionary and Thesaurus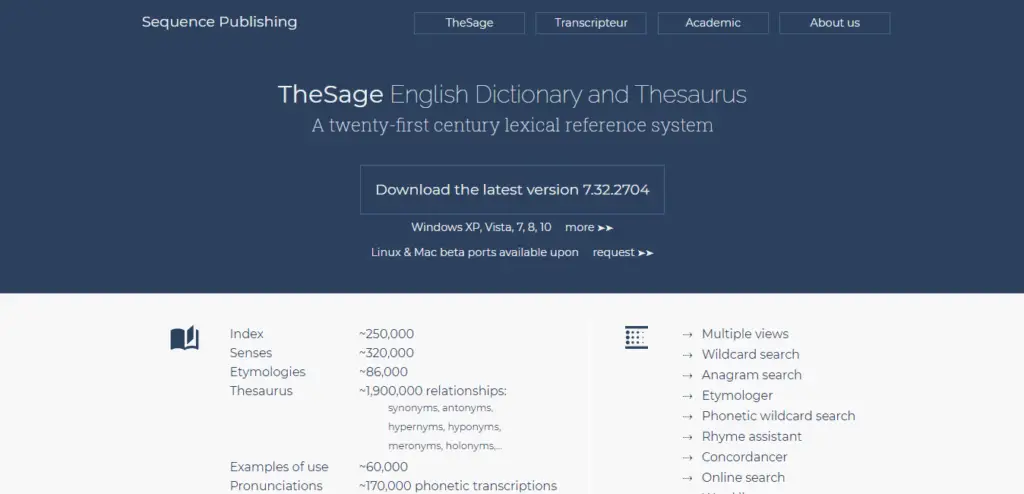 TheSage's Dictionary is a free to use dictionary software with a wide variety of features. The software is available for Windows, macOS, and Linux. It provides features like e-paper view, classic view, retro view, speller assistant, multifaceted thesaurus, wildcard search, Anagram search, Etymologer, Phonetic wildcard search, Rhyme assistant, definition search, example search, online search, wordlist manager, advanced appearance, custom appearance, ports for Android, IOS, OSX, and UWP. There are around 2.5Lakh words and approximately 3.2Lakh senses, 86,000 etymologies, 60,000 examples, and 1.7Lakh phonetics transcription. The thesaurus has 1.9million relationships like synonyms, antonyms, hypernyms, hyponyms, meronyms, holonyms, etc. The full version of the software costs Rs.700 and can be used for commercial purposes and has more features than the free version.
4. Lingopad Dictionary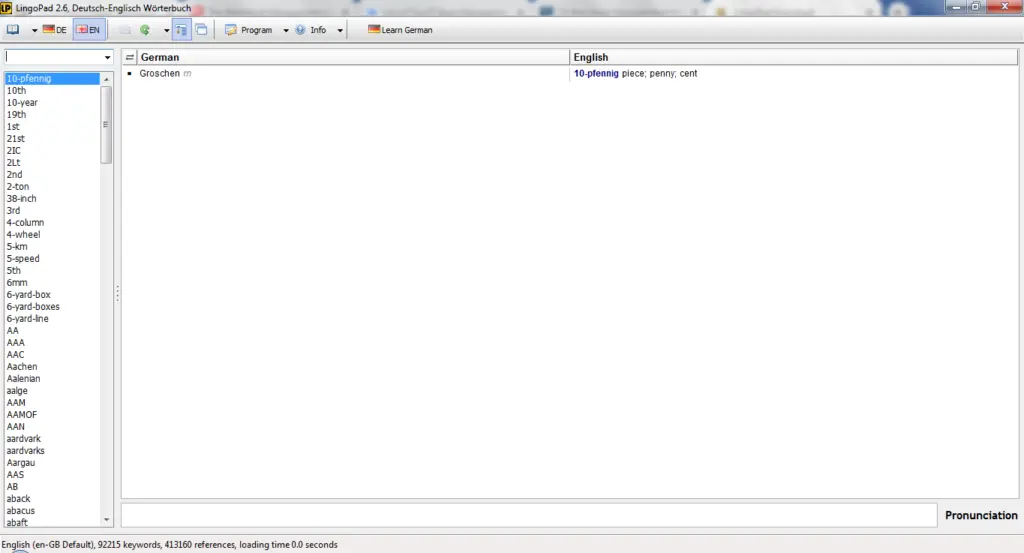 Lingopad dictionary is free to use a dictionary that can work offline. It is a multi-language dictionary that has words from languages like German, Turkish, English, Italian, French, Japanese, Chinese, Kurdish, Norwegian, and Arabic. You can translate from the English to German, German to English, Japanese to German, Turkish to German, Arabic to English, etc. It has features like wordlist editor, search for collocations, customizable hotkeys, offline use, phonetic transcription, UI in German and English, and many more.
5. Oxford Dictionary

Oxford English Dictionary is the most popular comprehensive dictionary book, and this book also available in the form of software. Get all the words and definitions you want in just a few clicks. It is available for Windows, macOS, IOS, and Android. There are around 3.5Lakh words in the database, and the database is updated regularly. It has all the features that are meant to be there in dictionary software. You can download the software from Microsoft store for free.
6. The free dictionary

It is a popular and free to use a dictionary. The free dictionary is available both online and offline. You can search for words on both the website and on the computer application. You can get an app from Microsoft Store for free. The free dictionary lets you search words from the English language as well as distinctive dictionaries, which include medical, legal, financial, Acronyms, and Idioms. In addition to special dictionaries, you can search on several encyclopedias and Wikipedia. There are 13 languages other than English; you can translate words into more than 40 languages. The dictionary provides features like daily articles, bookmarks, advanced search options, create flashcards, and many more.
7. Ultralingua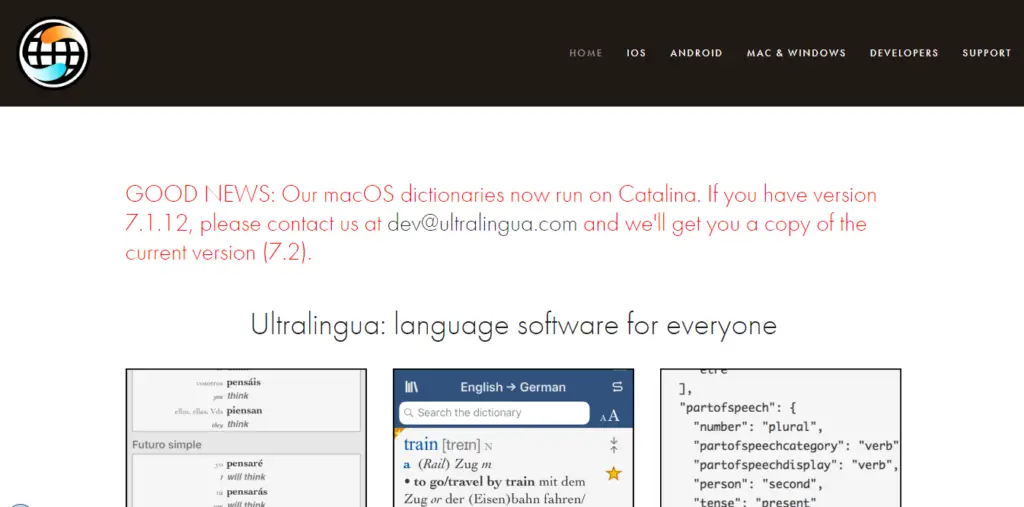 Ultralingua is a simple dictionary but plentiful in features. It is available for Windows, macOS, IOS, and Android. You can search words both online and offline. Other than a simple definition, searching this dictionary can also translate words from one language to another with smart search, verb conjugation, and number translations. It can come in handy when you are traveling in a foreign country, and you don't know the language. It has other features like it can work offline, easy and fast search, remembers your last search, and you can make a favorites list in the applications. There are 44 different dictionaries available that you can use, but these are not free. it cost somewhere from Rs.560 to Rs.1680.
8. Ultimate Dictionary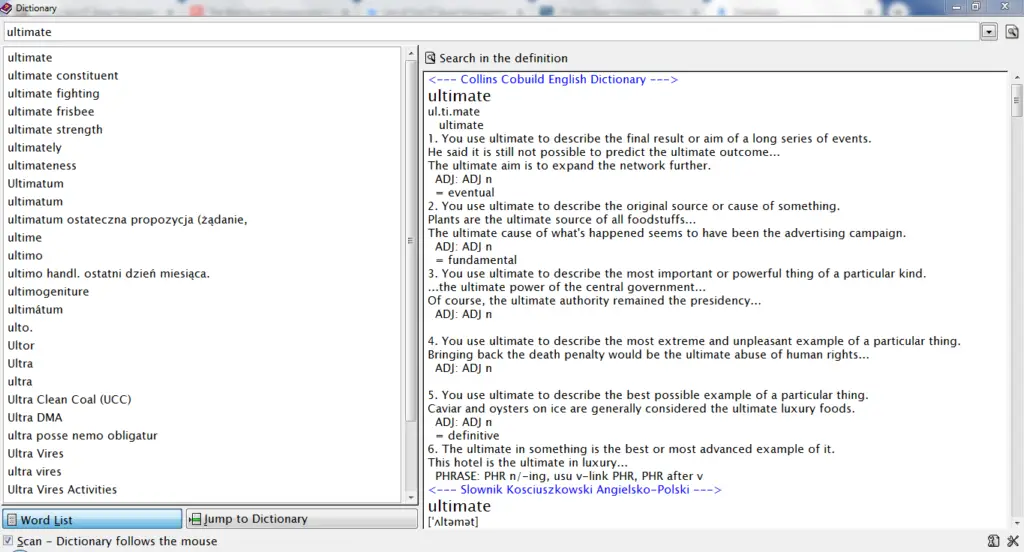 It is easy to use a dictionary for Windows and also free to use. You can download the dictionary for free and start using it offline. There are more than 50 trusted dictionaries available for languages like English, French, Polish, Chinese, Italian, German, and Japanese. You can find definitions of the words and synonyms in a thesaurus. You don't have to go on searching individual dictionaries for terms, the software itself searches all the available dictionaries and gives results from all of them. It has a simple UI, and you can even rearrange the dictionaries; if you have any preferred one, you can arrange it on the top.
9. Advanced English Dictionary (AED)

This dictionary ranks in the list of best offline English dictionaries. Advanced English Dictionary is free to use. It has a lot of great features which make it best. AED is a comprehensive dictionary with around 4lakh words in the database from the English language. You can paste words from the clipboard, and the meaning is stored locally. It has features like a picture gallery, pronunciations, related words, clickable words in the definition, search charm integration, and many more.
10. Sidebar Dictionary

Sidebar dictionary is a multilanguage dictionary, which is free to use. You can download it for Windows PC from Microsoft store. It works just like the name; it appears on the sidebar so that you can search definitions and meanings of words while typing or reading. Search words from multiple languages and translate then in whatever language you want. It includes languages like English, Spanish, Japanese, Chinese, German, French, Italian, Portuguese, etc. Sidebar Dictionary has features like multiple translators, text to speech, full screen and snapped mode, light and dark theme, search charm integration, search history, and thesaurus.