A search engine gets used to searching the internet as it is software that provides access to the World Wide Web. The most popular search engine in the world is undoubtedly Google. But search engines are energy-consuming software, and every search in Google requires energy equal to the requirement of a 60-watt light bulb. Therefore, it is indispensable to use an eco-friendly search engine and returns it to society as much as it takes from it. The top 10 alternative search engines that promote social welfare through charities and social initiatives get given below.
1. Ecosia 
Ecosia is a German search engine that distributes 80% of its profits as donations to non-profit organizations. The non-profit organizations usually work to fulfill plantation goals and complete reforestation projects. Ecosia's workflow is carbon negative. It claims to be a business for social and planetary welfare. According to the company's claims, Ecosia has helped plant more than 140 million trees from the year it came to business.
2. Elliot For Water
Every search made in "Elliot for Water" generates donated funds to distribute safe drinking water. Founded by Andrea Demichelis, "Elliot for Water" is a search engine that uses 60% of its profits to develop and finance clean water projects in many countries. Creating a profitable clean water project for needy communities in Guinea-Bissau is one of its notable milestones. The company claims that its search engine is privacy-friendly.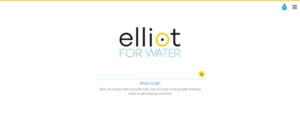 3. Givero 
Givero is a search engine and a social business that uses its revenue to promote activities and charities that benefit society. Unlike many socially inclined search engines, givers get not limited to a particular social goal. It provides its users the authority to select the causes they wish to donate.
4. Ekoru
Ekoru is a search engine that aims to instill environmental protection in its business model. It distributes 60% of its revenue as donations. These get donated to Non-profit organizations that work to save the environment and tackle global environmental issues. Clicks on sponsored content generate the contributed revenue. Kaoru is presently working with prominent organizations to protect flora and fauna of oceans. Ekoru's digital infrastructure gets powered by hydroelectricity which effectively conserves energy.
5. GiveWater
Like "Elliot for Water," GiveWater is also a search engine that aims to reduce the issue of poor sanitation. It aims to supply clean drinking water to developing countries. It got founded by Scott Harrison, the founder of another social organization called "Charity: Water." GiveWater donates its profits to charitable organizations for fulfilling its aim of providing clean drinking water to all.
6. Bing Health 
Bing Health is a medical search engine that provides the user with a repository of health-related information through its search service. It is a subsidiary of Microsoft Bing. It has voluminous health-related information gathered from various reputed and trusted medical organizations such as Med story, Medline Plus, and Mayo clinic.
7. Rapusia 
Russia is a search engine funded by the Tennis World Foundation and Coppini Trading company. It follows the sponsor-click model to generate revenue donated to finance social welfare projects and eco-friendly activities. The user of the search engine is not required to pay anything. By researching Rapusia, users can fund many social welfare activities.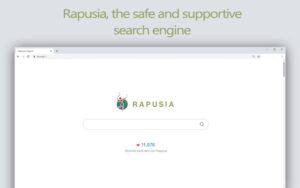 8. Kiddle 
Kiddle is a search engine with an in-built web-based encyclopedia meant for children. It stresses child-safe and interactive internet surfing. Kiddle utilizes SafeSearch and gets powered by Google Programmable Search Engine. Kiddle ensures child safety by recognizing search input and prioritizing child-safe content by showing them first in search results.
9. GoodSearch 
GoodSearch is a search engine powered by Yahoo. It is a subsidiary of GoodShop. 50% of revenue generated by the search engine gets donated to non-profit organizations and schools. Ken Ramberg and J.J. Ramberg developed the charity search engine. Like Give, GoodSearch allows users to choose the cause they wish to donate. Over the years, GoodSearch has associated itself with 114,000 schools and non-profit organizations to ensure social welfare.
10. Base
The BASE is a search engine developed by Bielefeld University Library, Germany. It is one of the most expansive search engines that cater to the academic needs of users. The data repository of the BASE is voluminous as it offers more than 200 million documents. Users can access a large number of copies for free. This search engine certainly promotes academic welfare by providing open access.