Accounting software app allows you to manage every financial transaction in your business by recording, storing, and processing the data. It makes complex tasks such as bookkeeping, invoicing, bank reconciliation, accounting to be complete within a matter of minutes, and helps you concentrate on your business goals. It includes various modules like accounts receivable, accounts payable, purchase order, sales order, stock, payroll, debt collection, etc., Manual calculations may lead to errors. At the same time, the software has great accuracy in calculation. Not only for handling errors, but accounting software also has efficient features like greater processing speed, automation, and thus makes tasks simple. Choosing the best accounting software is based on your business like your business goals, how big is your business, your industry, and so on. Here I have listed the top 10 accounting software apps for Android.
1. QuickBooks Accounting

QuickBooks Application: Invoicing & Expense Tracker is an application that helps you to track miles, create invoices, manage your expenses, and cash flow to view your profit and loss from anywhere. QuickBooks Online mobile app is available on many devices, including iPad, Android phone, and Android tablet. Create estimates, invoices, sales receipts, payments, create and manage vendors and customers with this single application.
2. FreshBooks Accounting App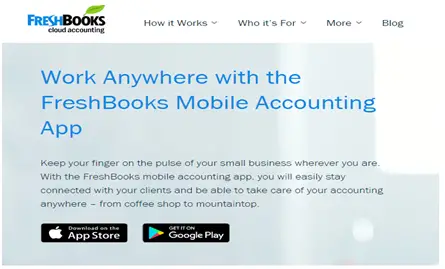 FreshBooks Accounting App is an online accounting software app developed by 2ndSite Inc. It helps you to run your business in an easy, fast, and secure way. It has powerful features, including automation, robust reports for powerful insights, expense tracking, time tracking, purchase orders, payroll integration, double-entry accounting, and so on. It supports multiple tax rates and currencies. It is best for service-based businesses and self-employers. The advantage of FreshBooks is its responsive mobile app.
3. Zoho Accounting App

Zoho Books is a GST compliant accounting app. It is an easy-to-use app, send voices, monitor expenses, and reconcile accounts with this app. Collaborate with your team through your mobile device from anywhere. Its key features include GST invoices, recurring invoices, create bills, time tracking, and so on. It supports multi-currency. Verify and approve every transaction before sending them. It provides data security as data is stored on the cloud stays connected with your finances at any time.
4. BookKeeper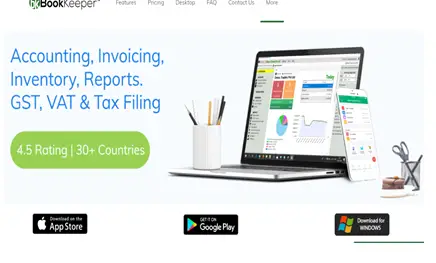 BookKeeper is a GST accounting, invoicing and inventory app for small and medium-sized businesses, designed mainly for Indian Businesses. If you are looking for basic, easy-to-use accounting software with a lot of features, and without any complexity and confusing features, you can choose this app.
5. Vyapar

Vyapar invoice maker is an easy invoice app for sending invoices, billing, manage inventory, and accounting to your customers. It suits for small businesses. It supports credit note, delivery challans, debit note, sale order, and purchase order. Many users left positive comments for this app.
6. Wave Invoicing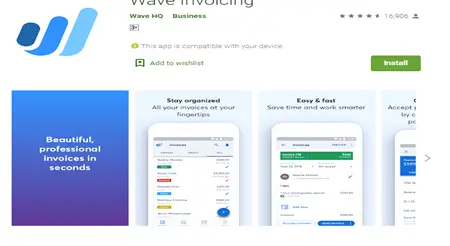 Wave Invoicing is the best accounting app for freelancers, consultants, contractors, and small business owners. It allows you to send unlimited customized and professional invoices for free. It has more than 3.5 million users worldwide. Track expenses easily and quickly using free bank connections. Invoice data is stored securely in the cloud, work anywhere at any time from your device.
7. Tally On Mobile

Tally On Mobile is the best accounting app suits best for small and medium-sized businesses for handling accounts. Even the person having no prior knowledge about accounting can utilize its tools. It is an easy-to-use and user-friendly app. It helps to handle payments, receipts, sales orders, and purchase orders. It allows you to have quick access to inventory and stock details in no time and to make better sales and purchase decisions.
8. Xero Accounting App

Xero Accounting is an application, best for small businesses. It includes features such as invoices, quotes, bills, bank reconciliation, and so on. No more cash-flow problems by staying ahead of unpaid and overdue invoices; You can view outstanding invoices and payment history with this application. It helps you with better and faster transactions.
9. Free Business Accounting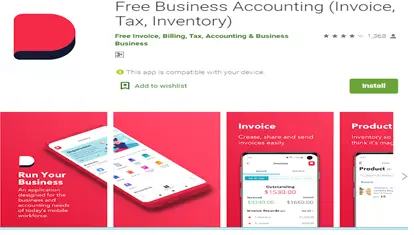 Deskera is a free app that has many features, including business accounting, invoice, inventory management, attendance, tax filling, GST calculator, cashbook, and also maintains your financial reports, including profit, loss, and cash-flow. It allows you to scan inventory and bar codes directly in the invoice. It supports group chat that lets you share invoices and other documents to the customers, vendors, and colleagues. This app suits best for Accountants, Entrepreneurs, Freelancers, Vendors, and Bookkeepers.
10. Accounting Bookkeeping

Accounting Bookkeeping app helps you to manage your every business transactions such as sale order, purchase order, payments, expenses, taxes, and so on. It is a simple and easy-to-use application designed mainly for small businesses. You create and record multiple sales, keep track of your payables and receivables, record your payment transactions simple with this app.