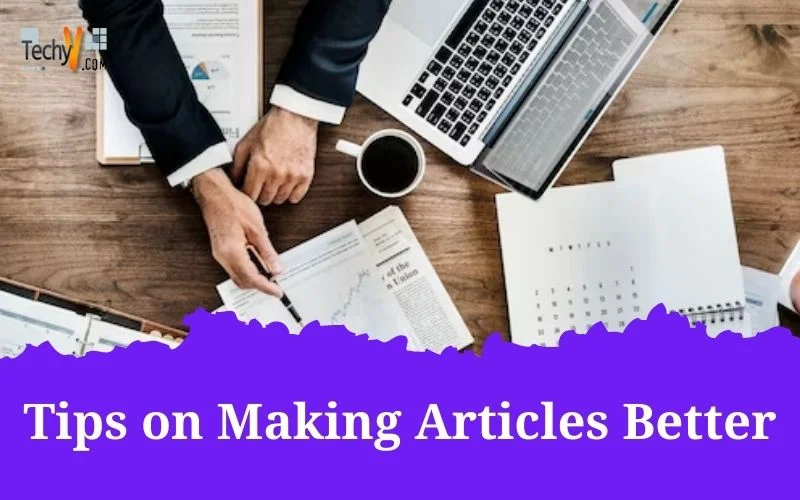 Tips on Making Articles Better
Writing articles for websites, online employers or for promotional purposes is a really tough job. It may take several hours to complete just one great article, which may be classified as "better".  Well, in order to become a professionally successful, online article writer, you have to go through some guidelines or tips that are followed all over the world.
According to a recent survey, professional writers take almost half an hour to write a good article.
So, if you want to be on the "band -wagon" with these writers, it is suggested you follow these tips:
1 – What Should You Write to Grab Your Readers' Attention?
Well, it's a pretty tricky question that comes into everybody's mind when he/she thinks of 'what to write'. The best solution to this problem is to write about what is actually on your mind.
2 – How Should You Write?
You can write about anything you want to as there are loads of websites and social communities where your article may be read, but, one thing that you must keep in mind is that you write your article in such a way that you omit unnecessary details and focus strictly on the main points.
3 – What Should You Do Next?
You should write a brief summary of the topic in a clear context so that the reader takes interest in reading it to the end.
4 – Do You Need Any Guidelines?
Yes of course, you need guidelines. The best way to succeed is to use an attractive article template that touches both your mind and heart.
The following list of 'Dos' and 'Don'ts', will enable you to produce better and more professional articles.
Do's of Better Article Writing
1 – Make a Sketch in Your Mind
Make a proper sketch of the data that is in your mind to enable you to write a better article.
2 – Conduct Research
After doing the above, try conducting proper research on that particular topic so that you have enough data accumulated in your mind. Searching from 4 -5 relevant sources will give a better idea of what you are going to write about.
3 – Suggest a Title for Your Article
Give a title to your article that represents the entire story of your composition. It must be drafted in a clear context; best instances to use are phrases.
4 – Make a Summary of Your Article
Another important thing is to give an abstract of your entire article. You can write an introductory paragraph to give a summary of your article. This paragraph should also define your article.
5 – Use Short Sentences
Most writers, including some professional ones, do not follow this rule, which is the backbone of better article writing. Writing short sentences increases the worth of your composition and lessens chances of error. It also makes your article easy to read and digest.
6 – Employ short Paragraphs
Employment of short paragraphs gives your article a professional look and encourages audiences to read to the end. The best way is to keep paragraphs to 4 -5 lines at maximum.
7 – Maintain Flow between the Paragraphs
Another important thing, which gives flow and smoothness to an article, is to link your paragraphs with each other.
8 – Give Headings and Use Simple Language
Another "must do" of better article writing is to give headings and to use simple language so that you can cover a global audience.
9 – Give Conclusion with a Climax
One of the best strategies of improvement is to conclude your article with a climax so that the reader will understand the worth of your composition.
Don'ts of Better Article Writing
Apart from certain 'Dos', there are various 'Don'ts' of better article writing, which are as follows:
1 – Do Not Copy the Ideas of Others
Today, most writers copy the ideas of others. You are advised not to as it may ruin your own creativity. The best thing to do is write an article with your own words.
2 – Do Not Copy Content Word -from -Word
If you have conceived an idea from the internet, you should avoid plagiarism by not copying its content word -for -word.
3 – Do Not Leave Your Article without a Spell Check
After completing your article, the best practice is to run spell check.
4 – Do Not Forget to Proofread
It is highly recommended that you proofread your entire content for inaccuracies before you submit it to online directories.
5 – Do Not Use Slang or Jargon
As you are to cover a global audience, avoid using slang or jargon in your content.
6 – Do not Forget to Give Facts
Another thing that improves your article and makes it even more authentic is the use of facts and figures. You could also include survey reports in your article.
7 – Do Not Use Fillers and Meaningless Words
Avoid using meaningless words and fillers. Stick to the topic and come up with the maximum details in fewer but more important words.
8 – Do Not Forget to Use Keywords
Another good practice is to use keywords and to highlight significant words and phrases. It may improve the ranking of your article.
If you succeed in meeting all these guidelines, your article stands more chance of being a great success and you could ultimately emerge as a writing giant.