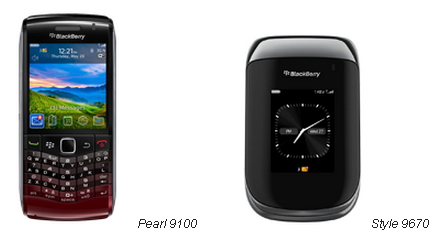 Ten Best BlackBerry Phones Today
The following is a list of the ten latest BlackBerry models available today. Each has its own trade-offs, so here we look at the differences and similarities among the various models. Hopefully this can help you decide on which is the best BlackBerry mobile phone today.
Best BlackBerry Torch Models: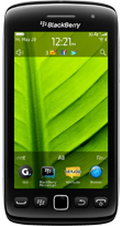 Torch 9850
All of the BlackBerrys in the Torch range have touch screens, 5MP cameras with flash, GPS, Wi-Fi and 3G support, as well as large memory capacities.
1. Torch 9800
The Torch 9800 is the lowliest in the range having 2x digital zoom and standard video recording only. It is available in black, red and white. Weighing in at 5.68 oz and being 4.3 x 2.4 x 0.5 inches in size, makes it a standard sized BlackBerry. A potential 30hrs of music playback and up to 18-days of standby time puts it at the top of the list for battery performance though. This is a slide phone with QWERTY keyboard.
2. Torch 9810
The Torch 9810 is a slight improvement of the Torch 9800, having the same size and weight, but offering 4x digital zoom, 54-hours of music playback and 13-days of standby time. This one is available in silver or white and also offers HD video recording. This is a slide phone with QWERTY keyboard.
3. Torch 9850
This is one of the latest BlackBerry phones available today, but sadly, the only color available is charcoal. Sporting a very large 800×480 full touch display offering SureType, MultiTap and QWERTY on screen keyboards, usual optical trackpad for navigation, 5MP camera with flash, 4x digital zoom, 50hrs of Music playback, HD video recording and slightly thinner and lighter than the other BlackBerry Torches, this is definitely one to consider.
Best BlackBerry Bold Models:
Bold 9930
The BlackBerrys in the Bold range are bar phones without slides, but do offer full QWERTY keyboards, trackpads for navigation, cameras with flash and relatively sized memory options.
4. Bold 9650
The Bold 9650 is the first to be looked at. However, with its 3.2 MP camera, 2x digital zoom, 18-hours of music playback and 5hrs of talk time on the battery; it might not be the best in its class. This is also available in charcoal only, and does have a 480×360 display.
5. Bold 9780
The Bold 9780 is a big step up in the Bold series. Sporting a 5MP camera with 2x digital zoom, 36hours of music playback, it is available in either charcoal or white and weigh in at only 4.3oz.
6. Bold 9930
The Bold 9930 might just be the best BlackBerry in the Bold range. Having a touch screen, a 640×480 display, 5MP camera with 4x digital zoom, HD video recording and 50hrs of music playback, really puts the 9930 in a class above the rest.
Best BlackBerry Curve Models:
Curve 9300
7. Curve 9300
The BlackBerry Curve 9300 might be the most colorful of the lot, being available in charcoal, white, pink, and violet. The standard video recording with its 2MP camera and 320×240 display, make this a slightly inferior model to the rest, but it does sport a set of dedicated media buttons on the top of the handset.
8. Curve 9370
The Curve 9370, however, does the Curve family some justice. Weighing in at only 3.5oz, 480×360 display, 45hrs of music playback, and 5MP camera with 4x digital zoom are some of the features that this model offers. Unfortunately, there are no dedicated media buttons on this one.
BlackBerry Pearl and Style Models:
These are more likely for the more adventurous users, although they may not be the best BlackBerrys. However, they do offer a welcome difference to the more standard looking BlackBerry.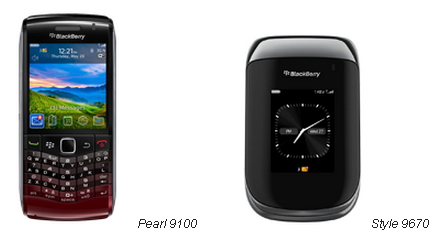 9. Pearl 9100
The BlackBerry Pearl 9100 is probably the most "phone-like" BlackBerry on the market today. Resembling a stereotypical phone, it has a condensed 20-key QWERTY keyboard. A 360×400 display, 3.2MP camera with 2.5x digital zoom and flash, does make it a worthy candidate.
10. Style 9670
This is by far the most "out-there" BlackBerry available. The only BlackBerry to boast 2 screens, one 360×400 internally, and a 240×320 external display. With only 14hrs of music playback, but with its 5MP camera, this would suit a photographer more than a musician.
As can be seen in the above breakdown, as time goes by BlackBerry devices are getting thinner, lighter, more feature rich and are having batteries that last longer. It would depend heavily on what you are going to be using your BlackBerry for, but if you choose one from the above collection, rest assured that you have yourself one of the best BlackBerrys available today.