We all know Snapchat- The app that has been our favorite for years now. Snapchat drastically changed the way we socialize: Instead of uploading photos and videos one-by-one on social media(which used to be a dreaded time taking task), snapchat allows the users to directly add the moments in the form of pictures and videos in their snapstories- which can be viewed by all the friends and relatives at one place!
Snapchat also allows the users to save these snaps into 'memories' which can be accessed anytime by the users and can be shared, edited and can again be added to the snapstory.
The camera app will still be known as Snapchat, but the company needs a new identity since now, it's not what it once used to be. So, with this new product (Snapchat spectacles) hitting the markets, they need a new identity which describes the company better.
According to CEO Evan Spiegel, "Now that we are developing other products, like Spectacles, we need a name that goes beyond just one product — but doesn't lose the familiarity and fun of our team and brand."In September this year, Snapchat changed itself to be Snap Inc.
In the later part of 2016, Snap Inc launched their latest product which caused much awe among the users- Snapchat Spectacles!
These spectacles have a built-in camera, which captures snaps and wirelessly syncs them to the Snapchat account on the connected device. To shoot using these spectacles, just tap on the button present on the frame.
Available in 3 different colors, Spectacles have created a lot of hype in the market (and for all the good reasons!)
Although the concept of smart glasses in not new in the market, this product stands out from others (say, Google Glasses) because these spectacles are designed in a very user-friendly way. Costing just around $130, they look chic, and they just have an in-built camera (sans display screen) which makes them light weight and suitable to be worn on any given day.
Spectacles In A Nutshell-
These spectacles by Snap Inc. havea built-in camera that allows the users to take snaps effortlessly! Just push the button on the frame to start recording. The inbuilt camera has a disk of LEDs which lights up when recording starts. It allows an115-degree view of the world!
They're Basically Sunglasses, ButWith Camera-
Unlike other smart spectacles, these glasses do not have a display or any heavy-weight inbuilt machinery. They're surprisingly light-weight and easy to handle.
They're Something Which Can Be Worn On A Day To Day Basis (Without Making You Look Like A Total Tech Freak)-
These spectacles have been designed in a way that makes them look almost like ordinary spectacles you would normally wear.
CurrentlyThe Only Way To Get These, Is Through A Vending Machine-
SNAP Inc. is not distributing these spectacles for reviews. Neither are they available for sale through distributors. These are dispensed through Snap Inc.'s yellow colored vending machines that look like a minion, on payment of $130.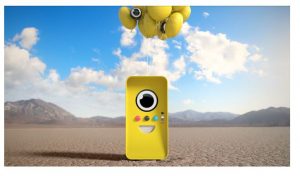 Evan Spiegel Calls It A "Toy"-
Snap Inc. C.E.O. Evan Spiegel called this product a toy (It sure is priced like one!). Available for just $130, these are very pocket-friendly as compared to other smart glasses. Also, unlike other smart glasses in the market, Spectacles are just Sunglasses with a camera.
Shoots Videos Which Can Be Viewed In Landscape Or Portrait Orientation-
It shoots 115-degrees circular snaps which you can easily view in either landscape or portrait orientation perfectly.
The Case Is A Charger Too!-
These spectacles are charged while they are in the case. The bright, catchy case is super innovative and handy.
Although we loved these spectacles as they are a perfect blend of style and utility, we can't help but wonder how we'll be able to take selfies using these 😛 No selfies maybe (unless another selfie-supported version hits the markets), as they are designed to capture the word infront of you! Another improvement we would love to see would be if these can be synced with other apps as well like Instagram or Facebook.
Despite these shortcomings, we would say Snapchat spectacles are a definite hit as they are chic, lightweight and useful. Get your hands on one? Do leave reviews in the comment box below!
Happy snapping!