Drones have been in use for a long time to capture aerial images and video. But, to use one to take an image of yourself or your friends during a lovely vacation at the beach is no doubt, uneconomical and inconvenient. That's why a London-based start-up company is looking forward to fund the production of a pocket-sized, portable drone, named 'AirSelfie.' It has been said that these tiny, flying gadgets will substitute selfie sticks.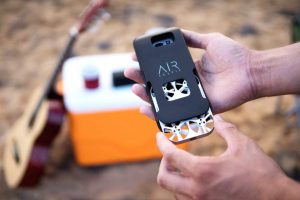 Why will you need an AirSelfie?
A holiday isn't complete without a selfie to remember the moments. But, taking a selfie isn't easy. Numerous times you had to stretch out your arm to fit in the picture all the people of your friends' group. Too often you had to cut out that beautiful picturesque sunset or the wonderful landmark while taking a selfie. Even having a Selfie stick isn't of much help when it is a group of twenty or more people to be pictured.
In its place, it will be easy, if we had a mini drone that could fly in the air and take a picture of the whole group with proper scenery in the background from a perspective that our arms can't reach. Hence, the AirSelfie, with an intention to revolutionize the way we take a self-portrait, or 'selfies'.
 How to use?
Unlike technologically advanced drones that require specialized knowledge for its operation, the AirSelfie has been designed especially for the laymen to serve their photographic needs. Anyone having iOS or Android software on their phone can use AirSelfie to take an aerial photo of them.
Step 1:
The AirSelfie needs to be operated with an app (free download) that is compatible for with iOS and Android Operating System. To use the device, take it out from the cover and turn it on.
Step 2:
AirSelfie can be controlled by three different modes:
Selfie Mode – You can select the distance of the device from the object to be pictured.
Selfie Motion Control Mode- A virtual joystick in the mobile app helps you adjust and control the device in real time.
Flying Mode – On selecting the correct position of the device, it hovers in the air and maintains a horizontal position to click a still photo of the user or any other desired object.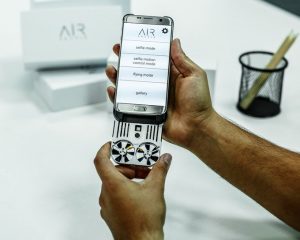 After taking the picture, AirSelfie can be returned to its starting point automatically or manually, either by selecting the "Slide to Land" option in the app or just pull the device out of the air by bare hands without any risk of damaging the parts.
The "Selfie timer" option allows you to capture timed photos of up to 10 seconds.
Specifications
5MP HD camera for photo or video recording
4GHz Wi-fi that mobile phones can connect with
Powerful propellers that can make the device float at an altitude of 66 feet or 20 meters
Built-in 4GB memory
Built-in 240MAh 7.4V battery for easy recharging
USB connection
Weighs only 52grams
Stability camera and Altitude Sonar
Barometer/Geomagnetic/Gyro sensor
Easy sharing of images on social media
Portable Power Bank, with a battery that lasts for 1hour
All of these features come at a price of around a proposed price of $249.
The AirSelfie device comes with a micro USB cable, an AirSelfie cover and/or an AirSelfie Power Bank.
Where can it be used?
AirSelfie is looking forward to freeing its users from the problems of using a selfie stick or clicking a selfie with stretched arms. The avant-garde device can be used to take pictures from a high altitude or from a position which is unreachable. AirSelfie is suitable for taking indoor or outdoor pictures or videos.