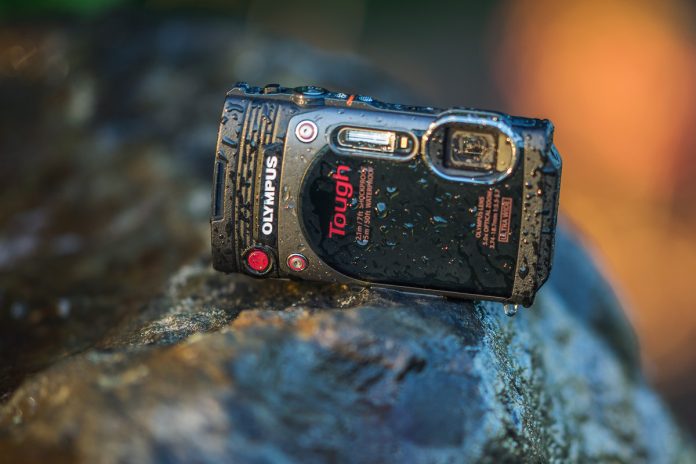 The smartphones may be coming with better and better cameras with greater picture quality, but they are not suitable companions for adventure trips. This is where a compact point-and-shoot camera which is durable and can survive harsh environments comes into the picture. Olympus is a major player in the manufacture of rough and tough cameras. TG-870 is the latest camera in its Tough series. Panasonic, Fujifilm, Nikon, Pentax, and Sony are other players in this field.
TG-870 is definitely dust proof along with splash, freeze, shock, and crush proof. It is a perfect example of superior engineering. You can take it 50 feet underwater, or to bone-freezing cold regions of Antarctica, this camera can survive anything- be it 7 feet drop or being crushed under immense pressure. As compared to its predecessors, not only in Tough series, the design on TG-870 is more sophisticated and less toy-like. It looks more or less like a high-tech device straight out of a sci-fi movie. It is available in 3 colors- Gunmetal Metallic, Metallic Green and Pure White. It is very easy to carry and fits perfectly in a pocket since it measures only 4.4×2.5×1.1 inches and weighs only 226 grams.
You can also take selfies as there is a red-color "Face" button on the right-hand grip of the camera by flipping the screen by 180 degrees. On the front, you will find three more things- Lens, auto-focus illuminator, and flash. The camera provides 5 times optical zoom which is not the best lens available for aperture/3.5(wide) to f/5.7(tele). This means that for a better quality of pictures it will require plenty of natural lights for outdoor shooting and flash for indoor shooting. But the purpose, for which the camera is built, lack of natural lights will not be a problem. Olympus has another camera TG-4 which is more expensive but comes with a four times optical zoom and a brighter lens with f/2.0 aperture.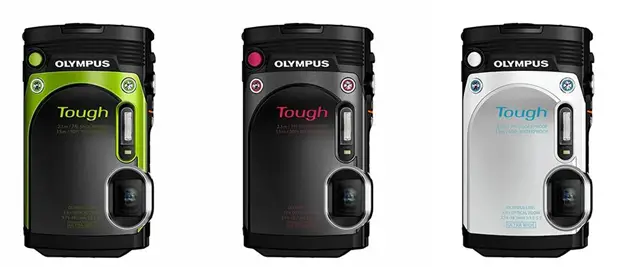 On the top face of the camera, you will find stereo mics, shutter and power buttons and a toggle switch for zooming. The LCD screen measures 3-inch and covers almost the complete surface of the camera, with 920K-dot resolution- which is a significant improvement from its predecessor TG-860 and TG-4. Other features of the camera include Intelligent auto, Super Macro, Program AE, 19 types of Scene, 13 art filters by Olympus, Self-portrait, Sportcam, and Panorama. Settings like, flash, info, timer, etc. can be quickly accessed. For battery and SD card there is a dual-locking compartment on the right-hand side. Dual-locking is required to make sure that these elements are properly sealed and remain dry and shock proof. If the battery compartment is not properly locked, you will see an orange colored warning. The camera also comes with not one, but two tripod mounts. One is at the bottom, and the other one is on the left-hand grip so that you can change the orientation of the camera.
The complete package includes a camera, along with a battery and AC adapter for charging, a USB cable, one hand-strap, a setup guide, and CD. The CD contains Olympus Viewer 3 software which is used for handling output files. TG-870 is embedded with 1/2.3-inch 16 Megapixel BSI CMOS Chip. The image processor that is used in this camera is TruePic VII which is also present in high-end OM-D camera series. The camera also comes with an inbuilt lens-shift stabilization which is very useful in reducing the blur. Even though the image might not seem as appealing on the camera screen, but when viewed on larger screen, the result was great with sharp, rich and accurate colors. It also comes with native ISO range of 125-6,400.
Apart from this TG-870 is waterproof which can help you give stunning underwater shots. But if you go any deeper than 50 feet, low lights would be a problem as it does not give great results under low lights. The video recording is also a strong point of this camera, as it takes 1080/60p full HD videos, though you may experience a problem in focusing while panning the camera. Not only this, TG-870 has an inbuilt GPS as well which has been upgraded to finding the location more quickly and accurately as compared to other cameras of Tough series. With the help of built-in Wi-Fi, the camera can be paired with a smartphone or a tablet through the Olympus Image share application which can be easily setup. Olympus give one-year warranty for the camera.