Microsoft Xbox One X is claimed to be the most powerful console up to date. It promises HDR, 4K resolutions, some upgrades on its visual, and hardware that are significantly remarkable to its competitors.
Project Scorpio has already reached its peak as the Xbox One X, and this version is limited for the launch period. It sports a distinctive design that gives tribute to its codename, the device is designed for the most devoted fans, with many throwbacks to the history of Xbox.
It trails similar logic as the PlayStation 4 Pro over the PlayStation 4, which brings a more improved 4K-capable gaming experience for $499. This is twice as expensive as the previously released Xbox One S, but it is worth your dime if you are using a 4K television with HDR and you want to get the most out of it.
Microsoft's attempt to reduce the size of the Xbox X is nothing short of confounding. The original console was a hefty slab with a huge power brick. The Xbox One X is completely dainty, which packs additional processing power in a considerably smaller frame. Just like the Xbox One S, the One X is approximately 40% smaller than the original Xbox One. It measures only 2.4(H) x 9.8 (W) x 11.5 (D).
While we are expecting a number of special edition designs like the Project Scorpio, the standard One X is a matte black plastic chunk. It is similar to the Xbox One S, but with broader rectangular slab slightly positioned on a smaller slab, which creates a lip on top of the base. The One X has perforated sides, while the top and front are totally uniform. The optical drive was moved from the upper portion, which now holds only a light-up logo of Xbox that expands as a touch-sensitive power button, to the lower slab. Attached to it are the USB port, controller pairing button, and the eject button.
The back of the Xbox One X carries the same ports as the Xbox One S. It has the power connector, HDMI Out, HDMI In, two USB 3.0 ports, 3.5mm infrared blaster output, S/PDIF, and the Ethernet port. The power supply is fully internal and you only need a power cable to run it. The Microsoft Kinect that comes pre-loaded with the original Xbox One has been discontinued. You can only use a USB adapter, but similar to the Xbox One S, you cannot find any dedicated port for it.

The Xbox One X includes a wireless gamepad, which is identical to the one included in the One S package. The gamepad has a 3.5mm headphone jack where you can connect your wired headset. You can still use a headset adapter to the accessory port next to it for mic control and on-controller volume.
Even if the Kinect has been defunct, you can still use Cortana voice assistant with a headset. Just say "Hey Cortana" in the headset mic and it will bring the Cortana window up, which allow you to give different voice commands. Microsoft's Cortana can control your media playback, provide basic information such as weather and sports results, launch your games, browse menus, and many more.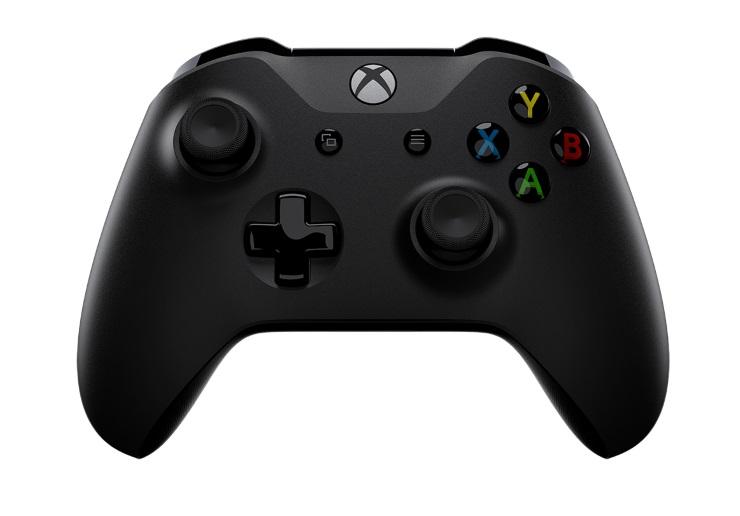 The Xbox One X provides a major upgrade from the previous Xbox One and Xbox One S, with a boost that remarkably exceeds the processing improvement of PS4 Pro over the PlayStation 4. The Xbox One X is powered by an 8-core Custom AMD CPU, which was clocked at 2.35GHz to bring an improved AI and sleek interactions to your gaming. It also sports 12GB GDDR5 of graphics memory, which provides 50% more power and speed to the game performance. The Xbox One X's six Teraflop GPU provides 4K characters and environments to make it more realistic and includes smoother animations. Its graphics are faster now with 326GB/sec memory bandwidth for better gaming.
The Xbox One X has similar premium media playback features as the Xbox One S, including HDR and Ultra HD Blu-ray support. You can watch 4K videos and movies through Ultra HD Blu-ray discs or you can also stream through Netflix, Amazon, or other similar streaming services. The One X also boasts support for HDR10, which covers a huge list of HDR content that is available on streaming services and Ultra Blu-ray discs.
Just like with Sony's PS4 Pro, you need to build or patch a game to take advantage of the extra power in One X. A lot of Xbox One games was said to support the One X too, but Microsoft is keeping an active list of Xbox One games intended for the Xbox One X. The list already includes 200 titles and many of it is already patched and available to play now on your Xbox One X, while others are still in the development process or just waiting to be patched. The one X can also improve games from Xbox 360 by rendering the graphics to a much higher resolution. If you do not have a 4K TV, the One X still provides graphical improvements for specific games. The One X uses the super-sampling feature and other filtering techniques for a crisper graphics display on a 1080p screen.
The Xbox One X is a remarkable gaming console. A gamer can render various games in 4K, some with HDR graphics, or with other visual enhancements that the Xbox Box and Xbox One S cannot do. As it stands, it is indeed the most powerful console in the world.