Message Queues Under Exchange Server 2007
This article walks you through Message Queues in exchange server (ES) 2007 and how they differ from earlier versions of ES.
Message Queues
The major change in message queues, on transition from ES 2003 to ES 2007, is its tendency to manage queues centrally, under Queue Viewer tool of EMC toolbox.
Open Exchange Management Console (EMC) to select Toolbox under Microsoft Exchange. Then double-click Queue Viewer in middle-pan to open its console.
Under Queue tab of Queue Viewer select the queue you want to see the transport messages.
ES 2007 maintains its entire queuing database under this default path, <drive>:Program FilesMicrosoftExchange ServerTransportRolesdataQueue.
On of the best feature of ES 2007 is the ability to manage remote queues on a single server. To do so, select Connect to Server… under Action menu or from Actions in the right pane.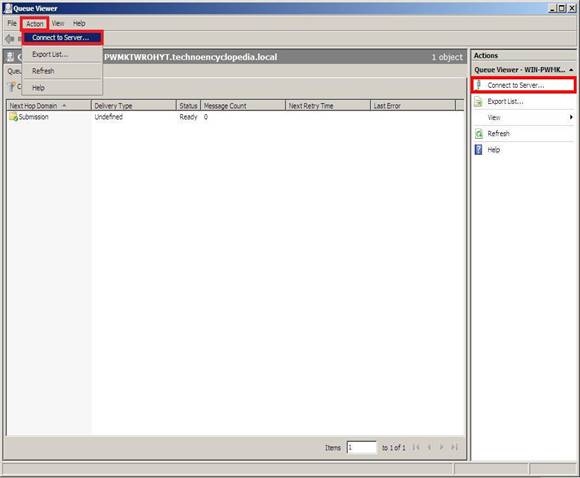 This pops-up Connect to Server dialog box to Select a Hub Transport Server, click Browse…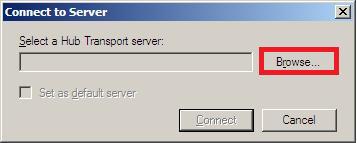 On Browse, select remote server to managing its message queues then click OK. Below only available server is shown.
On return that server queue will be available under Queue tab to administrate. Moving on, to see the movement of messages under any selected queue, select View Messages from right pane.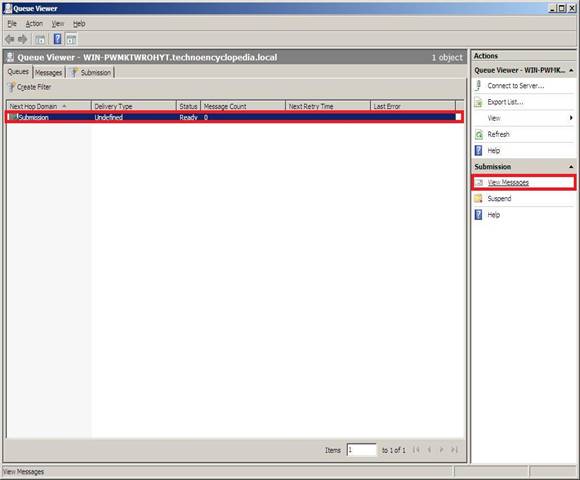 This will show messages under a queue in Submission tab of Queue Viewer. You won't see anything here because, previously, selected queue is empty.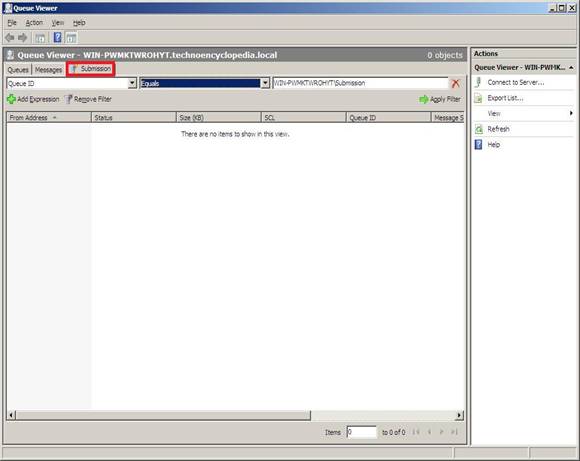 With high number of message transport in enterprise organization, ES 2007 provides you the ability to filter messages of a queue. There are various message features you can select to identify a message. Like Queue ID &Source IP to name few in the list below.
Other filtration options are shown below.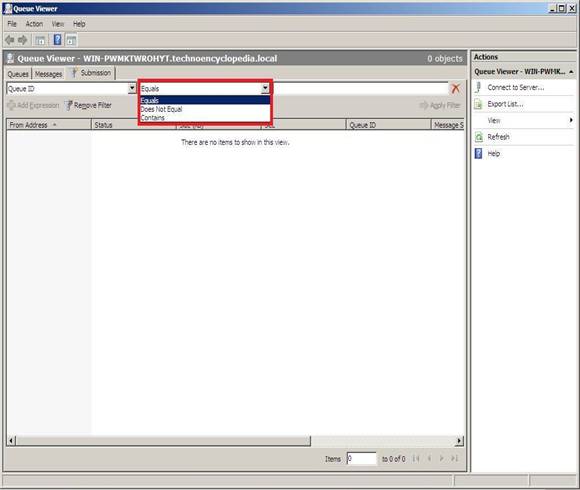 And our selected server, default shown below.
Conclusion: This article talk of, central management of, Message Queues under ES 2007.
= = = = = = = = = = = = = = = = = = = = = = = = = = = = = = = = = = = = = = = = = = = = = = = = = = = = = = = = = = = = = = = = = = = = = = = = = = = = = = = = = = = = = = = = = = = = = = = = = = = = = = = = = = = = = = = = = = = = = = = = = = = = = =