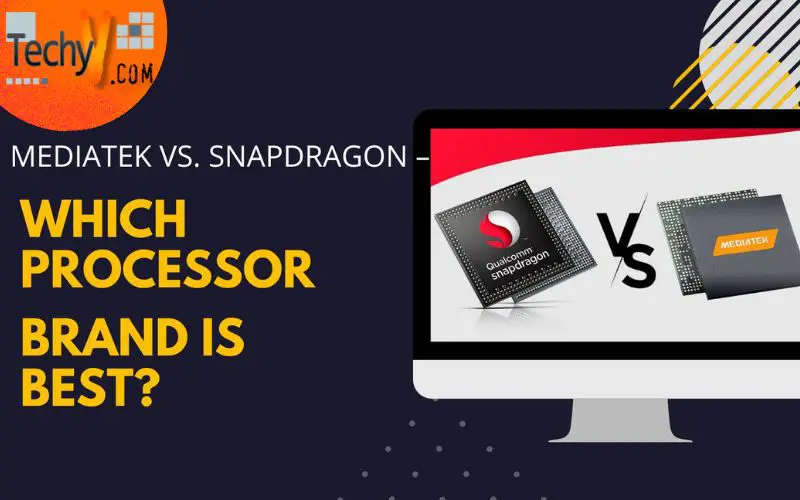 Smartphones are an essential part of life in the modern world. Smartphones have become the need of every people. With smartphones, you can do a lot of your work easily. Smartphones have brought a great change in our lifestyle. It changed our way of communication, banking, shopping, entertainment, etc. But these smartphone requires different kinds of hardware and the most important hardware in any smartphone is its "processor." Let's begin.
What is a processor?
I think you better understand the term "processor" by another name. Guess what? I will give you a hint; your desktop won't run unless you have this, it is also called brain of the computer. I think you got it. Yes, it is also called CPU(Central Processing Unit). The processor provides the functionality of doing various tasks, and one thing to remember is that a processor with more cores doesn't mean more speed, but it can perform more tasks at one time responsively. So the processor is a hardware inside your smartphone which makes your smartphone ready for tasking.
MediaTek or Snapdragon! Who wins the battle? Let's see
Many processor brands are competing to rule the smartphone chipset market but two of them are biggest, greatest and advanced from others and those two are "Mediatek" and "Qualcomm Snapdragon." Every smartphone brand wants their smartphone to be best in every aspect and "Power of a great smartphone lies in the greatest processor."
Comparison by market share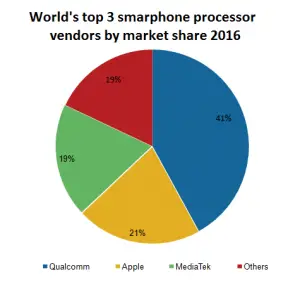 Currently, most of the smartphones in the world uses the processor of these two brands. As of 2016, these two brands dominate about 60% of smartphone chipset market. But in this 60% share, Qualcomm Snapdragon rules the market with a massive share of 41% where Mediatek is far behind with the market share of 19%. But it doesn't mean that Mediatek losses the battle because Mediatek is also among top three players after Snapdragon and Apple(where Apple holds 21% market share which is very close to Mediatek). Snapdragon takes the lead over MediaTek here, but MediaTek also has some advantages over Snapdragon.
Comparison by price
In this category, MediaTek has an advantage over Snapdragon as MediaTek has known for its high performance at low price. Mediatek processors are preferable by most smartphone makers for reducing the overall cost of their handsets and installing powerful processors along with a reduced price. Snapdragon's processors are more expensive than Mediatek although of giving the same performance as Mediatek in some of their models.
Comparison of performance

Which performs better among these two brands? It is hard to tell because both the brands are performance-centric and focus more on increasing performance of every single processor made by them. On one side MediaTek provides more number of cores with more clock speed in its processors comparatively to Snapdragon processors with same price range where Snapdragon processors come with less number of cores with same clock speed or some cores with more clock speed and some with reduced clock speed. For example, MediaTek's MT6752 come with 8 ARM Cortex-53 CPUs with a clock speed of 1.73GHz and Mali-T760 GPU (taking 64-bit mobile chipsets to next level) and on the other side Snapdragon 615 has the first 64-bit Octa-core Cortex-A53 CPU in the chipset industry featuring 4 core with the 1.7GHz clock speed and 4 another with the 1GHz.
Having more cores means more heating and heating is an issue with MediaTek processors, but Snapdragon processors don't heat that much like MediaTek ones. Snapdragon processors also are more power efficient than MediaTek and save more battery, but MediaTek is also improving power efficiency in their processors but still lags behind Snapdragon.
Comparison by specific model
MediaTek Helio X30 vs. Snapdragon 835
These two are not just processors but are SoCs(System on Chip) which brought a big change in the chipset market. Both of the two comes with an advanced 10 – nanometer design. Both brands have decreased the size of these SoCs and increased power efficiency. Mediatek increased the power efficiency by 50% than its previous Helio x20 whereas Snapdragon only achieved 25% power efficiency.
MediaTek Helio X30 is first 10-nm SoC to come with deca cores which come with a unique 10 core design over three clusters and dual-core ARM Cortex-A73 with a max clock speed of 2.5GHz plus quad-core ARM Cortex-A53 with a max 2.2GHz clock speed and quad-core ARM Cortex-A35 with a max of 1.9GHz.
On the other side, Snapdragon 835 comes with eight cores having CPU clock speed of 2.45 GHz. Both the SoCs are 64 bit based.
Conclusion
Although of having less market share and facing some heating issues with it's starting processors, MediaTek has set a benchmark with its latest releases and giving very tough competition to Qualcomm Snapdragon. Snapdragon is also doing its best to beat MediaTek's Helio X30 with its Snapdragon 835 but MediaTek seems to take over Snapdragon in 10 – nm technology and to rise its market shares also. Both brands don't compromise with user experience and their customer satisfaction that is why both are ahead of all other brands. But we have to say that in overall comparison Snapdragon is ahead of MediaTek and is currently ruling the market.