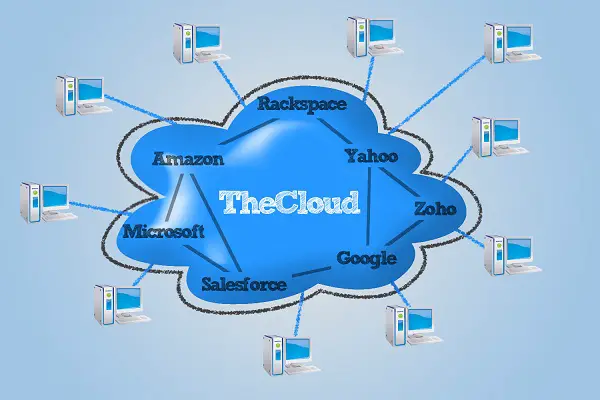 Cloud Computing Providers
Cloud computing is a technology, evolved as a result of advancement in  virtualization, that based on Internet such that the sharing of resources, information, data and software's takes place between different computers and devices when demanded, like the electricity grid phenomena. There are many big names that come to one's mind while talking about the cloud computing service providers.
Google is a visionary cloud computing service provider that offers great variety of services like Software as a Service (SaaS) in which it happens to be the founding father. Gmail for emailing with capacity of 25 GB storage .Lotus Notes, Microsoft Exchange, Google docs to make presentations, spreadsheets, text documents, and Buzz are some of the services. An additional feature of the Google docs is that it allows multiple users to edit and update the same file or document at a time. Google groups and Picasa are some other applications.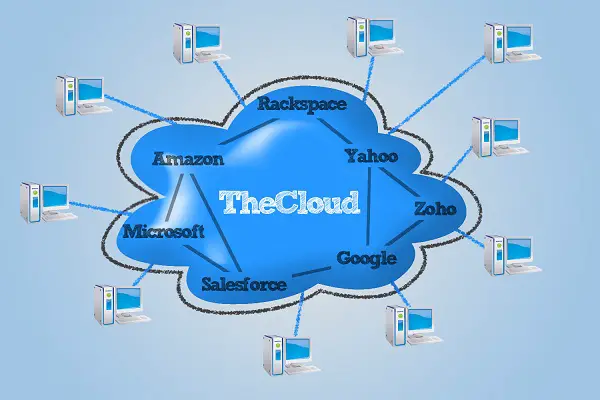 Enomaly ECP is an elastic computing platform that provides great variability, flexibility and leverage power in terms of compelling cloud computing services. It enables Infrastructure on demand delivery facility i-e, IaaS. Moreover the customer portal happen to be available with a variety of robust features but in a user friendly way.
Amazon offers Amazon elastic compute cloud (EC2), Auto Scaling, Amazon CloudFront, Amazon elastic MapReduce are services in computing and content delivery. However in database, storage, payments, e-commerce, messaging and networking a few of the services are Amazon SimpleDB,  Amazon Fulfillment ,Web Service (FWS), Amazon Simple Notification Service (SNS), Amazon Virtual Private Cloud (VPC), Amazon Simple Storage Service (S3) and Elastic Load Balancing.
Salesforce provides cloud computing by the name of force.com to allow a multi-networked web of developers. It has the capability to reduce the effort put to integrate applications with the external cloud computing services. It provides a traffic system that is integrated automatically to amalgamate the applications and cloud computing providers.
The IBM provides great solution in the form of IBM Smart Business Development and test that is an application development and testing tool. The Lotus Live for free web conferences and emailing is another cloud computing services to nurture the business enterprises. The data back is available with a sixty days trial version by IBM is IBM Information Protection Services that is also cloud based and managed.
Gogrid is one of those cloud service providers which happen to be the pioneers in the field of Infrastructure as a Service technology i-e, IaaS. It has successfully developed a model that helps in transformation and enhancement of existing businesses to the partners. The HP's cloud research center have an enterprise cloud software platform (Cirious) and another service; Social computing. It provides the customers with the availability of general-purpose horizontal usage as well as specified industry vertical usage. The other service by HP focuses on economics, sociology, and computer sciences interdisciplinary information availability.
The Skytap offers widespread range of cloud products that covers data motion, application development trends, market watch, CSC Uses Skytap to Get to the Cloud, InfoTech, CSC Launches Skytap-Powered SaaS Model for Enterprise and Federal Government Customers, CSC Picks Skytap To Power CloudLab, CloudBzz, IT Business Edge, Sys-con.com and tech target.
Wolf frameworks has achieved great break through enabling domain experts to design all sorts of business related applications in a very customer friendly that is devoid of any technical terms and lengthy technical procedures. Lower cost, the ability of accessibility of intellectual potential to rapid share the applications and on demand business software are some features. Moreover, it is a browser based web application and uses Platform as a Service (PaaS). It also has SaaS business applications that are available without technicalities on web.
The CA 3 Tera AppLogic Solution is PaaS based. The applications are integrated together using a completely self-contained kind of virtual components. This software executes in a virtualized space in the virtual appliance and accesses different networks and storage place. It provides portability and self-dependent cloud computing services.
Citrix loud management products include Citrix OpenCloud Compliance Solution, Citrix OpenCloud Dev and Test Solution, Citrix OpenCloud overview video and Citrix OpenCloud. The Citrix OpenCoud Compliance keeps sensitive data in datacenter by using application virtualization and implements advanced security checks as in SaaS. Moreover, it has endpoint checks and security isolation provided by Citrix Receiver to the client which makes it a solution to the sensitive users. Dell has a diversified portfolio in cloud computing by providing consultancy services in the area and solutions o cloud computing and management problems. Dell believes in cloud networks for its improved IT industry and IT businesses. It has PaaS, IaaS and SaaS featuring of cloud software.
Appirio is a cloud computation solution provider that helps businesses and enterprises in an innovative way. It is providing solutions to other cloud-computing providers too for example sales force have taken its aid. Likewise, Google and Amazon are dependent on it. The other names of the big customers include Avago.
Appistry provides CloudIQ Storage which is a scale distributed file storage system. CloudIQ manager happens to be an extensive application deployment and management for large clusters and clouds. Appistry also offers CloudIQ Engine that has a server built in for high performance elastic scalability and cloud function.
The ReliaCloud service is based on an innovative and novel architecture that have grade reliability with secure and scalable solutions to grow up business enterprises. The servers are specially designed to retain privacy, and there are physical computing nodes that leads to automatic resetting incase if the host fails. Moreover the data is protected and stored, which is a remarkable feature of ReliaCloud platforms. Moreover, the entire customer data is secured by storing in SAS 70 Type II certified data centers.
FlexiScale public cloud is very fast and provides virtual accessibility with a single click in less than a minute. The cloud of FlexiScale is based on library operating systems and on advanced storage systems. It provides solution in the form of IaaS and SaaS plus video, and VoIP solutions too.