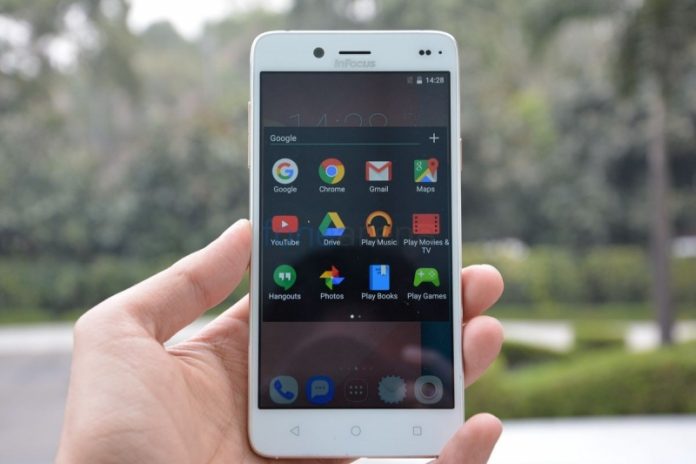 Infocus is a new smartphone manufacturer of budget smartphones. With all most all of the budget smartphone manufacturers coming from china the INFOCUS is different. INFOCUS is a USA based company which aims to provide budget smartphones at reasonable prices. Launching these phone in India was the best bet for infocus as the market here in India is very budget conscious and the brand value of the device does not really matter as long as the device has good specifications and the device is pocket friendly.
Design
The design of this phone is not outstanding. It is just the usual. The volume rocker is on the left and the power/lock and unlock key is on the right. The phone has rounded edges which at initial will look as the iPhone as even the colour scheme is the same. He phone has got off screen navigation keys which provide haptic feedback as well.
Display
The INFOCUS M680 has a 5.5" full HD screen with a resolution of 1920×1080 pixel. With this resolution the pixels per inch come to 401 which make the text and images look quite crisp and sharp. Colours are also very vivid on the screen and the viewing angels are decent.
Performance And Ram
The INFOCUS M680 has a mediatek chipset (MT6753). This phone has an x64 bit octa-core chipset which is clocked at 1.5 GHZ. This coupled with 2 GB of RAM is enough for an average user. But being a smartphone with such high specification one can also game on this device easily. But one must be aware as the device does get hot when exposed to gaming or multitasking of heavy applications for prolonged periods.
Camera
The INFOCUS M680 is equipped with a 13 MP camera at the rear. This camera is of nice quality and pictures taken in outdoor conditions are very detailed and crisp. The camera really does a good job in well-lit conditions but the performance is just average in low light conditions. In both the environment weather be it outdoor in natural light or indoor in artificial light the camera quality is good and colour reproduction is also good making the colour reproduction look almost lifelike.
Talking about the front camera. This is also a 13 MP camera. The quality of the front images are decent and look good when taken outdoors but indoors the images come out as grainy and washed out.
Battery
The INFOCUS M680 has a 2600 MAH battery which should be sufficient for a day's use when used by an average user but if you do consider yourself to be one among the heavy users of the smartphone then you would require a power bank.