GoPro Omni 6-Camera: A Smarter Capture
GoPro, being one the world's best action camera, keeps updating its technology and ideas and has come up with a new look on its virtual reality camera rig at a smaller level. It is called the Omni, and it's a hollowed cube that requires the HERO4 Black camera, which is sold separately. There are six camera arrays, all the footage taken by these cameras is stitched together to form a video in 360 degrees.
This device is associated with the end-to-end work of capturing the video, stitching the video, and in the end, publishing a high-resolution video.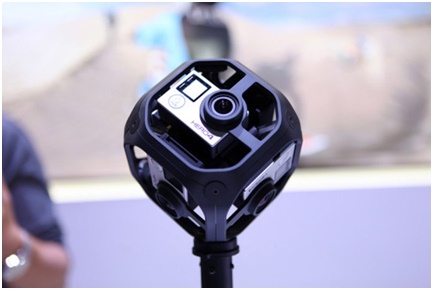 Features:
6 Camera Array:
These cameras are all synchronized. The main advantage is the stitching of the video from all the cameras would be precise. So it will allow you to stitch, edit, and do appropriate changes to it. The synchronization of the pixels come in a match with one another and makes stitching easier for an editor.
Kolor Software:
Kolor software helps the user to stitch, edit, or do any appropriate changes to the video. Omni and Kolor software come as a package and assist the user in capturing video and create necessary changes through the software that has a wide range of options. The content can also be published using this software, which makes the work of the editor easier.
8K Quality Capture:
8K video capture is HERO4 Black's image quality. The video has some stunning resolution in it. This lets you avail Virtual Reality (VR) viewing as well. It has spherical content capture, unlike the other GoPro cameras. So when you capture 8K video through your Omni, you can make the HD deliverable.
Power options:
The device comes with a feature of in camera batteries which allow you to capture for a longer duration of time than the usual. Six cameras so the battery backup would be on the higher side than mainstream devices. And by default, the external power supply would increase its recording time. It has got few options for the power management as well. 
Design:
The lightweight metal frame can help the user to fit in any shooting scenarios. Shooting will be much easier as it has a tough design on the exterior. It is a multi-panel aluminium frame, which you can use in events like skiing, swimming, etc.
The GoPro Omni 6 has got all that a virtual reality viewer wants, and it gives an extra edge to all those sporting events to capture their experiences. Get your hands on this new one as soon as possible.