Virtual Reality and its future Experience the lively city of Tokyo, or live the life of an aquatic creature in the Indian ocean just by placing the headset in front of your eyes, and that's what virtual reality gives you. Upgraded sensors, latest and high-grade graphics have added even more essence to the sophisticated technology.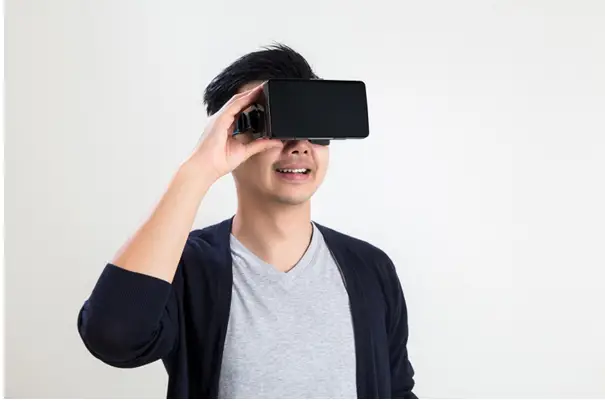 VR Devices like HTC vive allows us to interact with it more physically. Sensors present in Vive lets the users paint using a paint brush that is imaginary or swing a golf club. In the future, users can throw a football and play with a team!, tells Gonzalez, Co-Founder of Alienware.
Virtual reality devices can be categorized into two- The cheaper ones, like Google cardboard and the expensive ones like the Rift. Both give you a great experience, but the later can provide even more immersive experience. Expensive VR devices such as Vive and Rift needs to be connected to a power source like a PC, which does not make them wireless devices.
There is a new concept developed called full immersion virtual reality, a technology that could provide extra details and stupefying realism. It would offer real world like experience, where users can experience the game environment more realistically. By inserting nanobots into the body which are self-guided towards the neurons that are responsible for visual and auditory senses, users can experience virtual reality in life-like manner.
Richard Gelfond, the CEO of Imax has said that the VR in multiplex would provide the people with immersive and social experience. IMAX has plans of developing premium location-based VR offering across cinemas offering Virtual Reality experience made by Hollywood filmmakers. Filmmakers have already impressed with the idea of VR in Hollywood, seeing that as an opportunity to change the trend in filmmaking and connect to the audience even better. Professional level 360 degree video camera like the Nokia Ozo will help the movie makers in making immersive virtually realistic movies for the audience.
Even though VR headsets are capable of providing hours of entertainment, there are few health related issues following hours of use. Headset makers don't recommend VR devices for children since they cause eyestrain and headache after few hours of use. Oculus has asked the users to take a ten minutes break for every one hour of use, as continues use of the device could cause nausea. Also, few experts have claimed that virtual reality devices can also cause neurologic deficits. There are also concerns and questions like what if the advances in virtual reality replace the real world interaction.