Conventional LANs and Integrated VLAN
LAN (Local area network) is a network that is up to an office or building multiple numbers of computers is used that are connected through switches. LAN is a medium and small size business. LAN has feature that it can be handled easily because there are no any complex issues in VLAN.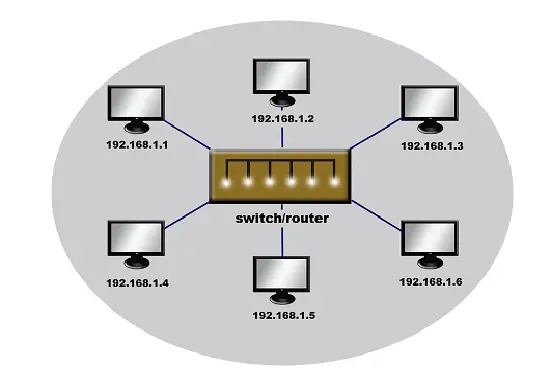 In LAN hierarchical network is tool that has desecrated layers and also plays a vital role in network performance. Each layer is responsible for performing its own functionality. By using hierarchical model network performance will be scalable and redundant.
Hierarchical model is divided into three layers.
Access
Distribution
Core
Access Layer
Access layer deals with end devices PCs. IP phones and printers. Other devices that are included are routers, switches, hubs and wireless access points.
Distribution Layer
Distribution layer deals with aggregation of data that it received from the access layer before it transmits to core layer for routing to the final destination. Distribution layer controls flow of network traffic using policies
Core Layer
Core layer is the backbone of internet work. It is very high speeded hierarchical model layer. It receives the data from distribution layer and forward large amount of data quickly. It is important that core to be highly available and redundant.
Before VLANs
Before VLANs networks are limited into one building, and when the universities and business gowns up now networks are spread across multiple buildings it was very key time for IT department that all student computers share the same security features and bandwidth control. Large LAN was not a solution because it was very difficult to troubleshoot them. The time was to make a Solution and VLANS are used that share the same security and bandwidth features.
VLAN
VLAN is logically separate IP sub network. VLANs allow multiple IP networks and subnets to exist on the same switched network. Switch port that is on VLAN or connected to another VLAN is called access port. Router layer 3 device that is used to inter VLAN communication
Benefits of a VLAN
VLAN has great impact on the network and they also have some features.
Security – By making VLANs sensitive data will be separated from other groups. Student computers are on VLAN 30 and completely separated from I.T and guest data traffic.
Cost reduction – VLANs have another great advantage that they save a large cost for expensive network upgrades and are more efficient to use of existing bandwidth and uplinks.
Higher performance – Unnecessary broadcast will be ended using VLANs. Because VLANs are used to divide the broadcast domain.
Avoiding broadcast storm – By Dividing a network into VLANs will reduces the number of devices that may participate in a broadcast storm.
Improved IT staff efficiency – VLANs are very easy to manage. It is also easy for the IT staff that they identify the function of a VLAN by giving VLAN an appropriate name. In the figure, for easy identification VLAN 30 has been named "clients", VLAN 40 could be named "Guest", and VLAN 30 "IT"
VLAN are of different types. Each type has it owns functionality
Data VLAN: Data VLAN is responsible that it will deals with the traffic that is generated by the user only.
Native VLAN: Native VLAN is responsible for traffic that is generated by the different VLANs and it also deal with the traffic that is not generated by the VLAN. 802.1Q trunk port is assigned to it.
Management VLAN: It is used to deals with the management purpose of switch. Management VLAN can be configured on any switch port.
Default VLAN: When a switch starts up it is in the process of booting every switch port will be the member of default VLAN. It will not break the broadcast storm.
VLAN help us to ensure security bandwidth allocation and it breaks up broadcast storm and prevents the network from unnecessary network disruption. You have to assign IP addresses to the switch port in VLANs in local area network the computers that are attached to the switch IP address is not configured on that switch port. But main difference is LAN is used in small business etc. and VLANs are used in the environment where there are many groups and the sensitive data has to be differentiate among each group.
PRIVATE IP ADDRESS: These types of addresses are used inside Local area network because they cannot be routed in the Wide area network to communicate with different networks, internet works or internet. These types of addresses are also used in VLANs. Public IP addresses are dividing into different ranges
Class A ranges from 10.0.0.0 to 255.255.255.0
Class B ranges from 172.16.0.0 to 172.31.255.255
Class C ranges from 192.168.0.0 to 192.168.255.255
NAT network address translation is used to translate these type of addresses into a public IP routable addresses.
PAT port address translation is used to translate the local area port number into a random port number because an intruder cannot guess which port number is in use. So he is unable to break in the session. These addresses are divided in to smaller subnet by using a toll name sub-netting to meet the current and the future needs. Variable subnet mask is tool that is used for sub-netting.
PUBLIC IP ADDRESSES: Public IP addresses are used by large telecommunication companies like ISP'S. These addresses are used to communicate with different networks, internet works and internet. Private IP addresses are used on local area network and public addresses are used to enable these LANS that they can communicate with different internet works or internet.
Large companies' that buys public IP addresses from their ISP'S these addresses act like a bridge between local area network and wide area network. Boundary router that is connected to the ISP'S used public IP address.