Cloud Computing Cost, Risk and ROI
The name cloud and cloud computing in itself has been able to garner a lot of interest amongst people. Those who were unaware of these terms where made acquainted with it after the announcement of iCloud by Apple. The main reason that brought the concept of cloud to the forefront of the cost savings attached with it. But over a period of time organizations have started deliberating on the ROI.
What they essentially want is to transfer the non-critical IT jobs to the inexpensive cloud. But over a period of time companies have realized that the cost of transitioning may not be as low as expected. With these confusions setting in top players in the cloud arena are coming up with cost effective solutions for their clients and users. Let us take a look at the risks and costs involved in cloud computing currently.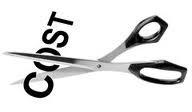 Amazon is the best player in the market– It is the lowest cost cloud-computing provider in the market currently. Also being one of the oldest is an advantage. It works best for applications that require up to 6.5 hours of CPU/day. One of the biggest competitors of Amazon in coming years is expected to be Azure, the cloud venture by Microsoft that is supposed to be released in November this year.
If you plan to run Windows on Cloud then be ready to shell out 20% more money– Microsoft and Amazon offer almost same price when it comes to Windows. Windows cloud compute does not support Google App Engine. People have small cheaper cloud options that are available to them but when it comes to carrying information of large organizations such small clouds aren't a viable option.
When you subscribe to a provider you get into a lock-in model– The most economical cloud model is with the pre-pay subscription. Though you get value for your money but you get committed to a provider for years and in case you wish to switch providers you lose on your investment.
Flexibility is not proportional to price advantage– When you invest in cloud you pay per use. But at times with particular providers you need take a minimum compute time to become eligible for the cloud computing plan and this may not be very advantageous.
There is no plan that can give you better uptime or improve on the SLAs– As of now no vendor has come up with a differential plan that will give you an upgrade if you pay more. This is a critical necessity in case you wish to run some business system on cloud. With the current SLA it seems unlikely that organizations would like to take a risk by investing in cloud computing option.
Organizations that wish to take a plunge in cloud computing need to think about the ROI. If the company is new with a stable support structure and has a smooth running IT system then they should not worry about the transition to cloud computing. But once things start wearing out then you must weigh the cost of transition w.r.t long term gains associated with cloud computing.