10 Best Inventions for Upgrading Our Life
Nothing is impossible for us human beings. As time passes by, technology became the main driving force of man's advancement to civilization. New technologies were born as human look for innovations to make their day-to-day lives easier. Remember the blissful technology which introduced the microwave and Apple i-series? Despite having those huge contributions to technology, we are still inventing more technical and useful things to make our daily lives easier. Here's the list of the top 10 best inventions for 2011:
1. PCEye:
Swedish company, Tobii has brought a new eye control technology named PCEye. It is a device perfect for those people with higher learning abilities wanting to access regular computer programs. This device is equipped with eye movement tracking technology, which is developed for people with impaired motor skills or those needing another way for controlling the computer mouse through eye movement.
2. BlackBerry's RIM Presenter:
BlackBerry has introduced new 3.4 x 2.4 inch RIM presenter. An easy way of transferring and presenting Microsoft PowerPoint presentations with the use of your Blackberry phone's Bluetooth. This presenter is so compact and lightweight; you can carry it wherever you go. Through this device, displaying your PowerPoint presentation is easier, all you need is your phone and this awesome presenter.
3. Sony Phone with play station:
Sony Ericsson introduces its latest mobile innovation, the Zeus Z1 a.k.a. "The Playstation Phone".  Zeus Z1 has an 8-Gigabyte memory, an SD card with 1GHz MSM8655 Qualcomm processor, and 1-Gigabyte ROM in addition to 512 Megabyte RAM. A phone dedicated to PSP gaming enthusiasts.
4. Sony 3D Vaio:
Sony has introduced a new innovation to the Vaio series, the Vaio F 3D. It is equipped with an Intel Core i7-2670QM quad-core 2.20GHz processor (3.10GHz with Turbo Boost), 4GB DDR3 / 1333MHz RAM, an NVIDIA GeForce GT 520M GPU, a 7,200rpm 500GB hard drive and a rewritable CD/DVD disc drive. With its impressive 3D performance and 1080p screen, it takes gaming and video streaming experience to a whole new level of mind blowing entertainment. With its black colored frame and stylish design, this laptop features Sony BRAVIA's TV technology.
5. BlackBerry PlayBook:
To compete against Apple's iPad, Blackberry has released one of their newest innovations to the  touch-tablet technology, the Blackberry PlayBook. It is a tablet-computer by Research in Motion (RIM). The PlayBook is based on the BlackBerry Tablet OS, which features QNX Neutrino as its operating system. It supports Flash Player 10.1 as well as Adobe AIR and it features a 1GB RAM, 3MP camera, 1GHz processor and a screen with 7-inch display. PlayBook has Bluetooth support, enabling wireless transfers and usage.
6. Nintendo 3DS:
The Nintendo 3DS is a portable gaming console developed by Nintendo. With its top notch display technology, it allows its users to view 3D animations without using 3D glasses or any other accessories. This product comes in with two external lenses in addition to one internal lens. You can capture anyone's photo, and at the same time you can get your photo with the help of the internal lens. 3D avatar of users can be created automatically by this unique invention.
7. Samsung's LED 9000:
Samsung comes up with its thin, pencil like invention, the Samsung 9000 LED display. It comes with a remote that you will definitely think that you don't want to get out of your sofa. With its touch screen LCD display and built-in Wi-Fi, you can watch TV directly on the remote while viewing something else in your TV. After installing the required software on your Windows PC, you can also stream videos, audio and photos on the LED display.
8. U1 IdeaPad of Lenovo:
The 1.6" Linux PC. It features with a multi-touch functionality with the help of an Intel Core 2 Duo processor. With 5 hours of battery life, it is an amazing mini PC that supports emailing, net browsing and many other PC and laptop functionalities.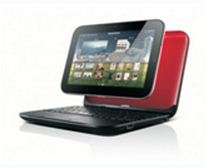 9. Physical gesture controlled HD Display:
A German company has recently brought Evoluce, a High Definition 3D display, which can be controlled by body gestures. With its 46" LCHD monitor and a display which is compatible with Windows 7 Operating System, it can also be used for gaming purposes as well as making educational presentations.
10. iPad 2:
Apple has never stopped impressing us with their topnotch innovations. After 10 days of iPad first generation release, they impressed us with their newest addition to the series, the iPad 2. The iPad 2 is the second generation of the iPad, similar to the first iPad, it serves primarily as a platform for audio-visual media which include books, periodicals, movies, games, music, presentations and web content. Compared to the iPad, this new gadget is slimmer, lighter, performs even faster and have even more features installed.