No of visitors who read this post:
1271
I was extracting Sony Notebook Utilities for MS Windows. I will be running this on my Windows 7 PC. I am using Universal Extractor Version 1.6 for extracting, but I keep receiving the same error on the attached image.
The extraction failed, and I could not make it work. Kindly please help me. Thank you.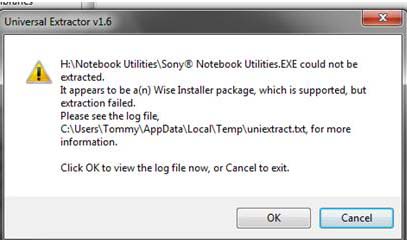 Universal Extractor v1.6
H:\Notebook Utilities\Sony Notebook Utilities.EXE could not be extracted.
It appears to be a(n) Wise Installer package, which is supported, but extraction failed.
Please see the log file,
C:\Users\Tommy\AppData\Local\Temp\uniextract.txt, for more information.
Click OK to view the log file now, or Cancel to exit.
OK Cancel