No of visitors who read this post:
964
Hello I am moving ahead towards Autodesk University and I am just from my vacation in Andalusia and then moving with full speed and here is a little issue that should be immediately arise with the Revit String utility which is published in last week and I am using Windows vista as an operating system and I need to unlock the zip file but I cannot and the error I am getting is as follows...
Revit cannot run the external application "RevitPythonShell". Contact the provider for assistance. Information they provided to Revit about their identity: asdf.
System.IO.FileLoadException
Could not load file or assembly 'file:///C:\addins\Daren Thomas\RevitPythonShell\RevitPythonShell.dll' or one of its dependencies. Operation is not supported (Exception from HRESULT: 0X80131515)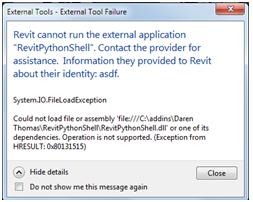 Kindly provide me the solution in fixing this issue.
Thank you.