No of visitors who read this post:
3480
When I am trying to register WinZip an error message is coming.
Please see the screen shot of the error message.
Please help me to solve the problem.
Thanks in advance.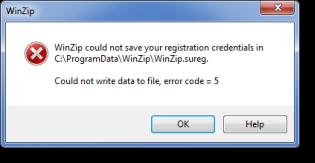 WinZip
WinZip could not save your registration credentials in C:\ProgramData\SinZip\WinZip.sureg.
Could not write data to file, error code = 5.